President Joe Biden apologized after calling Fox News reporter Peter Doocy a "stupid son of a b****" on a hot microphone during a meeting about inflation.
Biden met with administration officials Monday afternoon to discuss solutions to deal with the high inflation many in the United States continue to grapple with. Reporters were allowed in the room for the meeting, and several lobbed questions to Biden at the end of it.
Doocy pressed Biden on whether or not he believes inflation will be a "political liability in the midterms."
"It's a great asset—more inflation. What a stupid son of a b****," Biden sarcastically quipped, not appearing to intend for the remark to be heard by others.
Biden later called Doocy to apologize for the remark, according to CNN reporter Kaitlan Collins. Doocy later told Fox News host Sean Hannity that Biden called to tell him, "It's nothing personal, pal."
The remarks were also included in the White House's official transcript of the meeting.
The White House did not respond to an inquiry about whether or not Biden knew the microphone was still on when he made the comment. But just before he made the remark, he declined to answer a question from a different reporter about the ongoing situation in Ukraine.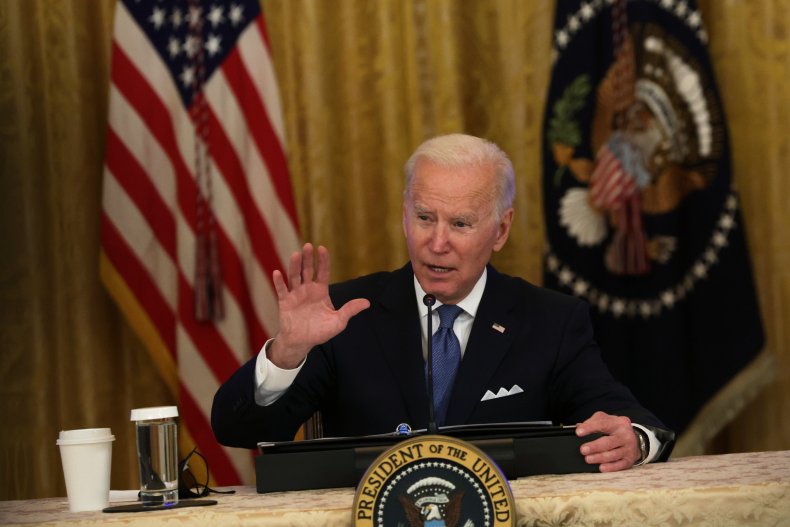 Republicans quickly turned to Twitter to condemn the remarks.
Conservative commentator Charlie Kirk wrote: "I remember the days when Trump did something like this and it would dominate the news cycle for a week and create an endless, self-aggrandizing stream of op-eds and thought pieces about 'senseless attacks on journalism.'"
Representative Lauren Boebert, a Republican from Colorado, wrote: "Democrats: Donald Trump's attacks on the press are an attack on the First Amendment. Joe Biden to Peter Doocy: "What a stupid son of a b*tch. Democrats: *silence*"
Radio host, Larry O'Connor wrote: "Peter Doocy has displayed more compassion, intelligence, wit and class in his short public career than Joe Biden has in his 50 years of public hackery combined."
Others, meanwhile, defended the president.
Political commentator Tommy Vietor tweeted: "Look...before we go down an endless cycle of pearl clutching and calls for civility, can we just be honest that everyone wins here? Biden gets to vent. Democrats get to laugh. Doocy gets endless amounts of air time playing the victim. No one apologize. Just laugh and move on."
In a Fox News appearance later Monday, Doocy laughed off the remark.
"Nobody has fact-checked him yet and said it's not true," he joked.
Doocy, a reporter for the network, has often found himself at odds with the White House. He and Press Secretary Jen Psaki frequently go back and forth during press briefings. But Doocy has previously offered praise for the administration's willingness to answer tough questions.
"[Biden] is up for the hard questions, and it sounds like he's going to keep taking them," Doocy said in a Los Angeles Times interview last year. "So more than a surprise, it kind of just made me hopeful that that will continue over the next couple years."
Biden has also said he likes Doocy, despite their sometimes-contentious relationship.
It was not Biden's first hot mic moment. In 2010, after former President Barack Obama signed his healthcare reforms into law, then-Vice President Biden was caught by a microphone whispering to the president that it was a "big f****** deal."
Newsweek reached out to the White House and Fox News for comment.
Update (1/24/2022, 9:26 p.m. ET): This article has been updated to include an update on Biden's apology.