Fox News' Peter Doocy, the President's Punching Bag, Has No Time For Biden Bashing
Fox News White House correspondent Peter Doocy has been dismissed as a "one-horse pony" and sarcastically referred to as "classy" by President Joe Biden. On Monday, Biden said he likes Doocy despite his question often having a sharp "edge."
On Tuesday, Biden needled Doocy over a question about the call the president just had with Russian President Vladimir Putin.
"Mr. President, what did you talk to Vladimir Putin about?" Doocy asked
"You. He sends his best!" Biden replied.
Contentious interactions between reporters and presidents are nothing new. CNN reporter Jim Acosta had a particularly fiery relationship with Trump, regularly asking the former president blunt questions that were often met with borderline hostility. Acosta was briefly banned from the White House but had access restored following a lawsuit.
Doocy, who covered Biden for the network extensively during his campaign, told Newsweek that he does not mind being singled out by Biden as long as he takes the time to answer his questions, sometimes just as he is leaving a press conference.
"It's always a relief, because a lot of thought goes into those questions and there isn't always a ton of time to ask it," Doocy said.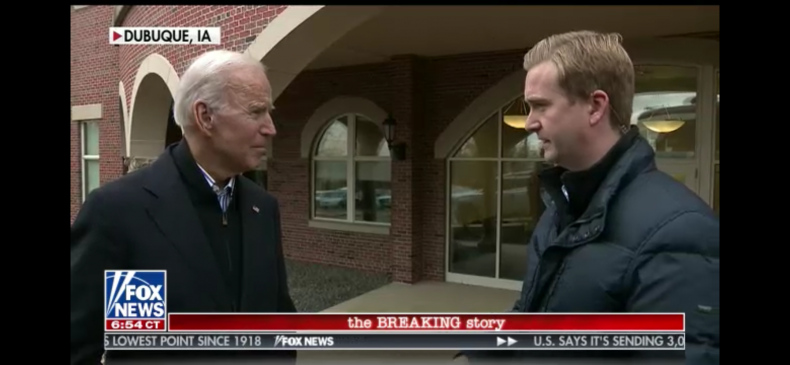 When asked about claims that the press has largely asked only softball questions of Biden, especially in comparison to former President Donald Trump, Doocy declined to weigh in, noting that his limited experiences with Trump make it difficult to personally compare the two administrations.
"I only really concentrate on my own questions—which President Biden says he knows have an edge, but still answers anyway," said Doocy. "I didn't spend much time in the briefing room during the Trump administration, so my frame of reference is really just Biden and the way his team do things. I'd say so far, their approach is pretty similar to what we saw during the transition in Wilmington."
Doocy said that he expects his reporting at the White House to be similar to his campaign coverage, which frequently prompted complaints from Biden, including telling the reporter "I know you always ask a hostile question" in September 2020.
"I'm taking the same approach at the White House that I took on the campaign trail— just collecting all the most interesting sound bites as they come in, then using them in a way that best tells the story of that day," Doocy said.
Doocy's most memorable moment with Biden may have come when he was jokingly offered the position of White House Press Secretary not long after the race was called in the Democrat's favor. The job went to Jen Psaki, who at a press conference last week referred to Doocy as "Steve," likely referring to his father, Fox News anchor Steve Doocy.
"Shortly after he won the election, I asked the President in Delaware if he had room for Bernie Sanders in his cabinet," Doocy said. "Biden shot back 'I was wondering whether you'd join the cabinet.' I asked him what job he had in mind. 'I don't know man, maybe press secretary.'"