Did Evangelicals Make a Mistake in Supporting Trump? | Opinion
The unconstitutional impeachment trial of former president Donald Trump is finally over. The horrific and inexcusable breach of the U.S. Capitol by a violent mob left the nation mourning the loss of five lives to indefensible lawlessness. Conservative Christians are devastated, and evangelical leaders led the way in denouncing the riot in real time on the very social media platforms that now spurn them, calling for justice and for the guilty to be prosecuted to the fullest extent of the law.
The Left quickly began using the tragedy as an excuse to take revenge on its political enemies for daring to support President Trump and his policies. At the top of the list is the Left's favorite whipping boy: evangelical Christians.
Never-Trumpers predictably and enthusiastically joined the Left and other media elites who piously blame all the rubes who eat at Olive Garden for falling for Donald Trump's rhetoric.
Washington Post contributor and former George W. Bush adviser Michael Gerson, for example, advocated for the president's conviction and claimed that by supporting President Trump, evangelicals "sought to recover lost social influence through the cynical embrace of corrupt power."
Such sanctimony from Washington elites shows they have learned nothing from the past four years about why 82 percent of evangelical Christians supported President Trump's policies and reelection campaign.
Evangelical policy leaders have been willing to work with every president. To his credit, President Trump sought our advice often—and we supported his policies because they matched our positions. By contrast, not once in eight years did President Barack Obama invite a representative of Concerned Women for America, the organization I represent, to the White House for our input. Others, like President George W. Bush, gave lip service to evangelical concerns while dismissing us when it came to actual policies.
When casting blame, establishment Republicans need to look in the mirror. One major factor contributing to President Trump's rise was the repeated failure of previous Republican presidents to actually put into action what they purport to believe.
How is it possible that Donald Trump was the first president to speak at the annual March for Life? In contrast to feckless leaders of the past, he implemented a pro-life ethic in every facet of his administration, and went to significant lengths to protect the conscience rights of medical personnel. He supported the rights of the elderly and ill to get treatment and the "right to try" new medications. He excluded Planned Parenthood from receiving at least $60 million of taxpayer money via Title X that could have funded as many as 120,000 abortions. He supported governors' rights to redirect money away from abortion facilities to community health centers and others that actually care for poor women.
Trump not only reinstated, but expanded the Mexico City Policy, preventing $9 billion in aid from funding and promoting abortion internationally. President Biden is working to undo all of this, and to end the Hyde Amendment, which since 1976 has saved two million babies.
President Trump surrounded himself with Christian staff in the most influential positions: Vice President Mike Pence, Secretary of State Mike Pompeo, Chief of Staff Mark Meadows, Senior Counselor Kellyanne Conway, Press Secretaries Sarah Huckabee Sanders and Kayleigh McEnany, just to name a few.
President Trump advocated parental choice in education, signing an executive order to allow for the use of HHS funds to pay for child care for poor children with working parents during school lockdowns. He also backed community block grants to pay for private school, homeschool resources, charter schools and "learning pods" for poor children.
President Trump stood strong against sex trafficking and human trafficking. He signed the Trafficking Victims Protection Act (S. 1312), the Trafficking Victims Protection Reauthorization Act (S. 1862) and the Frederick Douglass Trafficking Victims Prevention and Protection Reauthorization Act, to name a few, taking many of our concerns to heart and acting decisively.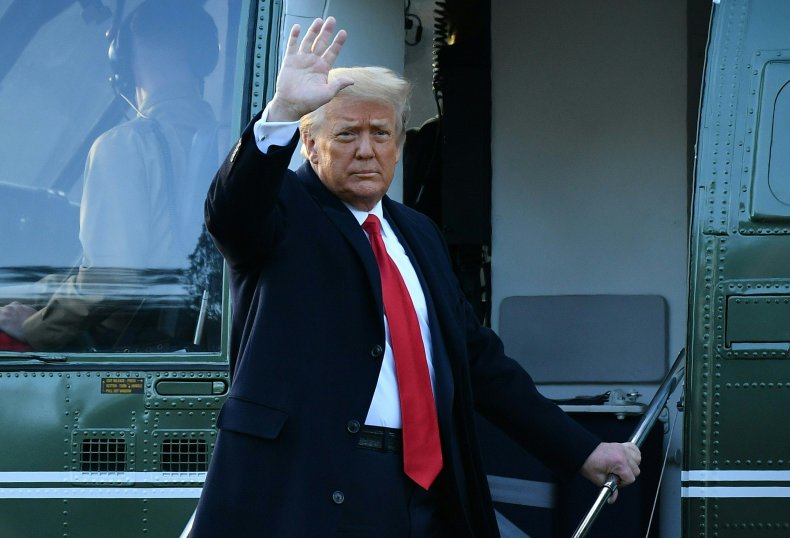 Trump also stood strong to guard women's sports protections through Title IX, a topic that caused many conservatives on Capitol Hill to hide under their desks.
And can there be any comparison to President Trump's handling of the Middle East? Gerson may be proud of the Bush era's endless war policies and monumental intelligence failures, but most Americans are not. President Obama was even more disastrous, as evidenced by the infamous Iran deal.
In his first year, by contrast, President Trump moved the U.S. embassy from Tel Aviv to Jerusalem. The outsider in chief also brought us several historic Middle East peace accords that have changed the world for the better. Not to mention his focused and successful approach to bringing home Americans held hostage abroad.
President Trump stood up for religious liberty—again, something many conservative leaders had surrendered at the altar of political correctness. He established a new Conscience and Religious Freedom Division at the Department of Health and Human Services to protect religious freedom, and appointed an ambassador at the State Department for international religious liberty. Even up to the last minute, Trump promulgated regulations to protect Christian adoption, foster care agencies and other religious organizations from discrimination.
Many caricature evangelicals as merely supporting President Trump because of his judicial nominations. President Trump, once again, talked the talk and walked the walk. He promised to nominate strong constitutionalists to the Supreme Court, and delivered three of them. Not to mention the more than 230 judges appointed to lower courts.
These are only a few examples of the policies President Trump implemented that are of concern to evangelicals. We could also talk about criminal justice reform that for the first time allowed faith-based organizations into federal prisons to help transition criminals back into their communities.
But because of the recent catastrophe at the Capitol, Washington elites suggest that we should forget all of this. We have one simple response: no.
We will never again settle for political crumbs from the establishment's table. We expect conservative elected officials to live up to their campaign promises to earn our votes.
The Left can mock us, cancel us and try to shift blame, but 74 million-plus American voters cannot be dismissed. Evangelical voters are not "barbarians and fascists." Nor are we "poor, uneducated and easy to command" as The Washington Post claimed years ago. We are hard-working patriots who love God, our families, our nation and care for the least of these.
It is disgraceful to besmirch and demean all evangelicals and Christians of good will who supported President Trump's policies and are thankful for the four years of fending off the assaults of the Left.
We are still joyful. We are still hopeful. And we are not going anywhere and we will meet you at the polls in 2022.
Penny Young Nance is the CEO and President of Concerned Women for America LAC, Author of Feisty and Feminine: A Rallying Cry for Conservative Women, and former member of President Trump's Life Advisory Council. Follow her on social media and at @Pynance on Parler.
The views expressed in this article are the writer's own.