Did Iran's Soccer Team Cover Emblems in Protest Against Government?
The death of 22-year-old Iranian Mahsa Amini, who died in police custody after her arrest in Tehran for not wearing a hijab, has sparked demonstrations across Iran and around the world—including, it is claimed, by her own country's men's soccer team.
Iran's infamous "morality police" had arrested Amini, accusing her of breaking the country's strict law requiring women to fully cover their hair with a headscarf. She was reportedly beaten after her arrest and transferred to Tehran's Vozara Detention Center.
Iranian authorities said she had a heart attack, but her family rejects this explanation. United Nations experts cite reports that say she died as a result of torture and ill-treatment by the authorities.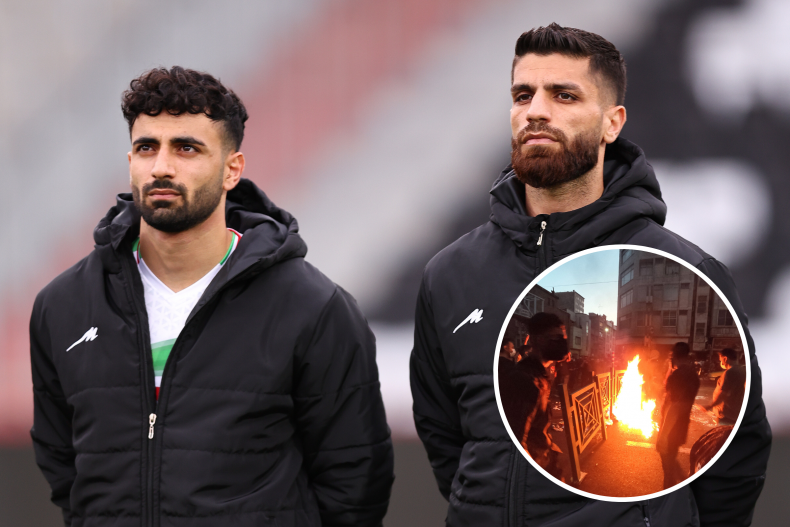 Protests broke out across Iranian cities, including Tehran, following her death, demanding accountability and an end to violence and discrimination against women and girls in Iran.
Reports suggest that 76 people have died in protests around the country. Demonstrations have spread around the world since, with clashes and arrests in London and Paris too.
In what was reported as an act of solidarity, during a World Cup friendly against Senegal on Tuesday, September 27, 2022, the Iranian team wore black jackets over their kit, concealing the Iranian national emblem.
One post left on Reddit suggested the move was a deliberate act of defiance, a narrative that was shared by dozens of Western media outlets.
However, as of yet, there has been no comment from the team, its players, or other spokespeople, that conclusively verified what the team's intentions were. Some commentators were skeptical about the claim.
So, to what extent can we determine whether what happened at the match was directly related to demonstrations in Iran and around the world?
The view that wearing these jackets was an act of defiance, was drawn from not only the protests, but other decisions surrounding the match and comments made by the players.
The match itself was scheduled to be played behind closed doors, although fans from both teams were later let into the stadium.
Reports claim the initial decision to play in an empty stadium was linked to concerns from the Iranian government about broadcasting "domestic issues," one article stated. Protestors nonetheless demonstrated outside the match and were recorded by international sports journalists.
Prior to the match, a number of members of the Iranian national team had also expressed their views via social media.
Iran forward Sardar Azmoun on Sunday, September 25, 2022, wrote via his Instagram account: "At worst I'll be dismissed from the national team. No problem. I'd sacrifice that for one hair on the heads of Iranian women. This story will not be deleted. They can do whatever they want. Shame on you for killing so easily; long live Iranian women."
The posts were later deleted although screenshots were posted elsewhere on social media.
Azmoun has also blacked out his social media profile pictures on Instagram and Twitter while fellow national player, Zobeir Niknafs, posted a video on Instagram of him shaving his head as an act of solidarity.
Some reports suggest Azmoun had apologized to his teammates for publishing an Instagram post in support of protests, although another post, sent by Azmoun, on September 28, 2022, appeared to reiterate his views.
A translation of his message states: "My heart really broke for Mahsa Amini and the likes of Mahsa Amini who are innocent of this. They left the world and left a pain in the hearts of people that history will never forget."
These circumstances all strongly support the notion that the actions of the Iranian team could have been motivated by the country's political tremors, although, again, this has not been confirmed by them.
Furthermore, other explanations weren't examined by reports following the match.
Some commentators on social media speculated that the jackets were worn by the players simply to stay warm.
The match took place at the Motion Invest Arena, about 13 kilometers from Vienna, Austria. Weather history for Vienna suggests a temperature of 14-15C degrees during the time of the match, according to Wolfram Alpha weather tracker. The lowest temperature that day was a relatively chilly 9C, perhaps warranting jackets, though notably none of the Senegal players wore jackets either.
It's not uncommon for players to wear tracksuit jackets in the warm-up or line-up before a match before handing them back for play.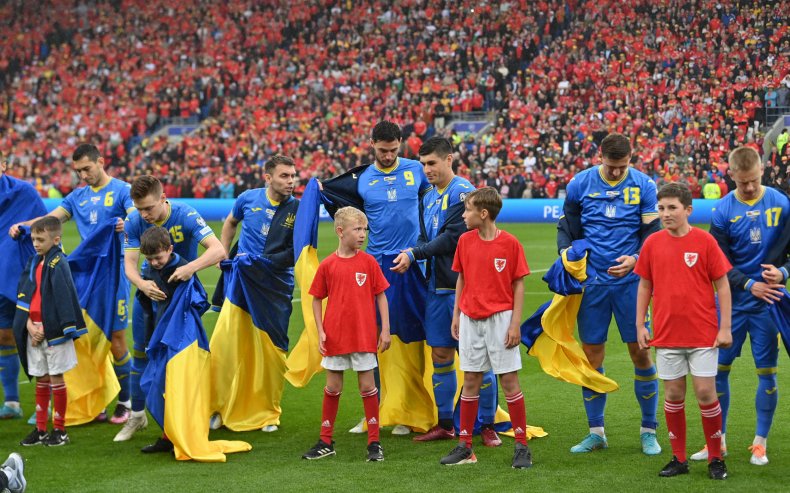 However, these jackets are also often emblazoned with a club or national team crest too.
Without confirmation of the motive for wearing black jackets, there is a chance the narrative is false and conjured from the upheaval in Iran.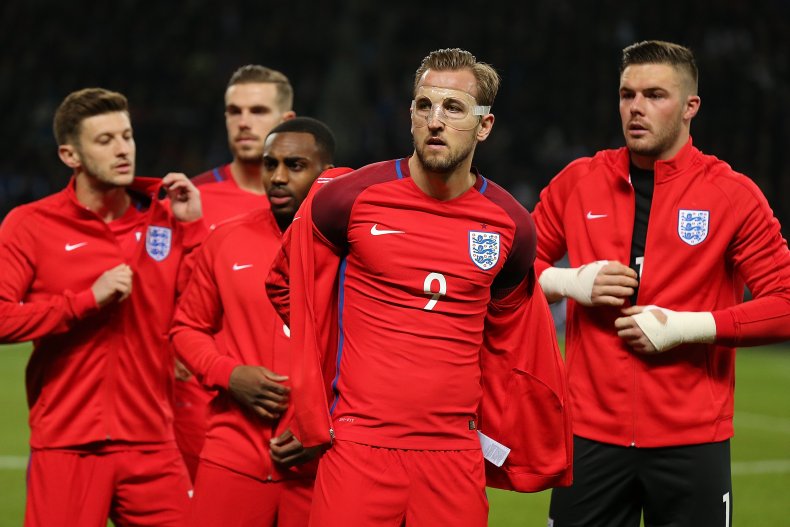 While the protests present a crucially important piece of context, and may yet prove to have been the team's motivation, the speculation has not been verified by any follow-ups from sources, comments from the players, or information elsewhere.
The fact that the team still played with an emblem on their kit; that the Viennese weather was not particularly warm; and that wearing a jacket for the warmup is not uncommon, perhaps gives them the cover of plausible deniability if questioned further.
Such excuses may offer a degree of protection from the Iranian authorities, whose record on the mistreatment of political dissidents is well documented.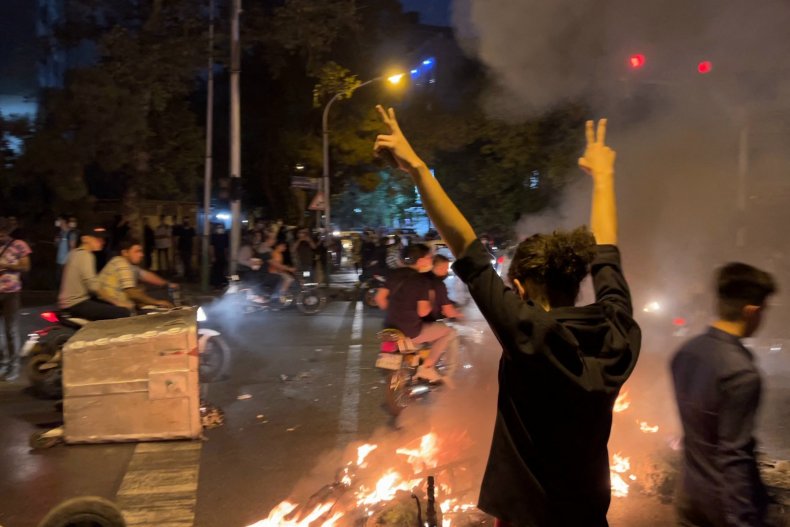 It appears possible that the demonstrations motivated the Iranian team, but the reporting around the match serves as a reminder of how wider narratives can influence perceptions of events in the news.
Claims on social media about the team facing execution for its decision however are significantly far-fetched.
While evidence from Amnesty International suggests the Iranian authorities have "executed at least one person a day on average" between January 1 to June 30, 2022, in a series of what the charity labels "grossly unfair trials," the majority have (ostensibly) been for murder and drug-related offenses.
But the death of Amini has inevitably heightened suspicion and fear about the manner in which Iranian authorities treat political dissidents.
Newsweek has contacted the Iranian Embassy of the United States for comment.