Fact-check: Did Kamala Harris Make Brett Kavanaugh Cry?
Ahead of Democratic vice presidential candidate Kamala Harris debating Mike Pence, people have referred to her questioning of Supreme Court justice Brett Kavanaugh as perhaps an indicator as to her likely style in the upcoming head-to-head.
The Claim
Harris, a Democratic senator for California, caught attention with the firm queries she posed to Kavanaugh during Senate hearings in 2018.
Amid discussions over the upcoming vice presidential debate, many on social media since have suggested Harris made Kavanaugh cry.
There has even been merchandise designed describing the Democratic ticket as "Biden and the lady who made Brett Kavanaugh cry."
The Facts
Newsweek has rewatched the points in which Harris questioned Kavanaugh in 2018 and while the pair did clash, with the then Justice-to-be appearing uncomfortable, he did not appear to outwardly cry during these moments.
There have been images on social media shared of Kavanaugh crying during the hearing, which he did do—but these did not coincide with the points where Harris was questioning him.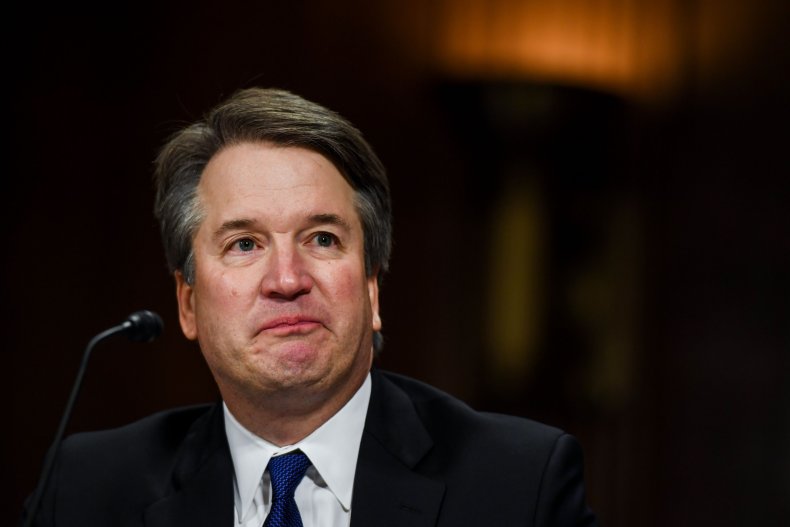 These were instead from his opening statement to the Senate Judiciary Committee in September in 2018, in which he addressed allegations made against him by Christine Blasey Ford—who accused him of sexually assaulting her at a party in 1982, which he vehemently denied.
He said he has been targeted by "a frenzy on the left" to block his confirmation.
At a point in which Kavanaugh discussed calendars he had kept from the time, which he said he did as a habit taken from his father, he became emotional. These calendars he said showed "all but definitively" he would not have been at the said party had it been at a weekend.
He further got emotional as he discussed having female friends, whose support he referred to, and was upset while discussing a yearbook—the contents of which were also brought into question ahead of his confirmation. Kavanaugh was also emotional when talking about the accusations with his family.
Harris questioned him on points in regards to Ford's allegations, asking about the potential of an FBI investigation into them.
She also asked if he had watched Ford's testimony which came prior to his, to which he said he had not though had intended to.
She later in his confirmation hearing pressed him on points regarding the Mueller probe. Kavanaugh struggled to answer her questions.
She pushed him over discussions he may have had over the Mueller probe with certain lawyers.
Newsweek has contacted Harris and reached out to Kavanaugh, through the Supreme Court, for comment.
Rating: False
While Kamala Harris posed tough questions to then Supreme Court justice nominee Brett Kavanaugh, she did not move him to visible tears with her line of questioning.