Did Marjorie Taylor Greene Tweet COVID 'Rid' GOP of 'Weak and Unhealthy'?
A screenshot (archived here) of a tweet purportedly from Rep. Marjorie Taylor Greene's (R-GA) blue-ticked Twitter account seemingly referring to thousands of COVID deaths among Republicans as "natural selection" was shared widely on Twitter and elsewhere.
"Republicans are the ONLY party who successfully thinned our own heard [sic.], getting rid of the weak & unhealthy among us during COVID! It's called NATURAL selection, and its science, look it up," the tweet allegedly said.
But while the Georgia Republican is on record as having made some controversial, provocative, or scientifically questionable remarks about the pandemic, she did not tweet any such claim—as is clear from the "parody" label under the screengrabbed tweet.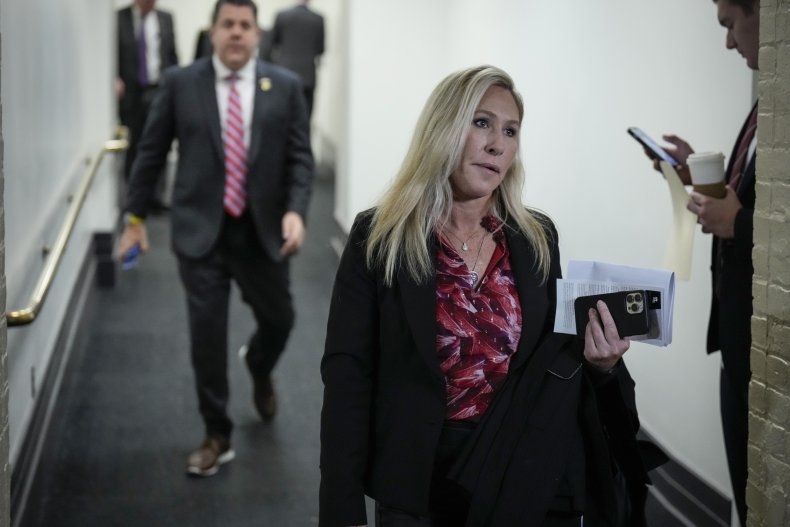 There is no evidence of this tweet being anywhere on her Twitter feed for the day in question, Monday, January 30. A number of Greene's tweets do reference COVID, in the context of declaring the pandemic's end.
"We're eliminating authoritarian Democrat policies and officially declaring COVID IS OVER," Greene wrote.
The "tweet" in question is in fact the creation of a prominent satire account Back Rub, whose posts occasionally end up circulating on social media and enraging users across the political spectrum that fail to spot the "parody" small print tag.
A number of such posts purporting to come from former Representative Liz Cheney went viral last year in the form of screengrabs, even as both were clearly tagged as "parody."
In this case, several users re-shared the image with captions implying the tweet is real, with the original tweet gathering nearly a quarter of a million views in less than a day.
"What a sick-o," one user wrote in response to the Back Rub post.
As Newsweek and others have written previously, fabricated screengrabs of social media posts or news headlines are a particularly insidious form of misinformation because they often dodge platform moderation based on keywords.
As Poynter Institute experts who specialize in fact-checking and tackling misinformation explained, there are a number of reasons for the continued threat of this type of misleading content, primarily that it is fairly easy to produce and acts to deceive the reader not just about the material, but also about its source.
A representative of Greene confirmed to Newsweek that the tweet is not real.
"Yes. It's obviously fake." the representative said in an email.
Update: 02/01/23 4:45 a.m. ET: This article was updated to include a comment from a representative of Marjorie Taylor Greene.