Did Navarro Win at Daytona 2021? 'Cheer' Season 2 Ending Explained
After a wait of more than two years, Cheer Season 2 is finally here. Originally, the second series of the Emmy-winning documentary was set to follow the journeys of 2019 National champions Navarro College and their rivals Trinity Valley Community College (TVCC) to Daytona 2020 but unfortunately due to COVID-19 the competition was canceled, resuming in April 2021.
Spread across nine episodes, Cheer Season 2 takes audiences on Navarro and TVCC'S two-year journey to Daytona 2021 and their fight to be crowned national champions. Both teams have been rivals since the late 1990s, with Navarro holding 14 national championships and TVCC 11 before filming for Season 2 began. So, who won at Daytona 2021? Newsweek has everything you need to know. Warning, spoilers below.
Did Navarro Win at Daytona 2021?
No, Navarro did not win at Daytona 2021.
In the end, they were defeated by their rivals Trinity Valley Community College after an intense battle that saw injuries, falls, insane stunts, and jaw-dropping tumbles.
Navarro's loss may come as a bit of a surprise to audiences considering their legacy as the Top College Cheer Team. Throughout the documentary, Navarro's challenges were well-documented, from the pressures of their newfound fame, Jerry Harris' arrest, COVID-19, and the departure of some of their top athletes from the team. There is no doubt Navarro fans would have been hoping the team would have got their happy ending with a win, but their rivals TVCC were hot on their heels and deservedly took home the title.
Throughout Cheer Season 2, TVCC's determination to win was unstoppable. They pulled off risky stunts, had some of the best rookies, and their choreographer and some of the most talented tumblers on their team, including Dee Joseph and Angel Rice, rose to the challenge.
The competition for the top spot was close. In the preliminary round, TVCC suffered a penalty due to a fall and in the final performance it was Navarro's turn to have points deducted after a stunt went wrong. The results also speak for themselves. Navarro scored 98.0708 against TVCC's 98.2292.
Speaking to Newsweek about TVCC's win, TVCC coach Vontae Johnson said: "It was a hard-fought win. It's been amazing, obviously being able to have that opportunity for the kids to be able to be champions."
Cheer director Greg Whiteley told Newsweek he hoped viewers would be "shocked" by the result.
He said: "I was shocked at how it all ended in Daytona. I think the viewers will be too. I think if I did my job right, they will be."
As per Daytona tradition, Cheer showed TVCC celebrating their win by running into the ocean, joined by their coaches Johnson and Khris Franklin, and TVCC Cheer alum, including tumbler Jeron Hazelwood.
Reflecting on their ocean dash, Johnson said: "It's something that you build up for all year, you talk about with the team, being able to have that opportunity to be able to run into the water and just swim away all those just tough times. All those tough times and hard-fought battles throughout the year, and also the great times that they had, to be able to push and work together. I thought it was a great experience to be able to just run into the water and be champions."
Johnson is showing no signs of slowing down TVCC's victory streak and they will be hoping to take the title for the second year in a row at Daytona 2022.
He shared: "We are definitely getting ready for our competition that's coming up here in April. That's what's next for us. We're just getting ready for our mat tryouts and get them hopefully in the same position to be able to be champions again."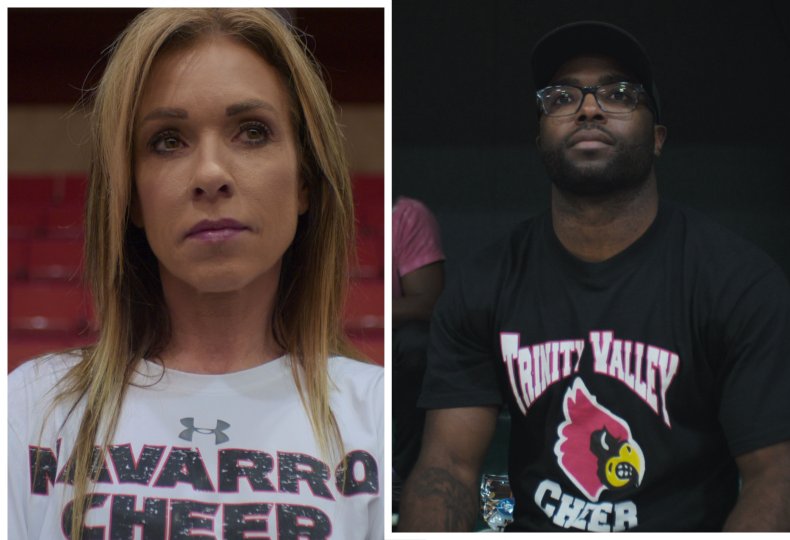 What Happened at the End of 'Cheer' Season 2?
The ending of Cheer Season 2 gave audiences an update of life post-Daytona 2021 and it's a bittersweet ending, to say the least.
La'Darius and Monica Reconciled
After a seriously strained relationship in Season 2, which saw La'Darius quitting Navarro altogether and speaking badly of his former coach Monica Aldama online, the pair reunited after Daytona 2021.
In emotional scenes, La'Darius, who now coaches for Cheer Athletics, apologized to Monica for his behavior and broke down in tears as he shared how much he missed his mother figure.
Monica also shared how hurt she was and accepted La'Darius' apology.
Khris Franklin Is Head Coach at TVCC
Khris Franklin, who was the coach of TVCC from 2011 to 2017 and assistant coach to Johnson for the past three years, has been promoted to co-head coach.
Now, going into Daytona 2022, TVCC will have two talented coaches at the head of their team.
Cheerleaders Said Goodbye to Navarro and TVCC
The ending of Cheer also gave some updates to where some of the stand-out stars are heading next.
Jada Wooten, the de-facto leader of TVCC's cheer team and star tumbler, said goodbye to Navarro and joined Sam Houston State University, where she cheers for the Kats.
Navarro rookie Gillian Rupert is returning to Navarro College for another term but her best friend Cassadee Dunlap moved on to "start her future."
Joining Rupert for another term at Navarro is top flyer Maddy Brum, who tells filmmakers she won't be leaving Navarro until she wins Daytona as a "Navarro Cheerleader."
Cheer Season 2 is streaming on Netflix now.