Did Trump Just Accuse Rod Rosenstein of Treason? President Retweets Image Showing Deputy AG Behind Bars
President Donald Trump used his Twitter account Wednesday morning to retweet an image showing Rod Rosenstein behind bars and accusing his own deputy attorney general of treason.
Rosenstein is one of a number of individuals shown behind bars in the image, tweeted by the president's fan account The Trump Train, which also includes special counsel Robert Mueller, former Secretary of State Hillary Clinton and former President Barack Obama, among several other high-profile officials and Democrats.
Emblazoned over the top of the image are the words: "Now that Russia collusion is a proven lie, when do the trials for treason begin?"
The Department of Justice did not respond immediately to a request for comment.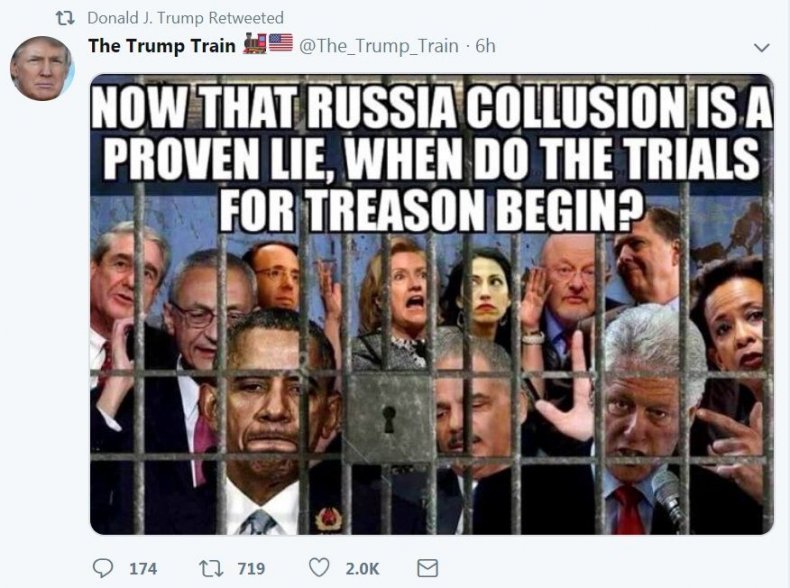 Rosenstein assumed oversight of the Mueller investigation after former Attorney General Jeff Sessions recused himself, a decision that angered Trump.
In September, The New York Times reported that Rosenstein had suggested wearing a wire around Trump and spoke of invoking the 25th Amendment to remove the president from office. Rosenstein called the reports "factually inaccurate" and, after a meeting with Trump, kept his job.
Trump retweeted a total of four posts by The Trump Train on his personal Twitter account Wednesday morning. The other tweets criticized CNN, federal assistance for undocumented migrants and General Motors.
The president himself tweeted yet another attack on Mueller, who heads the investigation into Russian interference in the 2016 election, as well as the question of possible collusion between the Trump campaign and the Russian government.
Among those indicted so far by Mueller is Paul Manafort, Trump's former campaign chairman, who is accused of conspiracy against the U.S. by acting as an unregistered agent of a foreign government.
Manafort was already convicted of multiple counts of fraud. He entered a plea deal with Mueller to avoid a second trial, but the special counsel accused Manafort of violating that deal by lying repeatedly to the FBI. Manafort says he spoke truthfully.
Speculation is swirling that Mueller could indict other Trump associates, friends and family in the coming weeks. On that list of potential indictees is the president's eldest son, Donald Trump Jr.
"While the disgusting Fake News is doing everything within their power not to report it that way, at least 3 major players are intimating that the Angry Mueller Gang of Dems is viciously telling witnesses to lie about facts & they will get relief. This is our Joseph McCarthy Era!" Trump wrote on Twitter on Wednesday morning.