Did Trump Just Give Up on Puerto Rico Completely?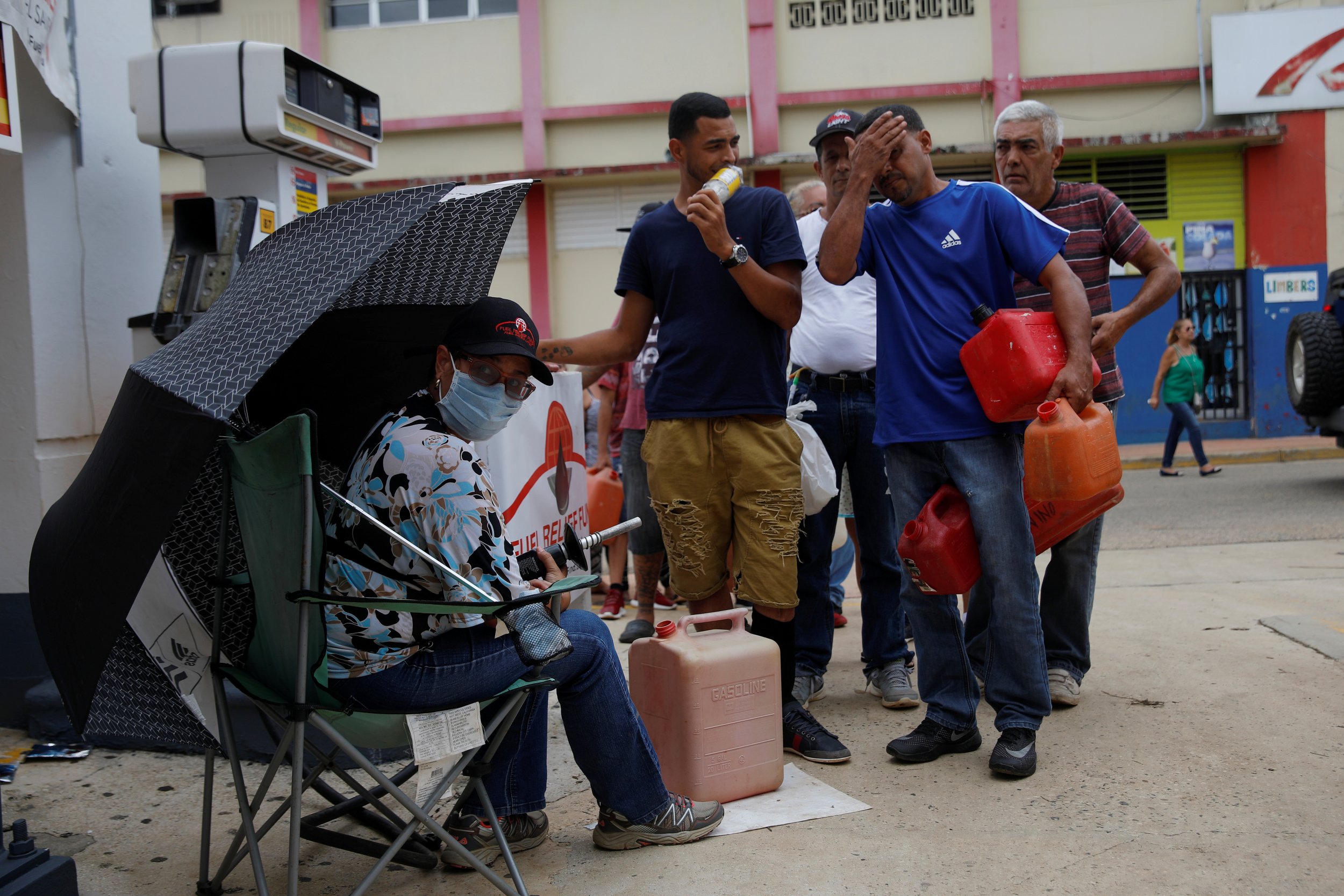 President Donald Trump, under fire for a slow response to the humanitarian disaster in Puerto Rico, again took to Twitter to blame the island for its problems and imply that he's ready to curtail the American relief effort there.
Early Thursday, Trump tweeted that Puerto Rico is responsible for the island's financial crisis and storm-related electricity shortages that left the island without power after Hurricane Maria swept through on September 20 and destroyed crops, the electrical grid and communication lines in a nation already struggling with poverty.
"Puerto Rico survived the Hurricanes, now a financial crisis looms largely of their own making," Trump said on Twitter. "Electric and all infrastructure was disaster before hurricanes. Congress to decide how much to spend..."
The president did not continue that thought, but moved onto another: "We cannot keep FEMA, the Military & the First Responders, who have been amazing (under the most difficult circumstances) in P.R. forever!"
The response from Trump comes amid an ongoing debate over whether or not the commander-in-chief has sufficiently responded the 3.4 million affected Puerto Ricans, all of whom are American citizens.
"We feel completely abandoned here," Rafael Surillo Ruiz, the mayor of Yabucoa, told The Washington Post.
Puerto Rico is deeply impoverished with more than $70 billion in debt and three defaulted bond payments, according to The Borgen Project, an organization that addresses global poverty. In 2006, Congress phased out federal tax cuts that drew businesses to the island, removing a bulk of economic competitiveness for Puerto Rico. That, combined with repeated government overspending, means the territory does not bring in enough money to offset its spending, building systemic poverty.
Trump lashed out at San Juan Mayor Carmen Yulín Cruz in September after she criticized the administration for not doing enough, calling her "nasty" and unleashing an attack on the Puerto Rican leader, tweeting, "Such poor leadership ability by the mayor of San Juan, and others in Puerto Rico, who are not able to get their workers to help. They want everything to be done for them when it should be a community effort."
Cruz had begged the government to "save us from dying," telling the Trump administration, "If anybody out there is listening to us, we are dying, and you are killing us with the inefficiency."
Hurricane Maria hit the island September 20, destroying homes and leaving Puerto Rican residents stranded without communication. The storm destroyed crops, homes and stores across the island, which already struggles with poverty.
The death toll from Hurricane Maria in Puerto Rico remains unclear. The last official count recorded 45 deaths, but local reporters estimated at least 60 deaths. The humanitarian crisis is expected to claim hundreds of lives as more bodies are found.
Trump's response to the crisis was initially slow, critics say. But many are questioning why the death count continues to rise long after the storm has passed. Rachel Maddow spent a significant part of her MSNBC show on Wednesday deploring the Trump administration for sending a massive naval medical ship to San Juan, where it is treating only seven people while others die in nearby hospitals of treatable infections.
"Problem is not a shortage of resources, people's willingness to help, first responders or size of the crisis," she said. "Problem is who is in charge? Who is running this ongoing catastrophe that is the failed response that followed the natural disaster?
It's not the first time Trump has blamed Puerto Rico for its problems. Five days after the storm hit, he hinted that there would be a limit to his patience with fixing the island.
"Puerto Rico, which was already suffering from broken infrastructure & massive debt, is in deep trouble," he tweeted on Sept. 25.
In 2012, Trump criticized former-President Obama for his handling of Hurricane Sandy, tweeting, "The federal gov. has handled Sandy worse than Katrina. There is no excuse why people don't have electricity or fuel yet."