Did Trump Threaten Carrier to Keep Jobs in the US?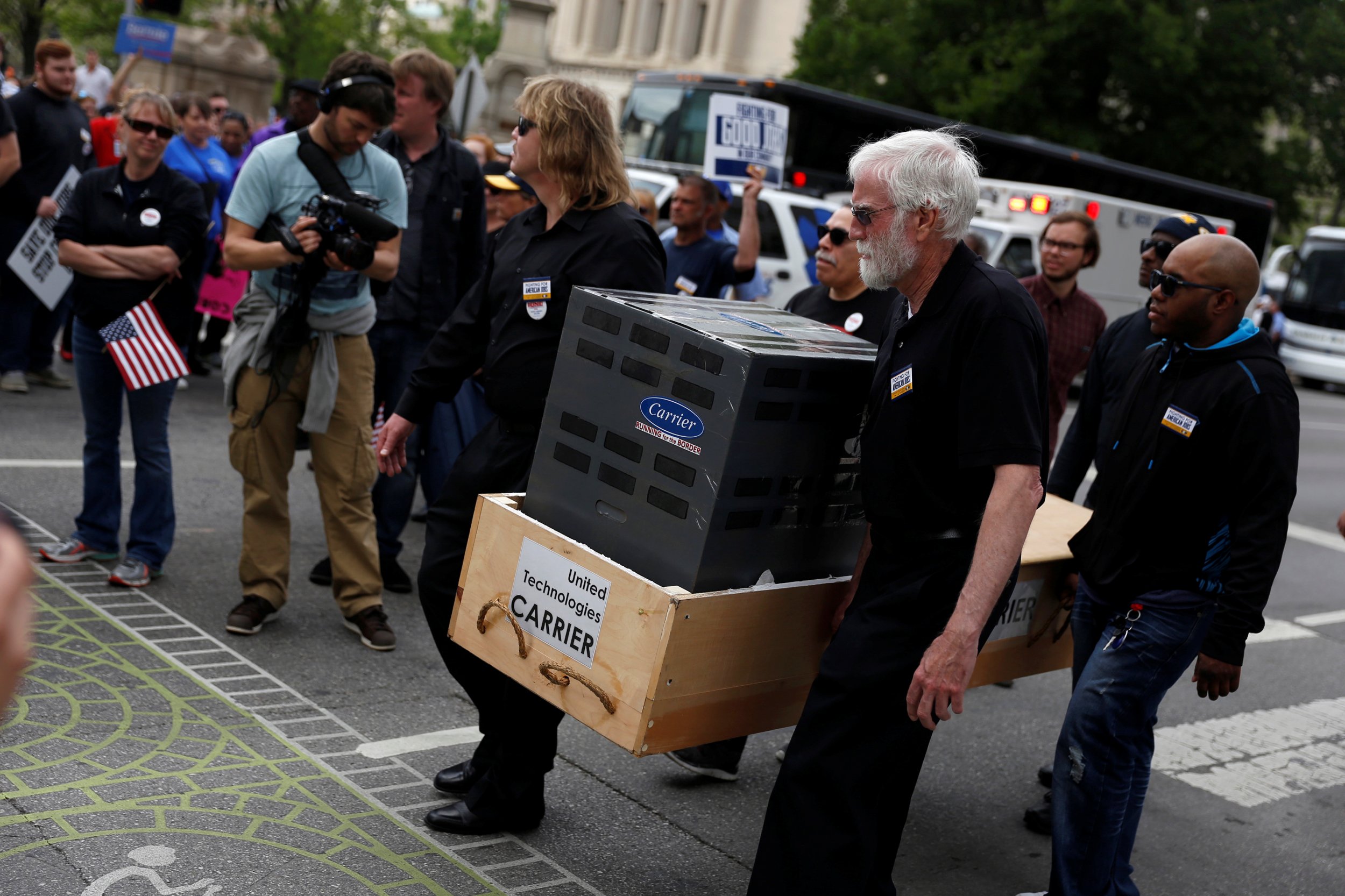 This article first appeared on the American Enterprise Institute site.
Every silver lining has its clouds, and nowhere is that reality illustrated better than in the context of President-elect Donald Trump's announced "success" at inducing Carrier to preserve about 1,000 jobs in Indiana rather than moving them to Mexico, as it had announced earlier.
That this is a sizable political victory, even if short-lived, for Trump and for Vice President-elect Mike Pence is obvious.
Related : Carrier plant will keep 1000 jobs in the U.S.
Before the high-fiving ends, however, some hard realities must be recognized, as they are unavoidable. To wit:
Costs of Public Services: Officials in Indiana reportedly will bestow some as-yet unpublicized economic incentives upon Carrier as an inducement to remain in the state. These presumably include tax breaks of one kind or another.
Will Carrier's demands for public services—the costs that it imposes upon the public purse—decline as well? It is hard to see how: The factories and other facilities will continue to require police and fire protection, traffic control and the other array of government activities that must be financed with tax revenues.
Unless the local and state governments suddenly find ways to improve their efficiency—not the way to bet—someone will have to carry a tax burden higher so as to make up the difference. Who will that be, and what attendant effects will emerge in terms of employment, business location decisions, and all the rest?
No one can know at this early stage; but we do know one eternal truth: There are no free lunches.
The Rebirth of Industrial Policy: Was the deal facilitated with an explicit or implicit threat to penalize United Technologies—Carrier's parent firm—in terms of its federal contracts, whether current or prospective? It is hard to believe that at a minimum an implicit threat was not perceived by the parent; and it is easy to predict that such firms now moving forward will factor such possible penalties into their location and other planning.
Remember the 2011 attack on Boeing from the National Labor Relations Board? Boeing's plans to build a factory in right-to-work South Carolina constituted "retaliation" for various worker actions in union-friendly Washington. (Big-government bureaucracies are inventive.)
Republicans were outraged; well, precisely how does that action differ from the perhaps-implicit threat perceived by United Technologies? Answer: It doesn't. Is federal contracting now going to be driven even more than already is the case by political criteria than by pursuit of the best deal for the taxpayers? The apparent answer is yes.
Re-Regulation and Big-Business Favoritism: It is both obvious and subtle that this deal is inconsistent with Mr. Trump's avowed goal of reducing the regulatory burden. Such deals obviously can be cut only with big firms, as equivalent negotiations with hundreds of thousands of small and medium companies over location decisions and the like are impossible.
And so the looming Trump administration, perhaps without realizing it, has taken the same path well-traveled for the last eight Obama years: The large firms in important industries (healthcare, financial services, energy) are to be cartelized by massive legislative and regulatory burdens, while the small- and medium-sized businesses that are the backbone of American capitalism are left to fend for themselves.
Can it possibly be the case that Mr. Pence does not realize that industrial policy on firm location decisions is inconsistent with the dynamism that the Trump-Pence growth and employment goals require? One would think not; but we will have to see.
Ad Hoc Regulatory Reform: It also is reported that the Carrier arrangement includes some promises on regulatory easing and the like. Such pick-and-choose reform is very different, and vastly worse, than a broad-based effort to rationalize regulatory policy in pursuit of improved economic efficiency and resource productivity.
Mr. Trump's campaign vows to reduce the regulatory burden—and the power of the federal bureaucracy to impose costs both massive and unjustified as it pursues its own interests– are laudable, but very different from a system in which such carrots are dangled only in exchange for inefficient "jobs" promises and other kind of subventions traded as part of "deals."
This is only the earliest manifestation of Trump's profound lack of interest in permanent political and policy principles, as distinct from the immediate advantages to be gained from particular negotiating positions.
Rent-Seeking: Will other large firms now find it advantageous to threaten (or hint) at relocation plans merely to obtain the same kind of benefits that Carrier/United Technologies has won? To some degree, the answer must be yes, and so, again, the Carrier deal with reinforce rather than reduce the politicized allocation of resources.
Exchange Rates and Policy Futility: Finally: Has anyone in the prospective Trump administration considered the exchange-rate effects of this deal and similar ones to be negotiated over time?
However small the effect, the preservation of the Carrier industrial operation in Indiana will yield a dollar stronger rather than weaker, meaning that other exporters will find it more difficult to compete in international markets. And so in the end, the Carrier deal will shift employment among sectors rather than preserve it.
The effort to "save jobs" will prove futile. Why should the federal government do that?
The Carrier deal, to adapt a famous phrase, is a small step for some workers and a giant leap backwards for the economy as a whole. That the losers do not know who they are is an endemic part of the age-old problem of government incentives to bestow benefits upon concentrated interests.
Trump's penchant for "deals" does not offer grounds for longer-term optimism, and the inconsistency between this deal and his campaign against a "rigged system" is striking.
Benjamin Zycher is the John G. Searle Chair and a resident scholar at the American Enterprise Institute (AEI). He is also a senior fellow at the Pacific Research Institute.
Read more from Newsweek.com: