Hilarious Difference Between Millennials and Gen X Summed Up in Viral Video
A viral clip has hilariously illustrated the different ways generations cross the road, capturing two contrasting responses to the challenges of a flooded street.
The footage shows two sets of people crossing a street covered in water after heavy rainfall. In the month since it was first shared online by TikTok user @Rom2032, the video has been viewed over 7.9 million times.
At first, two individuals, assumed by the poster to be millennials, but by many others online to be Gen Z, stood on the pavement by the crosswalk talking among themselves. The pair looked at the water as they talked, even stepping back at points and seemingly laughing. After almost 30 seconds, they hadn't yet made any steps to cross the road, despite appearing like they wanted to.
The latest available research by the Pew Research Center on views toward the generation gap shows that 79 percent of Americans believe that such a gap exists. For the majority, the main causes are differences in technology and music. The other main differences lay in the core beliefs of each generation, including morals, politics and religion.
According to this video, however, the differences are clearly illustrated by how they decide to cross a flooded crosswalk.
While they waited, another older man, assumed by the poster to be Gen X, simply sauntered across the crosswalk in flip flops, submerging his feet in the water without hesitation as the others watched on.
One Gen Z person finally heads out, sprinting across the water, and the second then follows. Both attempted to jump and run, in an attempt to stay as dry as possible.
The stark difference between the two methods sparked laughs online as people rushed to compare and weigh up their own views in the comments.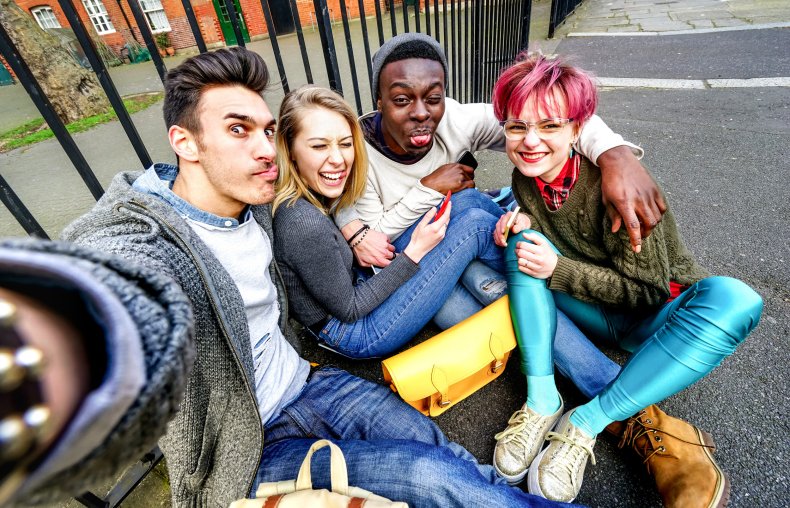 "Too busy searching for the cheat code," joked one user.
"My man reduced his speed and spread those shallow waters to tease those two boys," added another.
Others however weren't so fast to criticize the younger individuals, comparing their shoe choices as a potential reason.
"To be fair.... the older guy had flip flops and their trainers probably cost £300," wrote a user.
Despite differing opinions on the TikTok video, Gen Z doesn't have it so easy, entering the adult world in a time of sky-rocketing rents and inflation.
Newsweek spoke to various Gen Zers on the difficulties they're facing to simply put a roof over their heads, thanks to incredibly high rents and the difficulty of buying.
"Gen-Z is living with their parents longer than they expected," Jason Dorsey, president of the Center for Generational Kinetics, a leading research and advisory firm focused on Gen-Z and millennials, told Newsweek, "which affects all sorts of things from social life to identity, to how they feel about self-reliance."