'Quiet Quitting' Isn't New, Here's Why Gen Z Is Taking Blame
A new topic is circulating on TikTok involving the workplace, as many in the Gen Z demographic are talking about how they are participating in "quiet quitting," a trend that some argue is not new.
What Is Quiet Quitting, and Why Is It Trending?
Quiet quitting is the new term for setting clear work-life boundaries. For the most part, it doesn't even involve getting taken off the company's payroll. The idea, many have shared online, is simply to do exactly what your job asks of you—nothing more, nothing less.
Career coach Kelsey Wat told Newsweek, "My understanding of quiet quitting is when you, sort of, emotionally and mentally check out of your job and do the bare minimum necessary to not get fired, essentially."
Videos on TikTok with the tag "#QuietQuitting" have shown a variety of opinions on the subject, with individuals arguing for and against it.
In one video, posted by user @zaidleppelin, which amassed 3.4 million views at the time of publication, the TikToker says, "I recently learned about this term called 'quiet quitting,' where you're not outright quitting your job, but you're quitting the idea of going above and beyond. You're still performing your duties, but you're no longer subscribing to the hustle culture mentality that work has to be your life. The reality is it's not, and your worth as a person is not defined by your labor."

Others have taken to the site to argue against quiet quitting, with user @weekdayremedy posting a video stating that the idea of quiet quitting "does not benefit you at all."
"Quiet quitting is literally wasting your time at this company and shooting yourself in the foot," the user said.
There are over 3.9 million views on TikTok under the hashtag discussing the concept, and Wat told Newsweek, "I think it's a big deal because I think burnout is really rapid right now. I think that the pandemic, on top of political unrest, has been really traumatic for people. And I think folks were looking for their work to respond differently than they did."
Recent polls have shown that, because of the pandemic, the urge to invest in one's job has fallen immensely. According to Gallup's State of the Global Workplace: 2022 Report, employee engagement in the U.S. and Canada was only found to be 33 percent.
"I think there's been a lot of pressure and a lot of continued demand as the economy has dipped, and people are just burned out and haven't had time to feel like they've emotionally and mentally recovered from the last three, four years," Wat said.
Others justify quiet quitting. Career strategist and author Jennifer Brick told Newsweek that many of her clients feel a certain sense of responsibility to work overtime so they don't get reprimanded.
"Our identities have become defined by our work, and there are so many shoulds about what that looks like," Brick said. "However, not everyone dreams of climbing the career ladder to the executive ranks. Many people simply want to do their jobs, go home at the end of the day and live their lives."
Is Quiet Quitting a New Trend?
The answer is no. While the younger generations have gotten it trending on social media, the overall idea of quiet quitting is nothing new—in fact, many argue that employees have been "disengaged" at work for years.
Greg Giangrande, a human resources specialist and chief people and chief communications officer of Ellucian, a higher education technology company, told Fox 5 New York, "So quiet quitting is a new name for [an] old pastime that employees have been doing for decades."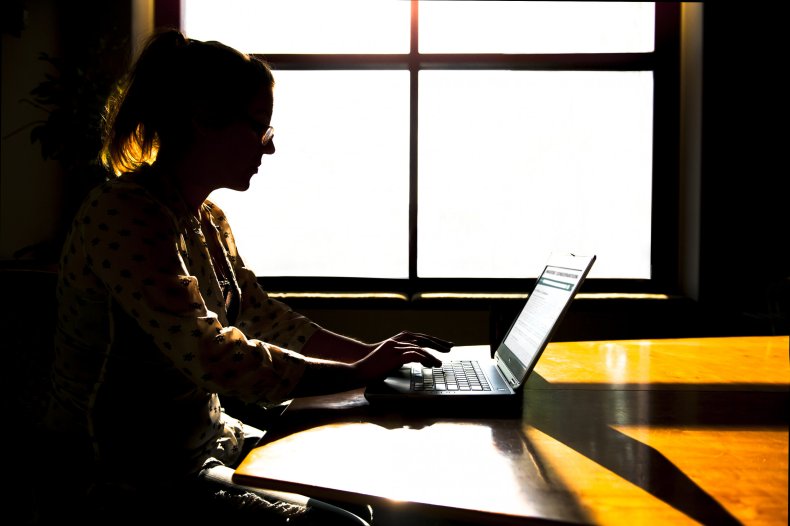 However, Giangrande said that the reason it is such a popular topic these days could be because of how differently younger people seem to think about work. Giangrande said that employees, especially those early in their careers, have a much different take on work-life balance, prioritizing more time for their personal lives than some might have done in previous years.
"I don't think it's a new idea," Wat said. "I have talked with a few folks who pose it more as like a social protest. As like, you know, a big 'stick it' to corporate America type of thing. Which I can understand, and perhaps I haven't seen something like this presented in that way. So in that case, it's new, but checking out of your job is not a new concept. People have been doing that."
Brick agrees that quiet quitting isn't new but added, "I'm glad someone gave it a name. It gives us the vocabulary to both discuss and normalize it. Success isn't exclusive to career success, and knowing what success is to you is absolutely crucial."
She said she thinks it's a good thing for some employees. "Quiet quitting gives them a framework where they are able to give themselves permission to not work all the time, overachieve on all the things, and sacrifice the lives and relationships they really want to build to have success in the corporate world."
Wat, however, said she agrees with those who say it might not be a very helpful mindset at work.
"I think that healthy boundaries are important, but I don't see quiet quitting as setting [a] healthy boundary," she said. "It's a coping mechanism for a larger issue, which is lack of boundaries and lack of value alignment with the role."
Update 8/17/22, 10:30 a.m. ET: This story was updated with additional comments from Jennifer Brick.