Watch the Digidestined Get Heartbreaking News in 'Digimon Adventure: Last Evolution Kizuna' Clip
After months of delays due to COVID-19, the latest Digimon animated film is about to be released, celebrating the franchise's 20th anniversary with Tai, Matt and the rest of the original Digidestined.
Digimon Adventure: Last Evolution Kizuna will bring fans of the original Digimon series full circle—it lets them take a look at what the Digidestined are up to as they prepare for the next stage of their lives.
In this exclusive clip provided to Newsweek, the mysterious new character Menoa delivers some startling bad news to Matt, Tai and Izzy.
She explains that Digimon draw their power from their partners and the reason Digidestined are children is because they are "full of potential." Once a Digidestined grows older, the power and bond between Digimon and their partners dwindles until it breaks.
Here's the official synopsis of the upcoming film:
Tai is now a university student, living alone, working hard at school, and working every day, but with his future still undecided. Meanwhile, Matt and others continue to work on Digimon incidents and activities that help people with their partner Digimon. When an unprecedented phenomenon occurs, the DigiDestined discover that when they grow up, their relationship with their partner Digimon will come closer to an end.

As a countdown timer activates on the Digivice, they realize that the more they fight with their partner Digimon, the faster their bond breaks. Will they fight for others and lose their partner? The time to choose and decide is approaching fast. There is a short time before "chosen children" will become adults. This is the last adventure of Tai and Agumon.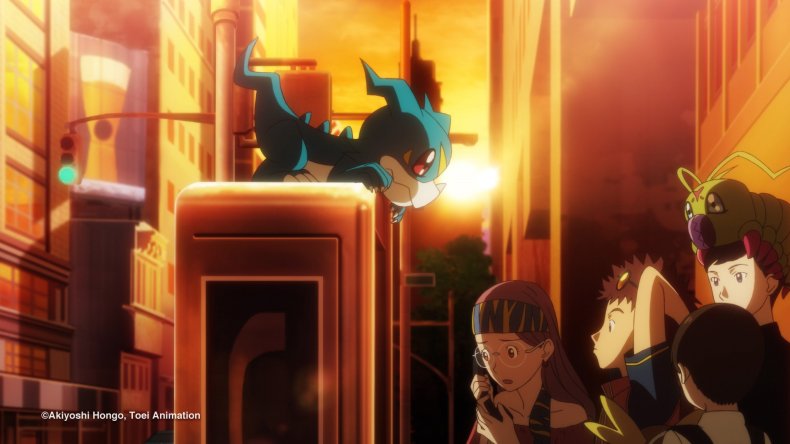 HOW TO WATCH DIGIMON ADVENTURE: LAST EVOLUTION KIZUNA
Now that Digimon Adventure: Last Evolution Kizuna is ready to be released in North America, there will be a few ways to watch the film.
The first will be through purchasing a digital download on iTunes, Microsoft and Sony PlayStation Network starting on September 29, the film's North American digital release date. The second is by purchasing the DVD or Blu-ray starting October 6.
To celebrate the release of the new Digimon movie, Toei Animation and Shout! Factory will host a watch party for the Last Evolution Kizuna on Saturday, October 3, at 8 p.m. EDT. The livestream will be simulcast on the Toei Animation US YouTube channel and the official Digimon Facebook page.
This free online event will be hosted by Justin Rojas and feature English dub cast members Robbie Daymond (voice of Joe Kido) and Erika Harlacher (voice of Menoa Bellucci) from the movie. Fans will be treated to a pre-movie discussion before the host and cast guests watch and comment on the movie in real-time, followed by a post-movie discussion thereafter, as well as special giveaways throughout the livestream.
And don't forget to use #DigimonKizunaWatchParty to comment along with the watch party.
What do you think of the upcoming Digimon movie? Who is your favorite of the Digidestined? Let us know in the comments section.