Donald Trump Jr. Attends Premiere of Dinesh D'Souza Film that Equates Democrats With Nazis
Looking to tout President Donald Trump for pardoning him from a federal campaign finance violation sentence, a formerly fringe right-wing director got the red carpet treatment in Washington for a film that re-imagines Adolf Hitler as a Democrat.
The conservative provocateur and historical revisionist Dinesh D'Souza trotted down a Washington, D.C., red carpet Wednesday night alongside his wife, Debbie; Donald Trump Jr.; and the president's son's former Fox News personality girlfriend, Kimberly Guilfoyle. The group strode into the capital's E Street Cinema for the premiere of D'Souza's latest work, Death of a Nation: Plantation Politics and the Making of the Democratic Party, which is based on a 2018 book of the same name. The documentary poster features the tagline "Can We Save America a Second Time?" and shows a meshed photo of both Abraham Lincoln and Trump's faces.
The over-the-top partisan commentary leads viewers to believe Trump is the modern-day version of Lincoln, who "saved America from the Democrats for the 1st time. Can Trump -- and we -- come together & save America a 2nd time?" D'Souza describes the film on Twitter. Trump Jr. also took to Twitter to promote the film glorifying his father, tweeting that it's "going to fire up Republicans for the midterms exploring how fascism so closely links to the platform of the progressive left today." Much of the film equates liberals to Nazis and supporters of slavery, with a smarmy documentary tone that D'Souza has perfected in past revisionist right-wing fantasies, including 2012's 2016: Obama's America and 2016's Hillary's America: The Secret History of the Democratic Party.
As The Washington Post first reported, attendees at the film's premiere Wednesday included U.S. Secretary of Housing and Urban Development Ben Carson, former Milwaukee County Sheriff David A. Clarke Jr. and alt-right leader Jack Posobiec. The film itself credits white supremacist Richard Spencer and Project Veritas prankster James O'Keefe among its cast.
A scene from the movie tweeted out by D'Souza on Tuesday shows a long table meeting of several Nazi Party members as they discuss "How does the American identify the Negro?" The actors portray a scene in which the Nazis are appalled at the "one-drop rule" Americans had used to designate someone with sub-Saharan ancestry a "Negro" if connected to even just one, distant black ancestor. And in D'Souza's narrative, he connects the concept to the modern Democratic Party.
"As for the Democratic 'one-drop rule,' incredibly, the Nazis found it too racist even for them," D'Souza narrates. The director's ridicule of liberals while touting President Donald Trump as a Lincoln-like savior ties directly back to he and his wife's unending "thanks" offered to Trump after his May pardon.
The right-wing filmmaker and conspiratorial author was pardoned by President Donald Trump in late May after pleading guilty to violating federal campaign finance laws in 2014. He'd been indicted on charges that he illegally set up straw donors to contribute $10,000 each to New York GOP candidate Wendy Long's 2012 Senate campaign—and he claimed he would reimburse them later. D'Souza was sentenced to five years of probation and a $30,000 fine, including eight months to be spent living under halfway house supervision.
"I want to thank @realDonaldTrump for giving my husband a pardon but I particularly want to thanks @SenTedCruz for putting it on his radar and helping make it happen! So grateful!" Debbie D'Souza tweeted on May 31. The White House issued a statement at the time that D'Souza was "a victim of selective prosecution for violations of campaign finance laws."
D'Souza took to Twitter and immediately claimed victory over President Barack Obama following Trump's pardon. "Obama & his stooges tried to extinguish my American dream & destroy my faith in America. Thank you @realDonaldTrump for fully restoring both," he tweeted May 31. He also tweeted out a self-congratulatory message that featured the hashtag "burn the jews."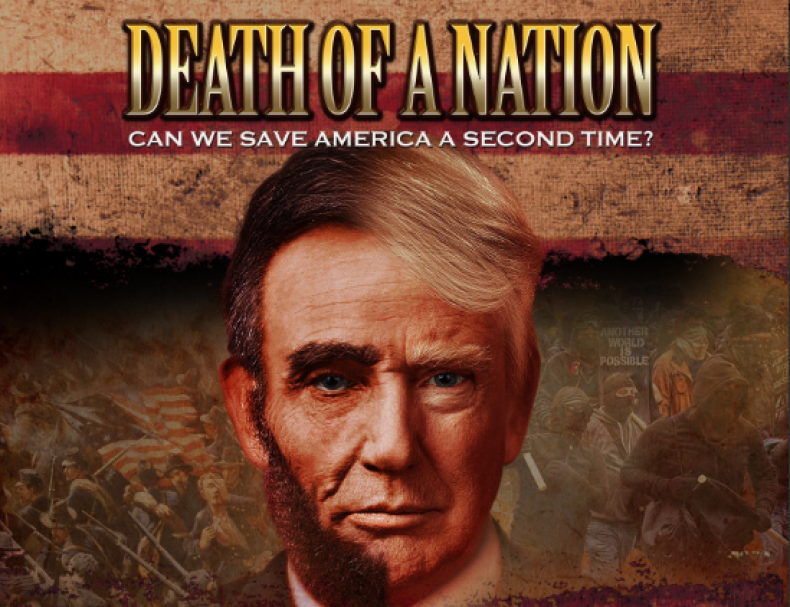 Much like Trump himself, D'Souza has spent his political career bashing Barack Obama. In a 2010 Forbes story, D'Souza accused the then-president of forcing his Kenyan father's "cause of anti-colonialism" on America. He also called Obama's father a "philandering, inebriated African socialist," while arguing that Obama will bring African poverty to the U.S.
But D'Souza's latest film, released in select theaters this week, follows in these footsteps of using carefully selected facts to illustrate his own history. One of the primary points of the film is driven home several times: Hitler was a liberal. Variety film critic Owen Gleiberman wrote that the documentary screed is straight from the "fake-historical news factory of Dinesh D'Souza."