Dinesh D'Souza Slams Tucker Carlson, Newsmax Over New Documentary Coverage
An author and conservative political commentator is publicly voicing his frustration with a Fox News host and a news outlet over the coverage of his new documentary.
On social media Monday morning, Dinesh D'Souza, an ardent supporter of former President Donald Trump, accused Tucker Carlson and his team at Fox News of controlling what Catherine Engelbrecht could and could not say on his program. Engelbrecht, who partnered with D'Souza on the film 2000 Mules, is the founder of True the Vote, an anti-voter fraud group.
In response to a user on Twitter, D'Souza wrote, "I'm sorry to say Tucker Carlson and his team specifically instructed Catherine Engelbrecht of True the Vote NOT to mention the movie."
D'Souza also accused Newsmax of "blocking coverage" of the film.
"BTW @newsmax is also blocking coverage of 2000 Mules. I was booked on Grant Stinchfield's Newsmax show and then the network canceled on me. Criticize the move if you like, but why isn't this a legitimate news story? How can so-called news networks pretend it doesn't exist?" he wrote.
The film alleges that widespread voter fraud took place during the 2020 presidential election, something that Trump and some of his closet allies have continued to say since he left office more than a year ago. However, many organizations have debunked the claims and the Department of Homeland Security called the 2020 presidential election "the most secure in American history."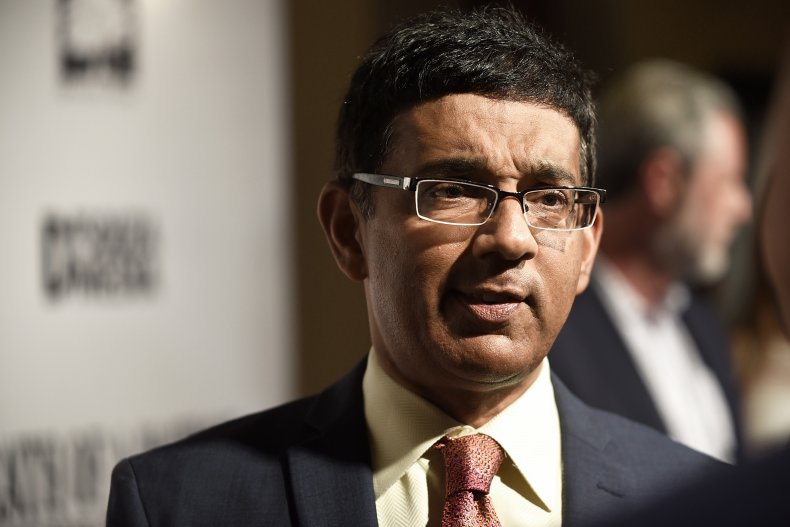 The documentary, which was released last week, claims "mules," paid or unpaid political operatives, placed ballots in multiple vote drop boxes, which were used to make voting easier during the COVID-19 pandemic.
MyPillow CEO Mike Lindell, a vocal Trump supporter who continues to push claims of widespread voter fraud, told a reporter Friday evening that the leak of a Supreme Court document concerning abortion was timed too well to be a coincidence, calling it "election deflection."
"All of a sudden, the news comes in, and it leaked out from the Supreme Court. What kind of timing is that? You follow me? And so that gets the news rather than more and more evidence and more stuff piling on of what happened in the 2020 election. It's disgusting," Lindell said.
Before Lindell's comments suggesting the leak from the Supreme Court was a possible distraction from voter fraud, Trump held a screening of the 2000 Mules at his resort, Mar-a-Lago, on Thursday.
Lindell, Rudy Giuliani and Republican Georgia Representative Marjorie Taylor Greene were all reportedly in attendance for the film's showing at the former president's president's Florida property.
Newsweek reached out to D'Souza, Fox News and Newsmax for comment.