Diplo Seeks $1.2 million In Revenge Porn Case Win: 'Justice Prevailed'
Diplo has won a ruling against a woman he accused of harassment after their sexual relationship ended.
The DJ and producer —real name Thomas Wesley Pentz—had accused the woman of being a "stalker" and harassing his family, including the mother of one of his children.
The musician sued Shelly Auguste in 2021 and their case went to arbitration.
The arbitrator ruled in Diplo's favor and he is now asking for $1.2 million to cover damages and legal costs.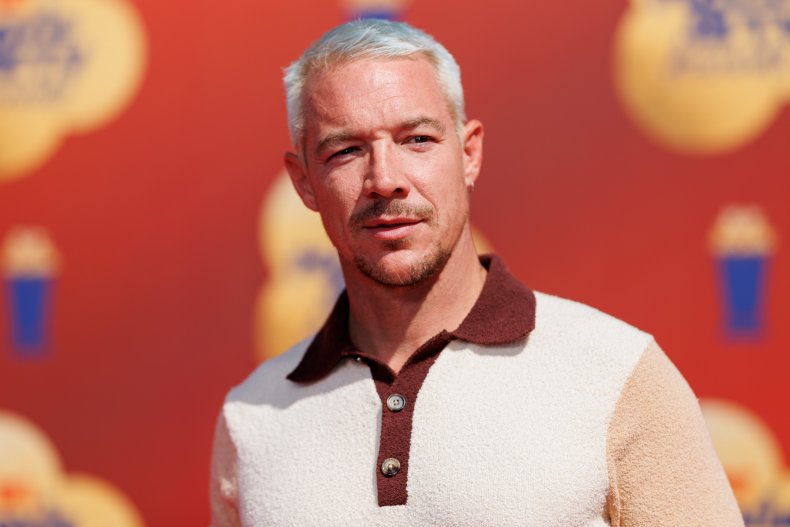 Diplo's legal team filed a request to the Los Angeles Superior Court to order her to pay.
In the request to the court, Diplo's attorney stated that "the Arbitrator finds that Auguste's credibility is lacking" and she also had a previous history of stalking."
"On many occasions, her testimony about the circumstances of her relationship with Pentz was materially different from the documentary evidence presented…The record evidence contains significant inconsistencies that raise concerns about the believability of much of Auguste's testimony," Diplo's attorney Bryan Freedman declared in the court filing.
In the court filing, which has been provided to Newsweek, Freedman highlighted Auguste's history of harassment and stalking, and how "the Judge on record expressed unease about Auguste's perceived lack of respect for authority and ordered Auguste undergo a mental health evaluation."
"We are all extremely pleased for Wes [Diplo] and his family. What happened here is simple," Freedman said in a statement provided to Newsweek.
"The arbitrator looked at all the facts. She evaluated the evidence impartially. And justice prevailed."
Diplo and Auguste had a short-lived fling in 2019, which consisted of "a night of consensual sex" and some text messages in the months after, but things turned sour and he accused her of harassment and stalking.
Diplo's legal team described Auguste as an "obsessive and unstable fan" who wanted to make money from her relationship with him.
After their fling, the pair took out temporary restraining orders against each other.
The DJ accused Auguste of stalking, trespassing, and distribution of private materials.
She said he had recorded sexually explicit videos without her permission and distributed at least one without her consent, for which he could have potentially faced criminal charges.
The complainant also sued Diplo for sexual battery and gender violence, including forcing her to perform a sex act on him.
She later dropped the lawsuit in July 2021 saying she regretted filing it.
"In light of the evidence and after consultation with my attorneys, I have decided to withdraw my lawsuit," a statement from Auguste read.
"No payment was offered or requested. I regret filing the lawsuit."
Diplo spoke out against Auguste's accusations in a lengthy Instagram post and described "a nightmare of almost three years of her harassing and threatening me and my family and my friends."
"It was my goal to never address a stalker," he wrote.
"She was an obsessed fan of mine, and after I relinquished all contact with her, it appears that her only purpose in life has been to disrupt my work, my business, harass me and my close friends and attack me and threaten my family.
"To be clear, SA [Shelly Auguste] was not a minor when I had conversations or sexual intercourse with her. Her own text messages admit this."
Diplo also alleged Auguste had sent him negative texts about Jevon King, the mother of his third child, born in 2020.
"This is so frustrating and embarrassing," Diplo wrote. "I am not this person and I won't be extorted by anyone no matter how stinging the press can be.
"Even over the past two years I've never been bothered by these rumors, if anything it has made me stronger and smarter, all of my friends and partners have never questioned me and that was what has been important to me.
"The people in my life know me for who I really am. I will continue to do everything I can to end this in the most respectful way but I will not give in to lies and harassment."
Newsweek has contacted representatives of Auguste for comment.