American workers with disabilities earned an average of 26 percent less than workers without disabilities in 2020, according to a report released on Thursday by The Century Foundation and the Center for Economic Policy Research.
The "stark pay gap" between workers with and without disabilities in the U.S. is part of what the progressive think tanks' researchers described as "pervasive discrimination and a litany of structural barriers to economic security and upward mobility."
The release of the report, titled "Economic Justice is Disability Justice," comes more than two years after COVID-19 was officially declared a global pandemic. Researchers described the pandemic as a "mass disabling event." An estimated one in four Americans—about 61 million—have a disability, but researchers said those numbers are likely to rise once the full impacts of the pandemic are understood.
More than three decades after the Americans with Disabilities Act of 1990 was signed into law, discussions about economic policies in the U.S. "have rarely included a disability lens," according to Rebecca Vallas, a senior fellow with The Century Foundation.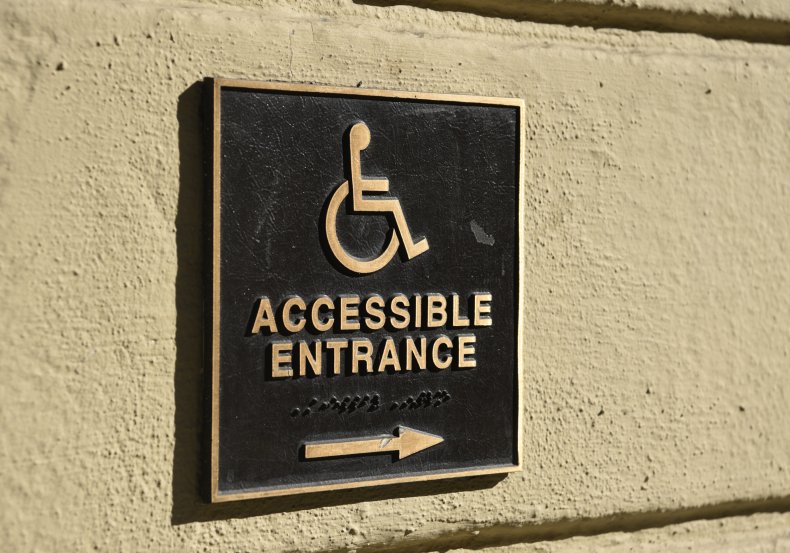 A survey conducted by Data for Progress that accompanied the report's release said only about three in 10 American voters with disabilities think leaders in the nation's capital "care" about them.
"People with disabilities have generally been an afterthought in our economic policymaking, much less at the table," Vallas said during a Thursday virtual discussion about the report's findings.
During the first year of the pandemic, employed Americans with disabilities "were paid an average of 74 cents on the dollar in 2020 compared with non-disabled workers," the report said. That data point "doesn't even capture the tens of thousands of disabled workers paid sub minimum wage," Vallas said in a tweet.
The report noted there is "a longstanding loophole" dating back to 1938 that enables employers to pay workers with disabilities less than minimum wage.
The report pointed to findings from September 2020 by the U.S. Commission on Civil Rights, which said Americans with disabilities who were getting paid sub-minimum wages through this loophole in the Fair Labor Standards Act made an average of $3.34 an hour and were working an average of 16 hours per week. Those amounts were equivalent to paychecks worth just over $200 per month, the Commission said at the time. In contrast, the federal minimum wage is $7.25 an hour, and 30 states have minimum wages higher than that.
At the start of 2022, about 1,200 U.S. employers either were using this loophole or had applied to do so, the report's analysis of U.S. Department of Labor data said. According to the Association of People Supporting Employment First, Hawaii and nine other states had passed legislation to close this economic loophole as of early April.
While researchers said "minimal data" is gathered on sub-minimum wages, they wrote that estimates suggest between 40,000 and 100,000 workers with disabilities are receiving these lower wages. Nearly eight in 10—79 percent—of voters with disabilities told Data for Progress pollsters they support the idea of ending sub-minimum-wages "so that workers with disabilities are paid at least the federal minimum wage."
Newsweek reached out to the Department of Labor for comment.
Recent U.S. Census Bureau data from 2019 suggested that Americans with disabilities "experience poverty at double the rate of non-disabled people," Thursday's report said. Researchers' analysis of economic data for people with disabilities between 2013 and 2020 found poverty rates were consistently higher for Black and Hispanic Americans than for white Americans. Nearly 25 percent of Black adults with disabilities were living in poverty in 2020, compared with almost 15 percent of working-age white Americans with disabilities. The same was true of about 22.4 percent of Hispanic adults with disabilities, researchers said.
The report also acknowledged the high numbers of Americans with disabilities at homeless shelters. It pointed to comments the U.S. Department of Housing and Urban Development's senior adviser for Housing and Services, Richard Cho, made on the subject earlier this year. Speaking with Federal News Network's Federal Drive host Tom Temin in January, Cho said roughly half of the individuals who occupy homeless shelters "report having some form of either physical or psychiatric disability."
In addition to heightened poverty rates, people with disabilities often have elevated costs of living that researchers said aren't always covered by health insurance. Researchers estimated the average U.S. household featuring an adult with a disability necessitated about $17,690 more per year "in order to achieve the same standard of living as a comparable household without a disabled member."
Looking back on their report's findings, researchers said disability "can be both a cause and a consequence of economic insecurity" in the U.S.
"As a result, disability and poverty go hand in hand," they wrote.