Archaeologists have discovered a Mayan tomb holding the remains of a man, alongside burial offerings in Mexico.
Researchers found the burial in the southwestern area of San Lorenzo de las Bayas, in the municipality of Ocampo, Tamaulipas.
The bones belonged to a man between 21 and 35 years of age, the National Institute of Anthropology and History (INAH) reported.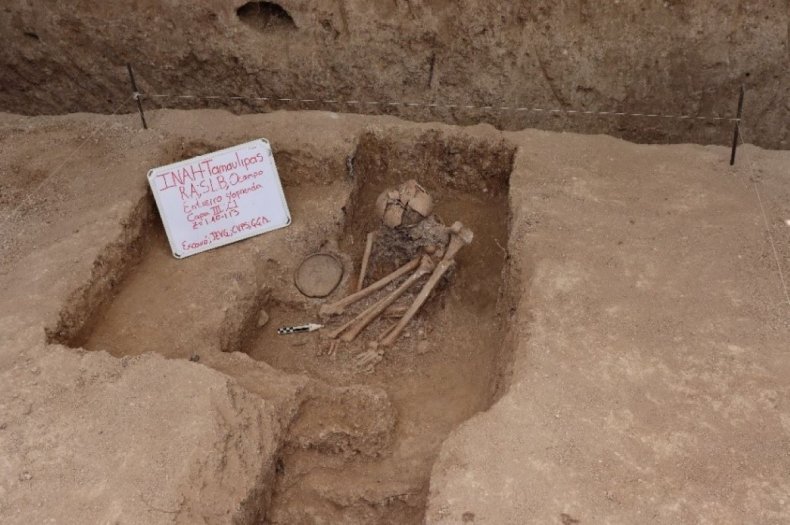 The man belonged to the Maya civilization that lived here in the late phase of the Classic period, in the years A.D. 600 to 900.
"Given the characteristics of his offering, consisting of an interesting tripod molcajete accompanying him as part of his funeral rites, we know that the site was occupied way back in the Classical period between A.D. 400s and 700," a statement from INAH said.
The three -legged molcajete—a pestle and mortar used in Mexican kitchens for grinding spices, chilies and other foodstuffs—suggests that this man was quite important.
It was also incredibly well preserved and nearly intact. The surrounding area also holds a wealth of other archaeological finds.
At the beginning of this year, archaeologists found more than a dozen human burials in a site nearby, in El Naranjo.
These finds are considered one of the most important archaeological finds in recent years. The sites are being excavated as part of a project to salvage any precious items, as the Mante-Ocampo-Tula highway is being constructed nearby.
The ancient Mayas lived throughout much of Central America, from the Chiapas and Yucatán areas, now part of southern Mexico. There is also evidence that they lived throughout Guatemala, Honduras, Belize and El Salvador and into Nicaragua.
This civilization is known for its ancient temples, some of which can still be seen today.
In ancient Maya, the late classic period was a time of rapid growth for some cities.
Tikal, one of the ancient Mayan capitals discovered in modern day Guatemala, had become very powerful during this time, but it had a period of decline a few hundred years later. Tikal is known as having been one of the most powerful kingdoms in Mayan times.
Several other powerful cities were growing at this time, such as Calakmul, hidden deep in the jungle on the Yucatan peninsula.
These cities influenced much of the culture and archeological finds being discovered from this time.
While some cities thrived during this time, some faced decline. The city of Teotihuacan, close to Mexico City, for example, was sacked and burned around the year A.D. 600.
New finds from the Mayan period are being discovered all the time.
In August, archaeologists discovered an ancient skeleton of a young woman wearing a well-preserved jade ring. The woman had also lived during the late Classic period.
Both of these recent finds give archaeologists insight into the funeral practices of this time.
Do you have a tip on a science story that Newsweek should be covering? Do you have a question about archeology? Let us know via science@newsweek.com.