Disgruntled Employee Backed for Quitting and Taking Whole Team With Them
Internet commenters were left shaking their heads after one scorned employee detailed the circumstances that prompted them to find a new job—and bring all of their coworkers with them.
In a viral Reddit post published on r/MaliciousCompliance, Redditor u/DepartmentKiller (otherwise referred to as the original poster, or OP) chronicled their years of underpaid work and recounted the single comment that pushed multiple employees into the arms of a higher-paying employer.
Titled, "If you find that 'job' take it! Goodbye! - Okay, I will and take the department with me," the post has received nearly 13,000 upvotes in the last 10 hours.
"My old company was a fairly large [real estate investment trust]," OP began. "I was a part of a very nice [mergers and acquisition] shop that was typically always the black sheep of the company."
Continuing to explain that their three-person department was focused on "miniscule" deals, the original poster said they worked more than 80 hours per week and made $52,000 per year, despite multiple raise requests.
The original poster also said that at an annual conference with roughly 300 attendees, they were allowed to submit anonymous questions to their company's CEO, and use the opportunity to ask how their employer planned on retaining talent while paying poorly and overworking employees.
"The CEO decided this question was hilarious and read it aloud laughing and responded, 'If you find that job...you better take it, goodbye!" OP wrote. "After being treated pretty terribly the last 1.5 years...I decided that was the final nail in the coffin.
"I spoke with [a] recently resigned coworker about his new company...I go through the interview process and get the job! I more than doubled my pay...[and] even got a 10K signing bonus," OP continued. "As I gave notice to my wonderful manager...she confides that after 7 years..she is ready to move to greener pastures.
"The final coworker standing was not hard to convince...all said and done, all three of us ended up doubling our old salaries," OP added. "The old company is now scrambling to replace us with over $100M worth of deals that will grind to a [halt] when my last coworker makes his departure."
Though some of the buzz surrounding the Great Resignation—the mass-quitting phenomenon which has seen more than 4 million U.S. employees quit their jobs every month since October 2021—has died down, disgruntled workers are still taking action.
Earlier this year, a survey published by consultancy firm PricewaterhouseCoopers revealed that 20 percent of workers in the United States plan to quit their jobs at some point in 2022.
While traditional factors like salary and benefits have played a part in workers' decision to quit, toxic corporate culture and everything that comes with it is largely culpable for the mass exodus.
In January, authors at MIT Sloan Management Review reported that toxic culture—marked by a "failure to promote diversity, equity, and inclusion; workers feeling disrespected; and unethical behavior," is 10 times more important in predicting turnover than compensation.
And when a toxic culture is combined with poor compensation and a virtually-nonexistent work-life balance, it is almost guaranteed that at some point, employees will be forced to seek employment elsewhere for both financial and mental health purposes.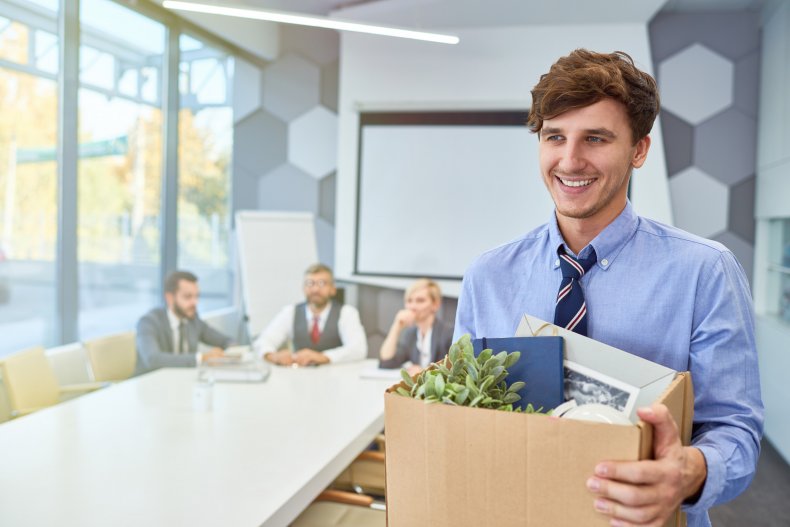 Throughout the comment section of the viral Reddit post, Redditors lamented over the current relationship between so many employees and their employers, sharing their own experiences similar to the original poster's.
"Currently in a similar position," Redditor u/Possible-Magazine917 commented. "My company is boasting record profits but I can't get my Lenovo think pad upgraded to a functional laptop."
"I worked for a company with that attitude," Redditor u/Aer0uAntG3alach added. "They lost so many people...the only thing they did was spread word through the very small, gossipy field where we were located that they were [a**holes]."
In a separate comment, Redditor u/akshaynr took issue with how the original poster and many other employees are treated on a regular basis, when the aforementioned greener pastures are often within reach.
"The number of times I have personally heard stories where a current employee asks for a 10-20% raise and gets declined is insane," they wrote. "Almost every one of them goes and gets a 30-40% increase in the salary at a competitor.
"And the current employer is always in disbelief," they added.
"It's hilarious because turnover costs more than retaining good employees and yet companies still don't get that," Redditor u/modernwunder chimed in. "$100M...[versus] some tens of thousands? Jeez."
Newsweek reached out to u/DepartmentKiller for comment.