Disney's Brutal Response to Scarlett Johansson Suggests Ugly Legal Fight
Disney's response to Scarlett Johansson's lawsuit over Black Widow's streaming release has fans predicting an ugly legal fight between the actress and House of Mouse.
The latest Marvel blockbuster has not been performing well after a successful first weekend at the box office and Johansson is taking Disney to court over it.
In a lawsuit filed Thursday in Los Angeles Superior Court, Johansson's legal team alleges that the star's contract was breached when the studio streamed the movie at the same time as its theater release.
Johansson's attorneys say that this affected ticket sales for the movie's theatrical release, thus impacting the star's compensation which they say was tied to Black Widow's box office performance.
"Disney intentionally induced Marvel's breach of the agreement, without justification, in order to prevent Ms. Johansson from realizing the full benefit of her bargain with Marvel," the suit reads, per Variety.
The film premiered simultaneously on Disney+, for $30, and in theatres earlier in July.
Despite setting a box office record for releases during the pandemic, grossing $218 million in its first weekend and pulling $60 million on the streamer, ticket sales then subsequently sharply declined.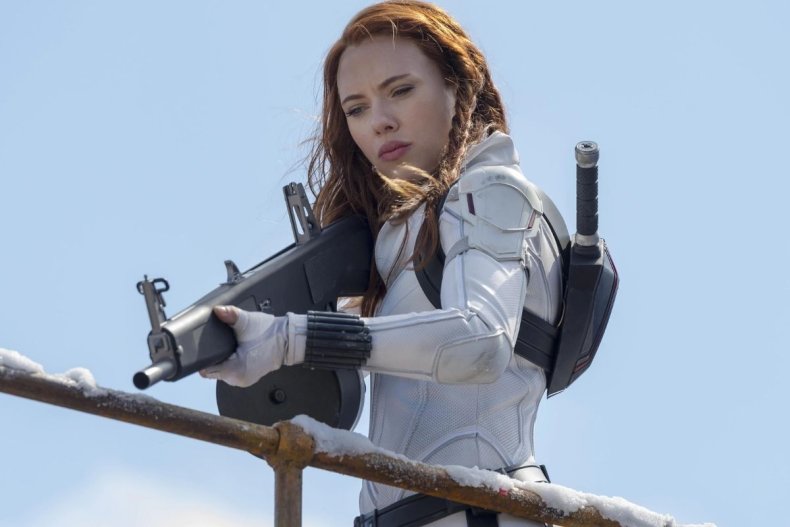 The film is currently grossing $319 million globally—putting it on the path to end up being one of the lowest-grossing Marvel movies ever.
Johansson's attorney, John Berlinski of Kasowitz Benson Torres LLP, said in a statement: "It's no secret that Disney is releasing films like Black Widow directly onto Disney+ to increase subscribers and thereby boost the company's stock price—and that it's hiding behind COVID-19 as a pretext to do so.
"But ignoring the contracts of the artists responsible for the success of its films in furtherance of this short-sighted strategy violates their rights and we look forward to proving as much in court. This will surely not be the last case where Hollywood talent stands up to Disney and makes it clear that, whatever the company may pretend, it has a legal obligation to honor its contracts."
Disney responded with a brutal statement, labeling Johansson's lawsuit "distressing"— suggesting the studio has no intention of backing down.
"There is no merit whatsoever to this filing," Disney said in an uncharacteristically blunt statement. "The lawsuit is especially sad and distressing in its callous disregard for the horrific and prolonged global effects of the COVID-19 pandemic."
The Disney spokesperson continued, per Deadline: "Disney has fully complied with Ms. Johansson's contract and furthermore, the release of Black Widow on Disney+ with Premier Access has significantly enhanced her ability to earn additional compensation on top of the $20M she has received to date."
The response from Disney has shocked many people, with some criticizing the studio on social media.
"If Disney can do this to Scarlett Johansson—a Big Name—imagine what they're able to do to creators/actors with a lot less power and money," tweeted film producer Mallory Yu. "There are implications to this breach of contract beyond ScarJo herself, or even the convenience (& safety) of home streaming."
She added: "As has been pointed out: media corporations like Disney have a long history of contracts that prioritize corporate profits over creator equity. Demand for streaming options isn't going away, so what effects will this case have on future/current contract negotiations?"
While another Twitter account, that focuses on legal content tweeted: "when someone says you breached a contract and you start talking about global pandemics you 100% breached that contract."