Disney Guest Forced to Change 'Inappropriate' Outfit Adds Fuel to 'Free Shirt' Theory
In May, a woman made waves after revealing a Disney World "hack" that supposedly lands guests with a free shirt. Now, fellow TikToker Alyssa Schueller is backing up those claims in a viral video of her own, documenting her recent experience with the amusement park's controversial dress code.
The so-called hack stems from a video posted by Amanda DiMeo last month, who claimed that she was given a voucher for a free Disney shirt after staff took issue with her outfit. She said: "If you're wearing a shirt that shows a little underboob they'll write you a ticket...so you can get a free shirt at the nearest gift shop." DiMeo said she was able to pick which free shirt she wanted, and she added that the one she chose retailed for $75.
At the time of writing, DiMeo's video has been viewed a whopping 28 million times—and several viewers have supported her claim, sharing their own encounters with the resort's dress code, sometimes resulting in free shirts of their own.
Enter Alyssa Schueller, who documented her recent trip to Disney World on TikTok. In her video, she writes, "It's true guys...." as she shares footage of her encounter with Disney staff. "Getting escorted to a free shirt bc mine 'isn't appropriate,'" she explains.
In the clip, viewers see the outfit Schueller had been wearing, featuring a triangular cutout at her midriff, which was deemed inappropriate by staff. Additionally, she shows her new, free shirt—a retro-themed yellow tee that reads, "Walt Disney World."
She added in the video's caption that she "was at Animal Kingdom ALL morning without [an] issue" but that she "went to EPCOT and this happened." She said: "If Disney wants to endorse a dress code then they need to do just that. But the inconsistency...pls."
According to Disney World's website, the park "reserves the right to deny admission to or remove any person wearing attire that is considered inappropriate or attire that could detract from the experience of other Guests." Specifically, they say that "clothing which...exposes excessive portions of the skin that may be viewed as inappropriate for a family environment" is not allowed. However, there is no mention of giving guests free shirts should they violate the dress code.
Like DiMeo's video, Schueller's post has provoked a larger conversation on the app about the role of a dress code like Disney's—and while many are enthusiastic about her free merchandise, others take issue with the fact that her attire was policed in the first place.
Wrote one TikToker: "Repeat after me... WOMEN SHOULD DRESS HOWEVER THEY WANT WHEREVER THEY WANT."
"Ariel literally wears shells but this is inappropriate?" questioned another.
"It covers what needs to be covered and seems secure..." pointed out one commenter. "I'd love to know what the issue is." Others highlighted the incident as an example of "misogyny."
Many, however, sided with Disney's management, citing the fact that Disney World is a "family-focused environment."
One commenter, for example, wrote that "young kids...don't need to be subjected to that. I mean you are at a KIDS amusement park." Schueller responded to that comment directly with a sly retort: "Subjected to a torso???"
Argued another: "Disney is a private park, it's their option if they want to place a dress code or not. If you don't like it then don't go."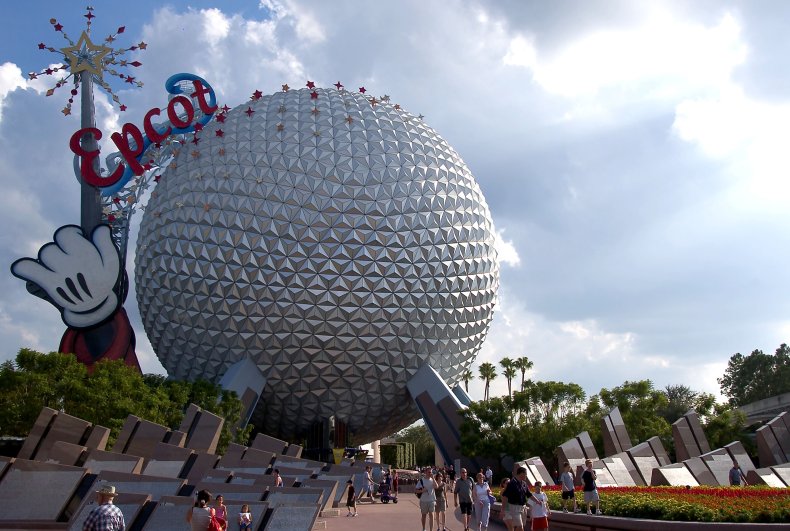 One TikToker who claimed to be a former Disney employee provided some additional context, specifying why Schueller's shirt, in particular, might have been an issue: "I worked at Disney and shirts like that with strings aren't allowed because anyone can just go behind you and untie it."
Newsweek attempted to contact both Schueller and Disney World for further comment but did not hear back by the time of publication.