Disney fans are sharing a "hack" which they say gets you a free T-shirt at their flagship Florida resort.
Walt Disney World is usually visited by millions each year, who enjoy themed rides, shows, boat rides, animals, trains and merchandise.
The official store sells everything inspired by their magical movies and characters. An adult T-shirt can cost anything from $19.99 to $79.99, but a few guests have revealed how they got one for free.
Amanda DiMeo, who describes herself as a model online, shared a clip to TikTok showing off the pricey shirt she says she got for free—because her original outfit was too revealing.
The mom, who visited the resort with her husband and daughter, said: "Free Disney shirt hack. Show underboob = free Disney shirt of your choice.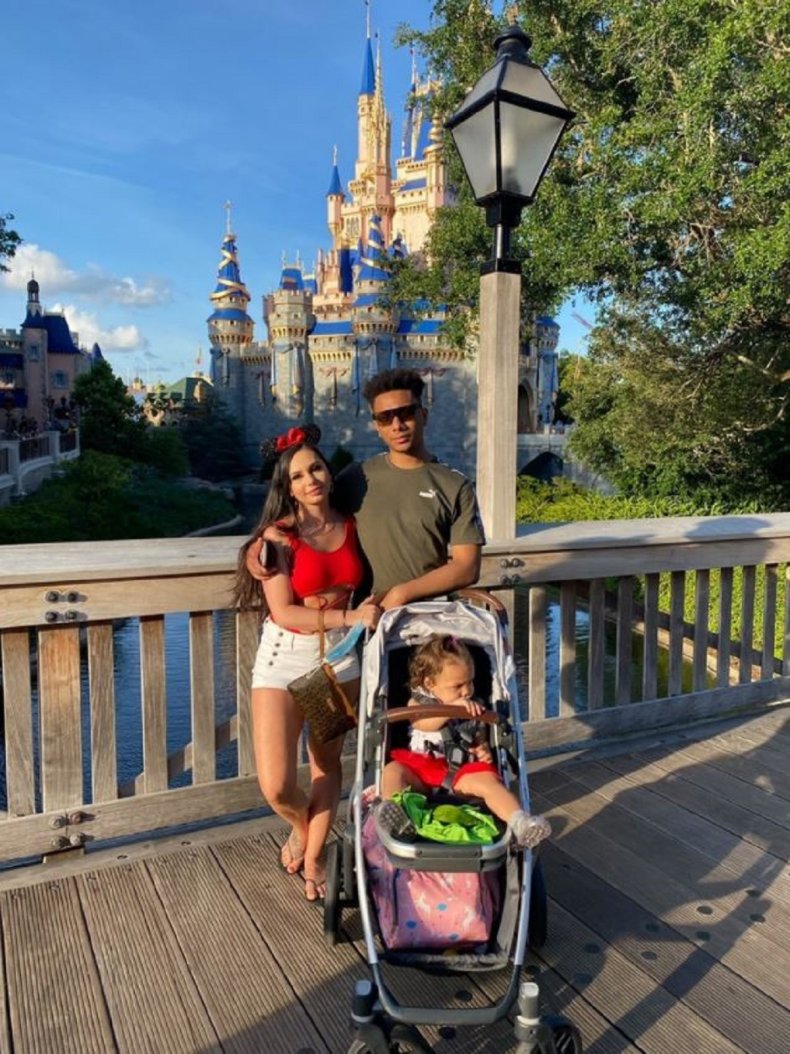 "Ok guys new Disney hack, if you're wearing a shirt that shows a little underboob they'll write you a ticket when you first enter magic kingdom, I'm not sure about the other parks. But they'll write you a ticket so you can get a free shirt at the nearest gift shop.
"I just got a $75 T-shirt, just because I was wearing a shirt that was exposing my underboob a little bit. So if you want free Disney shirts that's the hack."
She later shared a clip of herself wearing the long-sleeved shirt, saying: "Ok but it's so cute and if it's free it's for me. Thank you Disney."
DiMeo, who says the incident happened on May 18, later told Newsweek she didn't think her outfit was that revealing.
She said: "It's just a dress code policy I think and since I was showing a little skin they gave me a voucher to get a shirt at the emporium gift shop in Magic Kingdom. The voucher was for $50 but I had the cashier ask his manager if I could get the spirit jersey for $75 and she approved it!
"No, I didn't rethink my wardrobe. I still wore my red shirt the whole time I was at Magic Kingdom. It was too hot for the spirit jersey. I just pulled my shirt down. In my opinion I was barely showing anything."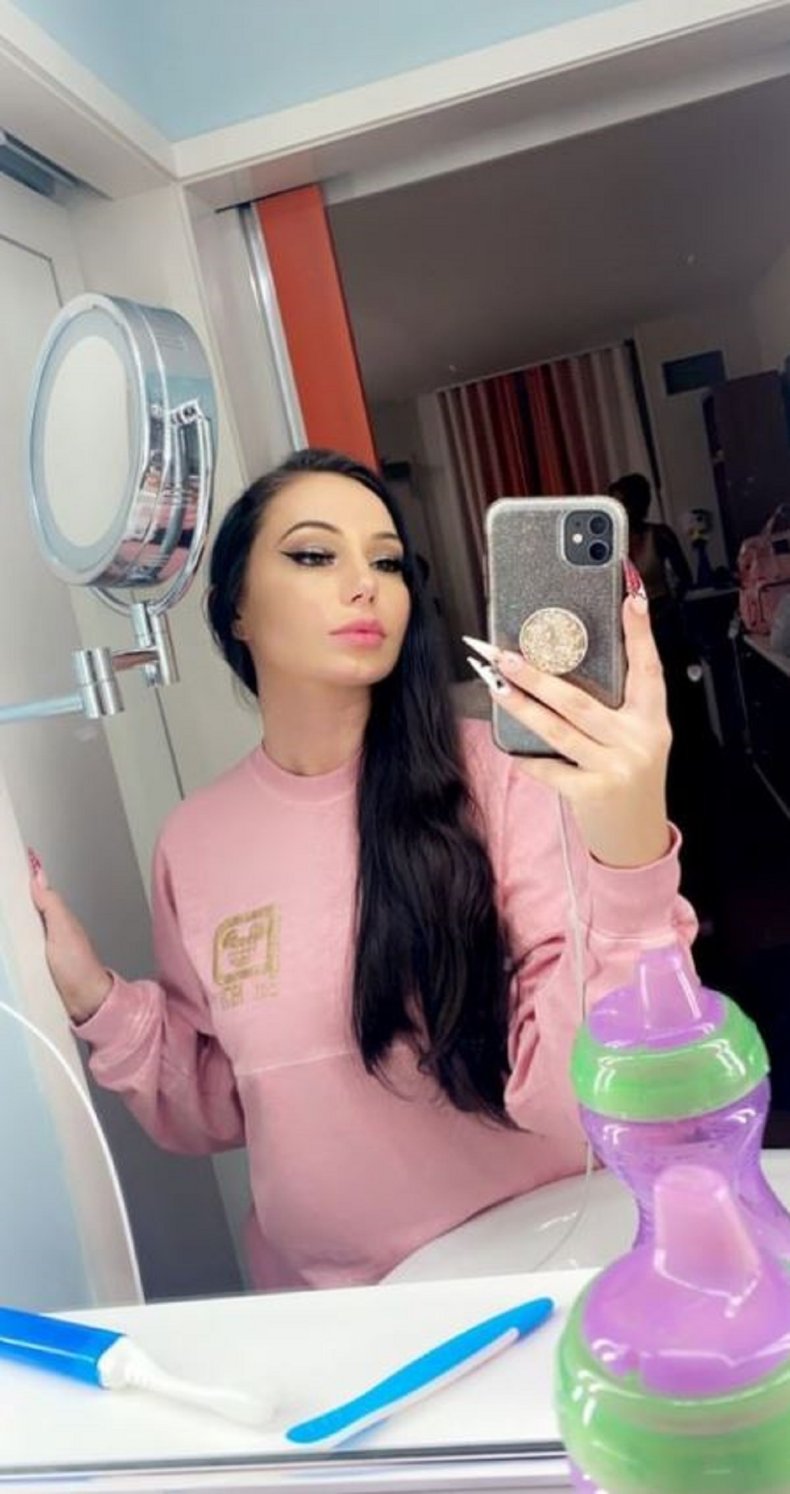 DiMeo's video, shared on May 20, was watched more than 13 million times, as other women came forward claiming the exact same thing happened to them.
Rebecca Pylypczuk shared a video to TikTok on Monday, recalling her similar experience at the resort a few years ago.
Stitching DiMeo's clip, she said: "I can 100% back this up. Because about five years ago I went to Disney World, and I was wearing like a really low-cut bathing suit with some shorts. And as soon as I walked in the girl pulled me aside, and was like 'I'm sorry, you can't have that shirt here. Here's a ticket go to the gift shop and get yourself any shirt for whatever price is on the ticket.
"And I got a $60 shirt for free which is crazy because people go there to pay for them. So absolutely show your boobs when you go to Disney World if you want a free shirt."
And responding to comments online that Disney World would enforce a family-friendly dress code, DiMeo added: "Does Disney not have 2 water parks & multiple pools where people show way more skin in front of children lamo."
The Disney website explains their strict clothing policy, and although it confirms they may deny entry to people improperly dressed, it doesn't mention handing out tickets for free or subsidized clothing, at the gift shop.
Its dress code policy says: "Disney reserves the right to deny admission to or remove any person wearing attire that is considered inappropriate or attire that could detract from the experience of other Guests."
Clothing which may fall foul of the rules is described as: "Excessively torn clothing.
"Clothing which, by nature, exposes excessive portions of the skin that may be viewed as inappropriate for a family environment."
Pylypczuk's video has already amassed one million views, as SaraMinzer535 pointed out: "Ya'll realize if this becomes a trend they're gonna stop doing it right? They'll just not let you in unless you change."
Lou Macdonald joked: "Is that why the tickets are so expensive because of the free shirts they have to give people inappropriately dressed?"
MelanieYeah warned: "FYI they sometimes don't let you in, so don't risk it."
While Lucy wrote: "I threw up on my dad's top when we went in 1997 and he got a free top and I got a free dress."
Newsweek reached out to Disney World, Amanda DiMeo and Rebecca Pylypczuk for a comment.