Take a Look Inside This Disney-Inspired Fairy Tale Castle on Sale for $1.4m
Owning your own home may be an impossible dream for many young Americans, but for Disney fans, one particular Beverly Hills house is a real fairytale—if you can afford the $1.395 million price tag
6937 Vanland Trail in the Hollywood Hills was built in 1938. The 3-story cottage was inspired by the designs of Roland E. Hill Sr, the architect and film art director behind the Disneyland Castle.
However, the famous castle, which originated in the Disney classic Cinderella, wasn't the first of Hill's iconic designs. Hill had been creating fairy tale-inspired homes for years before joining the House of Mouse, many of which can also be found scattered around Hollywood Hills.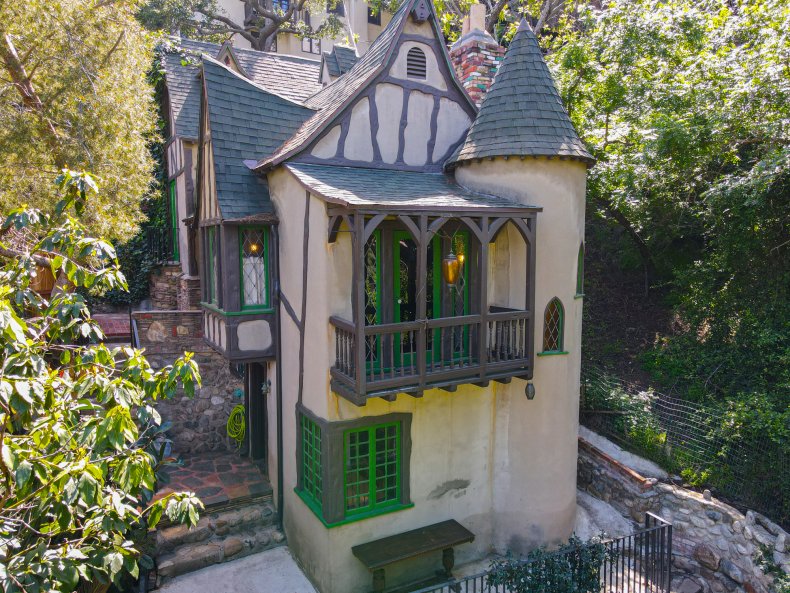 This 2-bedroom, 2-bathroom home is complete with turrets, a spiral stone staircase and hewn timber beams. According to the listing, the 2,762ft2 property has "the convenience of the city without compromising the lush rural charm unique," all thanks to the "secluded canyon" it's hidden in.
Not to mention the cottage also has "balconies with canyon views," kitchen cupboards inspired by Snow White and the Seven Dwarfs, and a dormer window with a silhouette of Peter Pan on the roof.
Since its initial construction, the house has also been enhanced by award-winning designer Joshua Cain of Saxony Design Build, who added the home's intricate woodwork and stained glass windows, making it even more bewitching.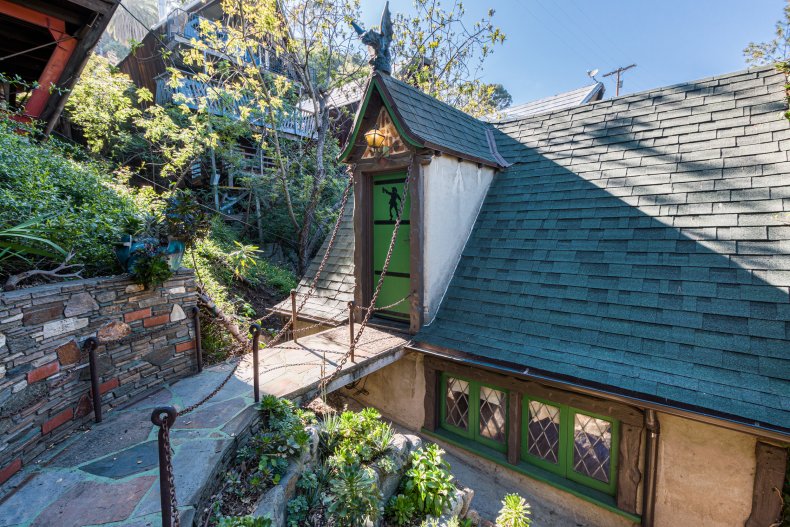 Despite its old-world charm, the home has all of the modern amenities any buyer would need, including a huge shower, smart heating and cooling (in case you don't feel like using that fancy fireplace), and modern appliances.
The listing reads: "The state of the art accessories are seamlessly integrated alongside the cozy old-world luxuries, including a living room fireplace, hand-carved wooden balcony, and designer kitchen cabinets reminiscent of Snow White's House."
The garden is just as magical as the house itself. Fenced in for privacy, the backyard wouldn't look out of place in a fairy tale forest with its waterfall, wooden bridge, pond and stone stage. Still, despite its rustic appearance, the garden also has outdoor electrical capacity—in case you want to install a hot tub.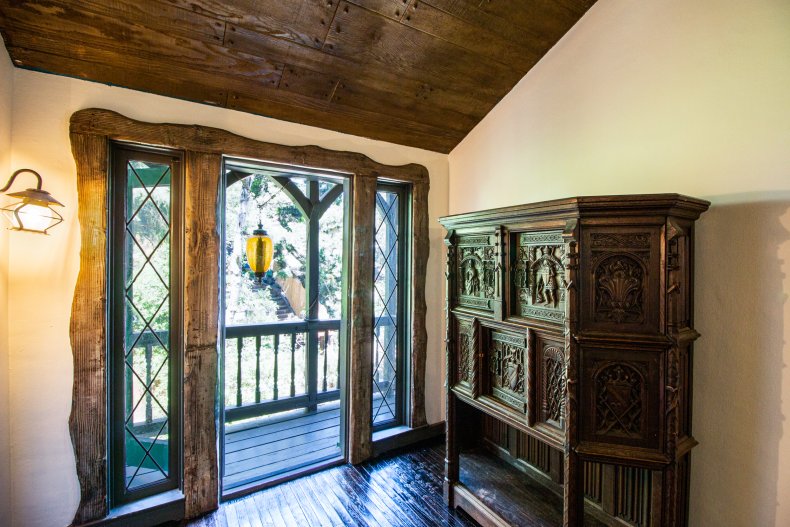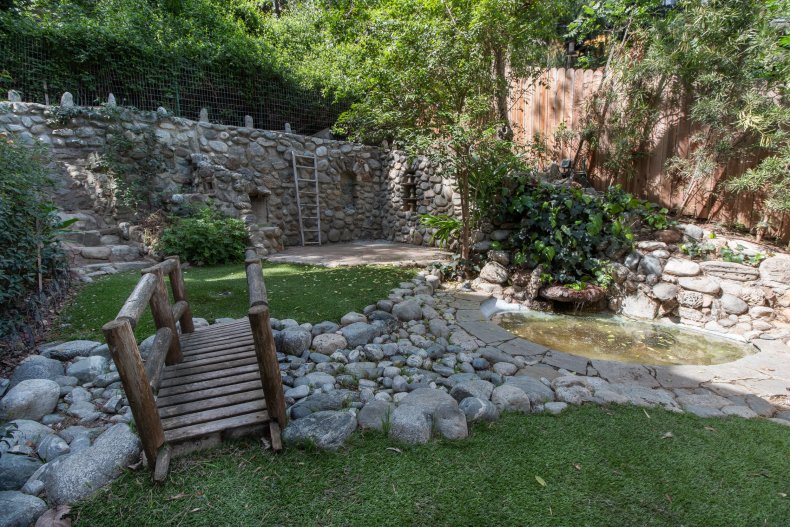 House prices across the US are at their highest since 2008, with the demand for houses soaring during the pandemic due to remote workers searching for more space. Unfortunately, house prices are also rising much faster than incomes, meaning home ownership just isn't a reality for many Americans right now. Still, for those of us fantasizing about our dream home, this otherworldly mini-mansion is some serious inspiration.
For another example of a homeowner using some fairy tale magic in their decor, check out this real-life gingerbread house in Utah. If this enchanted cottage has got you in the mood to watch a Disney movie, here are the best, according to Rotten Tomatoes.