Disney Losing Governing Status In Florida Likely Won't Have Major Impact
Florida Governor Ron DeSantis proposed yet another strike in the battle against The Walt Disney Company on Tuesday, announcing that the Florida Legislature will take up a bill this week to strip Disney of its self-governing status, and experts believe the move would likely not affect Disney's business in a big way.
Talk of revoking Disney's special status began shortly after DeSantis signed the Parental Rights in Education legislation, commonly known as the "Don't Say Gay," law into effect on March 28. The controversial legislation bans public school teachers from discussing sexual orientation or gender identity with students between the ages of 5 to 9.
In a statement after the legislation was signed, The Walt Disney Company said that the bill "should never have passed and should never have been signed into law" and announced it would try to help get it repealed.
On Tuesday, DeSantis said he planned to dismantle the Reedy Creek Improvement Act of 1967, which gave Disney self-governing authority and has benefited the entertainment conglomerate for decades.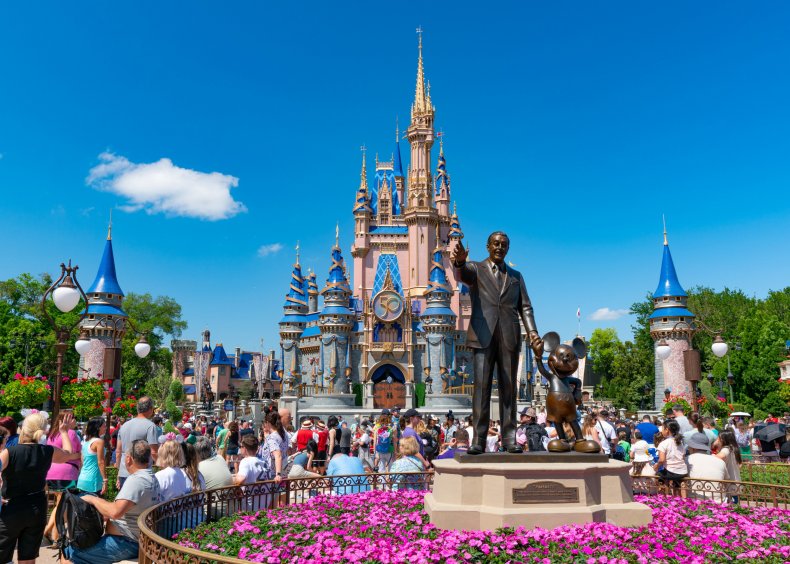 Chris Lyon, an attorney and lobbyist who deals with special districts, told Politico, "Right now [Disney] can do almost anything a county or city can do, except do things like make arrests. All that would all come under review. Lawmakers could decide if they want to give them those powers moving forward."
The act states that Disney is able to appoint the government responsible for regulating its property and can impose taxes on the land and run its government services with the revenue it gains from those taxes. According to Florida Politics, Disney has its own fire protection, utilities and planning, and security services.
James O'Rourke, a business professor and expert, told Newsweek, "This strikes me as a tempest in a teapot. This is not as big a deal as the governor's office or the legislature are making it out to be, and while this will cause Disney some financial heartburn, it is not crippling. It's not all that damaging."
"Disney will become dependent on the local two counties that it spans for things such as fire protection," O'Rourke said, but "In the end, this is just a relatively small financial transaction. What the governor is trying to do is prove that he is bigger and tougher than California business executives, as he put it."
Richard Foglesong, a retired Rollins College political science professor and author, echoed similar sentiments. Foglesong told Newsweek that one way to tell if Disney's business might suffer is to look at "Disney Land in Anaheim because Disney Land in Anaheim doesn't have any of these powers, and it does pretty well."
Should the act from 1967 be repealed, the 25,000-acre special districts, including Reedy Creek Improvement District owned by The Walt Disney Company, would be given back to the full authority of Orange and Osceola counties.
"If you ask the question from the other side, 'but what would this do to Orange County if it had to assume these responsibilities?' they have to step up in a huge way," Foglesong said.
Author Chad Emerson of Future Project: The Inside Story Behind the Creation of Disney World told Newsweek in an earlier report that it would most likely cause more chaos for the counties' governments.
"It would create massive chaos especially for the Orange and Osceola County governments, which would suddenly have to staff up their regulatory departments many times over," he said. "It would be a truly massive new expenditure for those local governments. It's reasonable to anticipate a budgetary and regulatory management crisis at least in the short and midterm."
The risk for Disney, Foglesong said, would be for Disney to lose the freedom it currently has. "They started out enjoying these powers in Florida, and that's how they've made this part work. And so at the very minimum, there would be transition cost if they had to work a different way. I think it's fair to say that the Disney Company would hate it."
Governor DeSantis' office told Newsweek in an email, "This is about evening the playing field for businesses in Florida. Yes, Disney benefits from one of these special districts, but the call is to examine the existence of all special districts."
"In the end," O'Rourke said, "this will be a temporary blip on the income statement and the balance sheet. But the Disney company is frankly stronger and better than that."
Newsweek reached out to The Walt Disney Company and Reedy Creek Improvement District for additional comment.
Correction 04/20/2022, 10:07 a.m. ET: This article was corrected to remove reference to no major impact on Disney business if self-governing status is lost.
Correction 04/20/2022, 2:30 p.m. ET: This article was corrected to include additional expertise on the impact on Disney business if self-governing status is lost.