The Disney Corporation might be at risk of losing the Reedy Creek Improvement District (RCID), which acts as the company's own government with land in Orange and Osceola counties, after some Florida officials suggested this week that those self-governing rights could be rescinded.
"Disney has alienated a lot of people now," Florida Governor Ron DeSantis said Thursday during a press conference in West Palm Beach, according to CNN. "And so the political influence they're used to wielding, I think has dissipated. And so the question is, why would you want to have special privileges in the law at all? And I don't think that we should."
Talks about revoking the Reedy Creek Improvement Act of 1967 circulated after the governor signed the Parental Rights in Education legislation, or as it's better known as the "Don't Say Gay" bill, into law this week. The legislation, which has been a subject of national controversy, bans public school teachers from discussing sexual orientation with students who are between the ages of 5 to 9. Disney condemned the bill and said Monday that the corporation plans to help revoke it.
"Florida's HB 1557, also known as the 'Don't Say Gay' bill, should never have passed and should never have been signed into law," a Disney spokesperson said in a statement on Monday. However, the company's opposition could cost it its self-governing rights.
The RCID was created in 1967 by Florida lawmakers under former Republican Governor Claude Kirk Jr. and gave Disney self-governing authority in which the RCID has its own fire protection, utilities and planning, and security services, according to Florida Politics.
Disney is able to appoint the government responsible for regulating its property that spans across 38.5 square miles since the landowners select the RCID's Board of Supervisors. The district is also able to impose taxes on the land and run its government services with the revenue it gains from those taxes.
"In effect, they're their own city out there. They can zone the way they want. They can do things the way they want. They can even build a nuclear power plant if they want," political analyst Jim Clark told WKMG-TV about Disney.
In case the act was ever to be rolled back, Orange and Osceola counties would have full authority of the Disney property. Author Chad Emerson of Future Project: The Inside Story Behind the Creation of Disney World told Newsweek Friday afternoon that if the act was rescinded, both counties would probably be the initial default local governance.
However, the original act also created two cities, the Lake Buena Vista and the Bay Lake municipalities that are located within the borders of Walt Disney World.
Emerson said that those two cities "might end up with regulatory powers within their city limits if the improvement district went away, but the city charters were not terminated," adding that repealing the act will also create new challenges for governments in Orange and Osceola counties.
"It would create massive chaos especially for the Orange and Osceola County governments, which would suddenly have to staff up their regulatory departments many times over," he said. "It would be a truly massive new expenditure for those local governments. It's reasonable to anticipate a budgetary and regulatory management crisis at least in the short and midterm."
A spokesperson for Osceola County said that they "don't have a comment at this time" when contacted by Newsweek on Friday, while Orange County's media office said that they "are not able to comment on speculation or hypothetical situations" and recommended offering a request through the county's public records process.
Under the act, the RCID has several inter-local government agreements with the counties, including ones that address policing and the court system, Emerson explained.
"Those are actually powers that were provided to Reedy Creek in the original act, but it chose not to exercise those powers nor did either of the two established municipalities," he said.
The company's opposition to the bill came after its CEO Bob Chapek remained silent about the issue, sparking protests led by the company's LGBTQ+ employees.
On Wednesday, Florida House Representative Spencer Roach said that legislators met over the past week to discuss repealing the Reedy Creek Improvement Act.
"Yesterday was the 2nd meeting in a week w/fellow legislators to discuss a repeal of the 1967 Reedy Creek Improvement Act, which allows Disney to act as its own government. If Disney wants to embrace woke ideology, it seems fitting that they should be regulated by Orange County," the Republican lawmaker tweeted.
Meanwhile, DeSantis on Tuesday criticized Disney's stance saying: "For Disney to come out and put a statement and say that the bill should have never passed and that they are going to actively work to repeal it, I think, one was fundamentally dishonest but, two I think that crossed the line."
Though the company opposes the new law, it has long supported Republicans in Florida with donations, according to WKMG-TV.
"Disney has been extremely generous with Republican politicians in Florida. They give about $200,000 a year, including $12,000 to the state representative who is stirring this up," Clark told the news outlet. "It would be a disaster for Disney. One of the reasons they came here in the mid-60s was the legislature's promise that they could have self-government."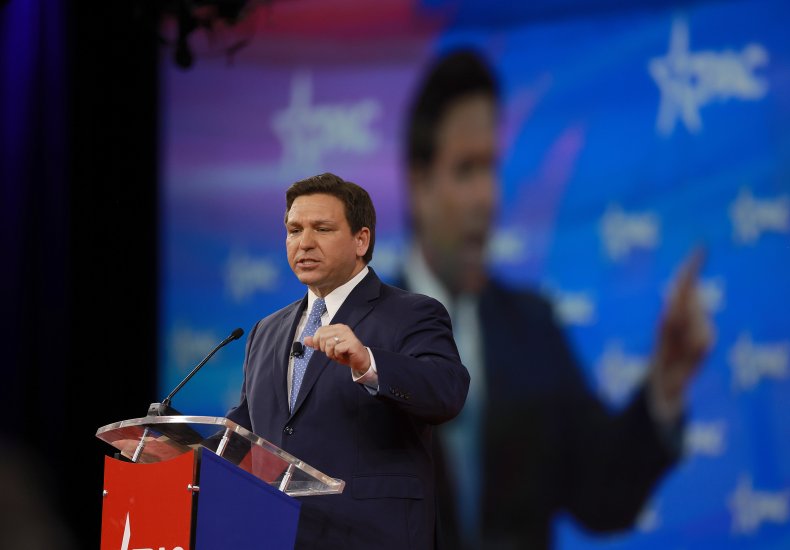 However, retired Rollins College political science professor Richard Foglesong thinks that repealing the Reedy Creek Improvement Act won't happen and that the ongoing discussions about it are only to show the GOP's position.
"If you ask me whether it's politically possible to take these privileges away from the Disney company, I don't think so," he said, according to WKMG-TV. "I think that cooler minds will prevail and that this is really a shot across the bow to try to bring the Disney company, Mickey Mouse if you will, into line with Governor DeSantis. I thought it was more of March Madness of the political kind, the thought that the Republican Party, which used to be the party of business, would want to take on of their biggest donors."
Newsweek contacted Disney, the Reedy Creek Improvement District, and experts on the construction of the Disney resort for comments and will update this article once a response is received.
The story has been updated to include a comments from Orange County's media office.