Several prominent Republicans in the past week have threatened to not support the Walt Disney Company's upcoming efforts to renew the copyright on its famous Mickey Mouse character after the company criticized Florida's Republican Governor Ron DeSantis' Parental Rights in Education Bill.
On Friday, Breitbart published a letter that Indiana Representative Jim Banks, a Republican, sent to Disney CEO Bob Chapek. In it, Banks condemned Disney for publicly opposing Florida's education bill, claiming the company had "capitulated to far-left activists through hypocritical, woke corporate actions." He also said that "[g]iven Disney's continued work with a Communist Chinese regime...I will not support further extensions applicable to your copyrights, which should become public domain."
DeSantis signed the controversial education legislation—dubbed the "Don't Say Gay" bill—into law on March 28. The bill prohibits teaching children in public schools lessons on sexuality, gender identity and sexual orientation in ways that are deemed inappropriate.
Disney released a statement after the law was signed that said its "goal as a company is for this law to be repealed by the legislature or struck down in the courts..." The statement, which came after employees staged a walkout after the company's initial silence on the bill, added that Disney is dedicated to standing up for LGBTQ+ people across the nation.
On Monday, Banks reiterated his stance regarding Disney and Mickey Mouse. He wrote on Twitter, "Disney is now pushing woke gender ideology on 5 year old children. Conservatives should oppose renewing its Mickey Mouse copyright."
Since Banks sent his letter to Disney, which he also discussed during a Thursday appearance on Fox News' The Ingraham Angle, other Republican legislators such as Florida Representative Matt Gaetz and Colorado Representative Lauren Boebert have joined him in saying they would work to block Disney's copyright renewal efforts.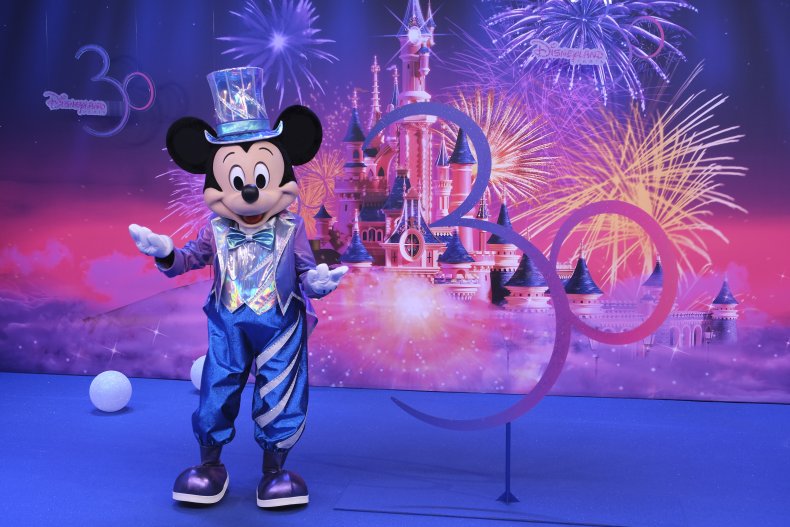 Speaking to Fox News host Laura Ingraham, Banks said Congress had previously extended Disney's copyrights due to the company's lobbying. However, he said Disney could lose its next copyright renewal bid should Republicans take the majority in the House of Representatives after the 2022 midterm elections.
The copyright that is set to expire is the depiction of Mickey Mouse in his original iteration of the 1928 cartoon Steamboat Willie. Unless the copyright on the character is extended, that version will enter the public domain in January 2024. However, Disney still holds copyrights on other versions of Mickey Mouse.
Open Secrets wrote in March that Disney began its intense lobbying efforts for copyrights in the 1970s, which resulted in Congress passing the Copyright Protection Act of 1976 and later the Copyright Term Extension Act of 1998, which has also been called the "Mickey Mouse Protection Act."
Those laws allowed Disney to extend its copyright on Mickey Mouse until January 1, 2024. However, author A.A. Milne's original 1926 version of the Winnie the Pooh character entered the public domain in January of this year, though Disney still holds the rights for versions of Pooh created after 1926, as well as for Tigger and other Pooh-related characters.
Boebert joined Banks in his call to fight Disney's upcoming efforts to retain its copyrights.
"Next year, the woke Disney lobbyists will ask Congress to extend Micky Mouse's trademark. I think not," Boebert wrote in a Twitter message that was soon lambasted on social media for mistakenly saying "trademark" instead of "copyright" and for misspelling Mickey Mouse's name.
"Things that scare Disney: Municipal dissolution. Copyright expiration. Combined reporting. I'm the former Finance & Tax Chairman of the Florida House and I know of what I speak," Gaetz wrote, in part.
Conservative author Nick Adams also joined the denouncements of the company.
"Disney should be stripped of their self-governing status in Florida and lose all copyrights protected by Congress," Adams wrote. "Boycott them 100% and cancel your Disney+ account and credit cards!"
When reached for comment, Christina Pushaw, DeSantis' spokesperson, told Newsweek that he "generally doesn't weigh in on legislative proposals—at the federal or state level—until after lawmakers have formally introduced those proposals, so that he can read the bill text."
She added, "On principle, Governor DeSantis is against carveouts and preferential treatment for corporations. The governor is always open to considering reforms that would promote a fairer playing field for all businesses in Florida."
Newsweek contacted Banks and Disney for comment but did not hear back either in time for publication.