Disney Plus Screens: How Many Devices Can You Use Disney Plus On At Once?
New streaming service Disney+ does truly offer something for everyone, with a whole host of Disney Channel content for kids, National Geographic documentaries for the adults and Star Wars, Marvel and Disney classics for all the family. With so much choice, potential subscribers have been wondering how many devices they can watch Disney+ on at once so as to allow everyone to explore the streamer's over 500 movies and series at the same time.
Though users can have up to seven Disney+ profiles (each of which gets their own Disney character avatar), and can download movies and TV series on up to 10 mobile devices, subscribers of Disney+ can only watch the service on four devices at once as part of the $6.99 a month package or the $69.99 a year subscription.
People who sign up to the Disney+, Hulu and ESPN+ bundle can watch Hulu on one device, ESPN+ on three devices and can also watch all three services at once on three different devices.
So far, Disney+ is available on the following devices:
Apple devices, including iPad, iPhone and Apple TV
Android smartphones, tablets and Android TV
Amazon Fire TV and Fire tablets
Google Chromecast
Smart TVs from LG, Samsung and Sony
Roku TV and Roku streaming devices
Game consoles Playstation 4 and Xbox One
Desktop web browsers Edge, Chrome, Firefox and Safari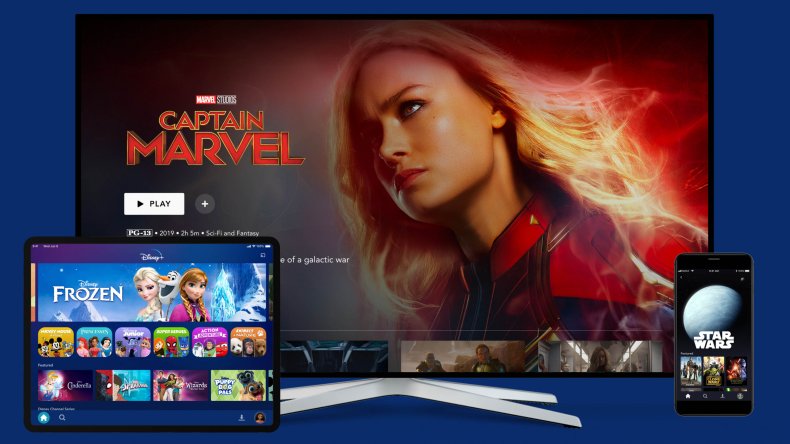 Of these, downloads are currently supported on Android phones and tablets, iPhones and iPads, as well as Amazon Fire tablets. Like Netflix, Disney+ downloads are available for 30 days at a time, though unlike Netflix everything in the Disney+ catalogue is available to download.
Unlike Netflix, Disney+ users at the moment cannot pay more to use the streaming services on extra devices at once—four is the limit for all subscribers.
However, at $6.99 this is considerably cheaper than an equivalent package from Netflix, which costs $15.99 a month for four simultaneous screens, while Hulu allows a maximum of two screens at once for its customers.
Disney+ also offers 4K streaming for all subscribers for a number of its titles, including Stars Wars episodes I to VII, a number of MCU films, and some earlier Disney animated classics like Aladdin, Beauty and the Beast and The Little Mermaid. A full list of movies that are currently available in 4K on Disney+ can be found on The Streamable website.