Disney to Require All U.S. Employees, Cast Members to Be Vaccinated
Disney will require all nonunion employees to get vaccinated against COVID-19, it announced Friday. The policy for U.S. staff and cast members is effective immediately, and employees will have up to 60 days to get fully vaccinated.
"We are requiring that all salaried and non-union hourly employees in the U.S. working at any of our sites be fully vaccinated," the company said in a statement.
The company decided to mandate vaccinations based on recommendations from health officials and its medical team. Disney concluded that the vaccinations would provide "the best protection against severe infection" from the coronavirus to ensure the safety of its employees.
"At the Walt Disney Company, the safety and well-being of our employees during the pandemic has been and continues to be a top priority," the company said.
The statement added that there would be limited exceptions to the policy, but it did not specify what they are. The company is in talks with unions about the policy. All new hires will be required to provide proof of vaccination as a condition of employment at Disney.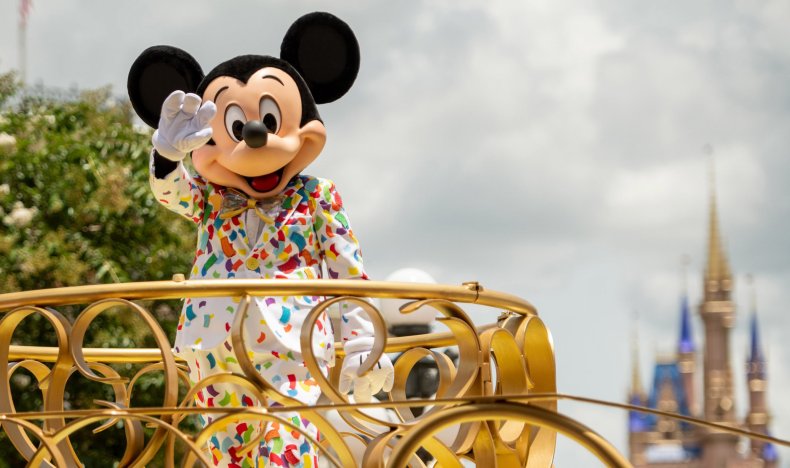 "Vaccines are the best tool we all have to help control this global pandemic and protect our employees," the statement said.
Newsweek reached out to The Walt Disney Co., but they did not provide any additional details beyond the statement announcing the policy.
Orange County, Florida is experiencing a surge of COVID-19 cases, with nearly 8,000 new cases reported for the week of July 23 through July 29, according to data from Florida Health. Orange County is home to Disney World and one of the company's major operations centers.
Disney World reinstated their mask policy for guests ages two and older while at inside locations around the park. This includes all transportation except the ferry and while entering and exiting the park, according to their website.
Other popular attractions in Florida, namely Sea World and Orlando Universal Studios, have also updated their guidances to recommend parkgoers wear face coverings, but neither has mandated them as of Friday.
Disney joins the growing list of U.S. employers mandating the vaccine within their companies. Some are making the shot a condition of employment, while others are requiring it for workers who want to come back into the office.
Netflix is requiring it for all cast and crew on production sets in the U.S. Google made the announcement on Wednesday followed shortly by Facebook. Office employees of rideshare companies Lyft and Uber have to get the shot as well. The Washington Post, Saks Fifth Avenue, BlackRock and Ascension Health have similar initiatives, according to Axios.
Twitter previously required employees to get the vaccine, but after just two weeks of allowing staff to voluntarily return to the office, Twitter is closing back up. The New York and San Fransisco offices were closed starting Thursday, and future reopenings have been paused due to the resurgence of COVID-19, CBS News reported.
This story was updated at 5:45 p.m. with additional information.