Disney Scene Labeled 'Woke Nonsense' for Showing Trans Person Buying Pads
A scene featuring a transgender person buying period pads in a Disney show is causing fury for some on social media.
Baymax!, a spin-off series from the movie Big Hero 6, is out on Disney+ now. The scene in question was highlighted by conservative author and activist Christopher Rufo and it has since been viewed over six million times on Twitter. He has accused Disney of trying to "re-engineer the discourse around kids and sexuality."
While it sparked outrage among some, the scene was also praised by many across social media and is the latest example of a Disney project stirring up controversy in 2022, following Lightyear's same-sex kiss and the Disney+ movie Turning Red.
"I've obtained leaked video from Disney's upcoming show "Baymax," which promotes the transgender flag and the idea that men can have periods to children as young as two years old," wrote Rufo on Twitter.
Attached to the tweet is a 27-second clip showing the character Baymax, an inflatable robot who is a healthcare provider, shopping for sanitary products. He asks other shoppers for help buying the correct product and suddenly several people start to chime in.
One of the people who offer their opinion is a person wearing a trans flag on their T-shirt.
"It's all part of Disney's plan to re-engineer the discourse around kids and sexuality," Rufo wrote in the tweet, which has been viewed over six million times, receiving tens of thousands of likes, comments and retweets.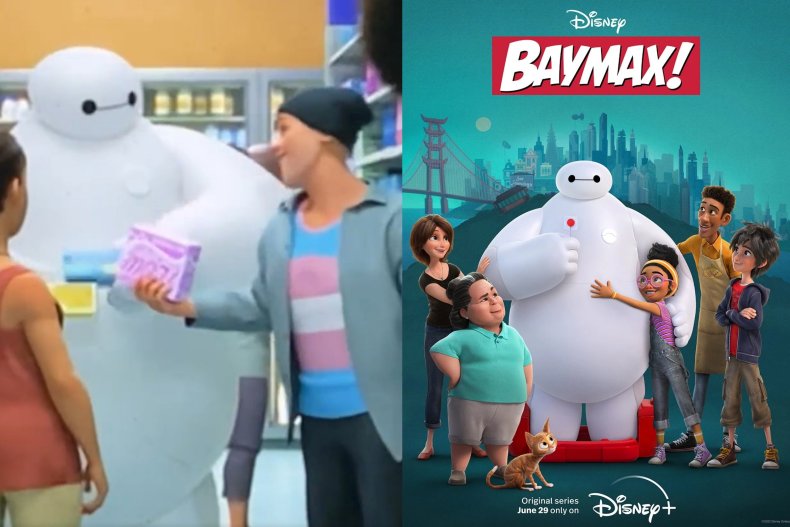 In reply, many comments mocked Rufo with pictures of the trans flag and of sanitary products, marked with the "sensitive content" Twitter warning. @calistus_jdm joked, "Take me back to the 80s and 90s when there were never ANY adult jokes in children's cartoons."
While many mocked and opposed Rufo's viewpoint, several backed him and voiced their support.
Christian writer and mother of four Nicole Russell said the scene would make her kids uncomfortable, adding, "What is the purpose?"
Some Twitter users such as @txsalth2o reacted with disbelief.
"I was hoping this was a joke. Kids do not want to talk about periods!! Argh!!!" they wrote.
Republican North Carolina Congressman Dan Bishop called the scene "woke nonsense," while California U.S. Senate candidate James Bradley said, "Disney has gone off the deep end and they don't even care anymore if it bothers you."
He finished his tweet with the hashtag "Cancel Disney+"
Mary Vought, Executive Director of the Senate Conservatives Fund, said it's a "hard pass" from her. "It's not a woke corporate entity's job to teach my children these things," she said on Twitter.
Others pointed out that Disney has a track record of creating moments that are far more upsetting for children.
"There's a scene in [Pinocchio] where children are turned into donkeys and scream for their mothers as they're sent to work in salt mines and these people are freaking out about adults buying tampons lol," writer Dana Schwartz pointed out.
Another writer Akilah Hughes recalled the number of animals she watched die in Disney movies as a child.
"Lmfao I watched several animals die in Disney movies and a kid be threatened with the electric chair in Disney movies in the 90s. Pipe down.
She continued: "Periods aren't an agenda, they're a fact of life. And yes, some trans people have periods. What's your point, idiot?"
Newsweek has reached out to Walt Disney Animation Studios for comment.