Disney Workers Warned Against Boycott Over 'Don't Say Gay' by Union Leader
A union in central Florida that represents thousands of food, hotel and theme park workers is asking its members to not take part in planned protests over Disney's response to a controversial bill.
Critics have said Disney has not done enough in pushing back against Florida's Parental Rights in Education act, more commonly known as the "Don't Say Gay" bill. In response to what some view as Disney's lack of action, employee walkouts have been planned in protest.
However, the president of Unite Here Local 362, Eric Clinton, is advising his members to not get involved in the boycott of the company.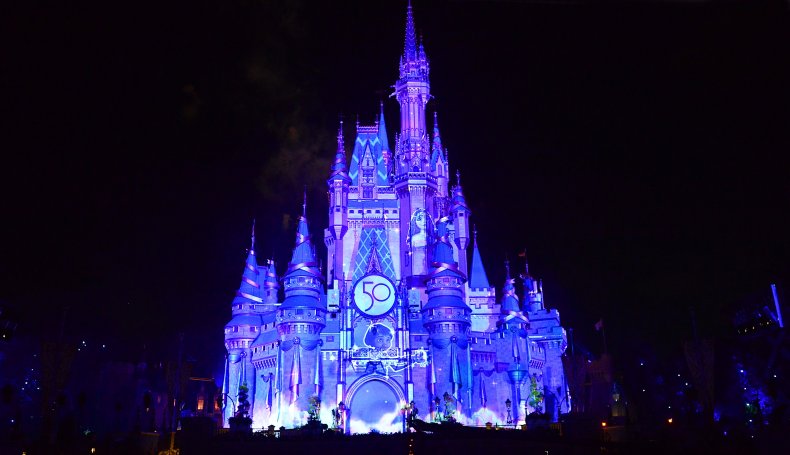 Instead, Clinton, according to the Orlando Sentinel, mentioned the union is looking at other avenues of helping the many LGBTQ+ Disney employees who would be affected by the bill. Some of that includes pushing Disney to take bigger, more effective moves against the proposed legislation.
"This is still an issue of great concern," he said. "There's this feeling that the company says the right things but hasn't done the right things.… [Chapek's] statement was welcomed, but I also think it was too late," he told the Orlando Sentinel.
Clinton made similar comments on Twitter, posting that boycotting the company because of the Don't Say Gay bill would come with monetary consequences for some.
"If you are making calls to #BoycottDisney over the Don't Say Gay bill, just remember that you are impacting thousands of Cast Members in the LGBTQ+ community who will lose hours, wages, and gratuities because of your calls. There are other ways to push for change," he wrote.
The website WhereisChapek.com, which calls out Disney for its "apathy in the face of the bigoted 'Don't Say Gay or Trans' bill put forth by the FL state legislature," has a schedule and walkout instructions for employee walkouts to protest the bill.
The website also claims that due to the "recent statements and lack of action" by the company, they have been put into "an impossible and unsustainable position" and therefore "must take action."
The walkouts are scheduled to take place on Friday, March 18 and Monday, March 21 for 15 minutes. On Tuesday, March 22, the website shows a full walk out of the company is scheduled to take place, from 8 a.m. to 6 p.m.
Clinton also told the Orlando Sentinel that the group organizing the walkouts is not in any way affiliated with Unite Here Local 362.
Additionally, according to Deadline, while some of the communication about the planned walkouts claims to have been organized in partnership with members of Disney's LGBTQIA community across the company, that is not the case.
Disney's Pride Advisory Council said, "We have not organized this walkout nor the accompanying list of demands and we neither endorse nor condemn these actions," Deadline reported.
The planned walkouts and calls for a boycott of Disney come after Chapek initially refused to come out publicly against the legislation. However, after the criticism, Chapek issued a letter in which he said that he "missed the mark in this case but am an ally you can count on."
Chapek also announced that all political donations from the company in the state of Florida would cease due to the bill.
The bill prohibits "classroom discussion about sexual orientation or gender identity" in certain grade levels in schools. According to WESH, Florida Governor Ron DeSantis has yet to sign it into law.
Unite Here Local 362, according to its website, said it represents more than 43,000 cast members at Walt Disney World.
Newsweek reached out to Unite Here Local 362 for comment but did not hear back before publication.