Ron DeSantis Mask Order Leads Disney to Evaluate Regulations at Florida Theme Parks
Florida's Disney World theme parks are evaluating their current COVID-19 safety guidelines in place following new legislation signed by Florida Gov. Ron DeSantis that suspended all remaining local government COVID-19 mandates and restrictions, including mask requirements.
DeSantis issued two new executive orders "suspending all local emergency orders until July 1, 2021, at which point local orders will be permanently invalidated," the governor's office said in a statement Monday.
Private businesses, such as theme parks and hospitals, are still able to impose their restrictions.
According to a pop-up message on the My Disney Experience mobile app, Disney World said: "We are aware of the state of Florida's plans announced today to modify COVID-19 guidelines. We will evaluate this latest guidance and maintain our current health and safety measures at this time, including face covering requirements."
A screenshot of the message was shared Monday by Jason Cochran, the author of the Frommer's Disney travel guide.
The pop-up message read: "We will continue to make thoughtful adjustments to our policy. As COVID-19 vaccines become available, we encourage people to become vaccinated."
Alongside the screenshot, Cochran tweeted: "Translation: 'Sit down, Ron DeSantis. We'll decide what's good for our business, not you.' We know who has the real power in Florida."
At a press conference Monday, the governor stated: "In terms of what a supermarket or some of them choose to do, a Disney theme park, this [the latest legislation] does not deal with that one way or another.
"It's simply emergency orders and emergency penalties on individual businesses," DeSantis said.
The Disney World website currently advises: "Acceptable face coverings must be worn over your nose and mouth at all times, except in designated areas. If you're unable to do this, please consider rescheduling your Walt Disney World Resort visit to a later time."
Newsweek has contacted Disney and the Florida Health Department for comment.
A statewide mask mandate was not issued in Florida but local mask orders have been in place in some parts, including in Orange County (home to the Disney World theme parks in Bay Lake and Lake Buena Vista) as well as in the counties of Miami-Dade and Broward (where Fort Lauderdale is located).
Last September, DeSantis issued an executive order barring individuals from being fined for not wearing masks. He also lifted restrictions on businesses such as restaurants, which were allowed to operate at 50 percent capacity.
The governor said at the time: "Every business has the right to operate. Some of the locals can do reasonable regulations. But you can't just say no."
The latest legislation (Senate Bill 2006) also "prohibits indefinite lockdowns" and bans COVID-19 vaccine passports requiring proof of vaccination, DeSantis tweeted Monday.
The bill allows the governor to "invalidate a local emergency order if it unnecessarily restricts individual rights or liberties" and also "improves Florida's emergency planning for future public health emergencies," the governor's office said.
The mayors for Miami-Dade County and Orange County have spoken out against the governor's latest measures.
Miami-Dade County Mayor Daniella Levine Cava said in a statement Monday: "I'm deeply concerned by this decision. We are still in a public health emergency and our economy has not fully rebounded from crisis. Fewer than half of our residents have been vaccinated, and we face a growing threat from variants.
"I urge our community to continue using common sense to prevent the spread of the virus and most importantly, to get vaccinated—our best and only path forward to truly put the pandemic behind us," he added.
In a statement Monday, Orange County Mayor Jerry L. Demings said: "In review of the governor's executive orders, I am not surprised."
"I want Orange County residents to know that I will continue to make decisions in the best interest of their health, safety and welfare and will not wait on the governor to tell me what to do," the statement added.
The latest orders issued by DeSantis come as total confirmed cases in Florida approach 2.3 million, with 35,307 total reported deaths, according to Johns Hopkins University.
Over 15.5 million total COVID-19 vaccine doses have been administered across the state, according to the latest report Monday by the U.S. Centers for Disease Control and Prevention.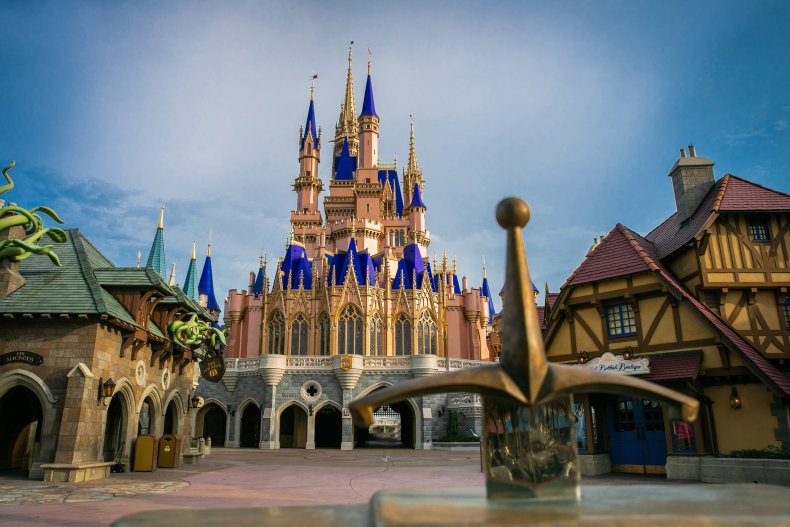 The wider picture
Coronavirus has infected more than 153.6 million people since it was first reported in Wuhan, China, including over 32.4 million in the U.S.
More than 3.2 million people have died worldwide and over 90.3 million have recovered as of Tuesday, according to Johns Hopkins.
The graphic below, produced by research provider Statista, shows the spread of COVID-19 cases across the U.S.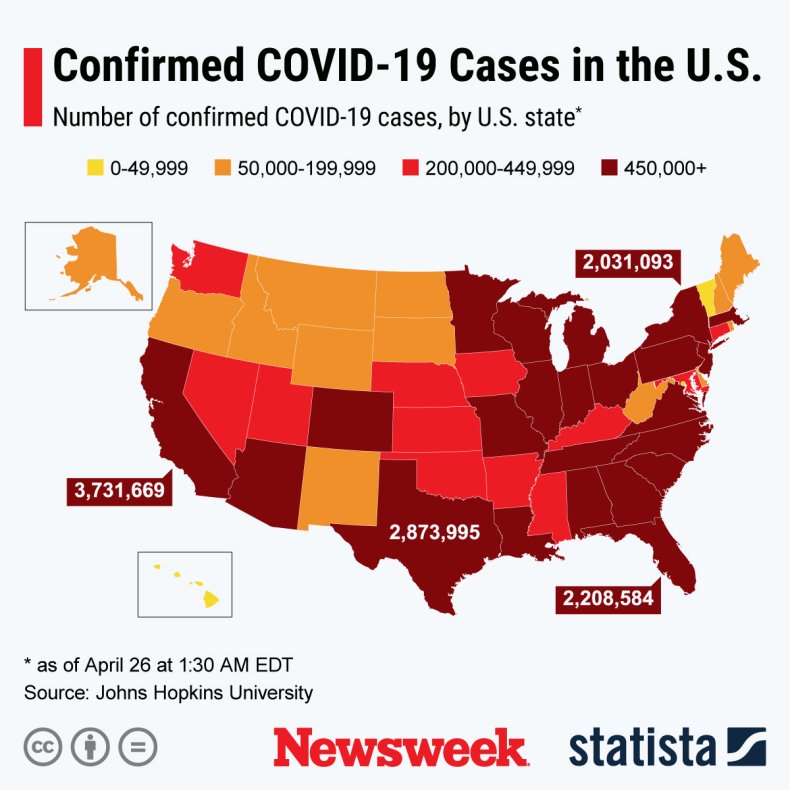 The graphic below, also produced by Statista, shows the total number of COVID-19 vaccine doses administered per 100 people across different countries.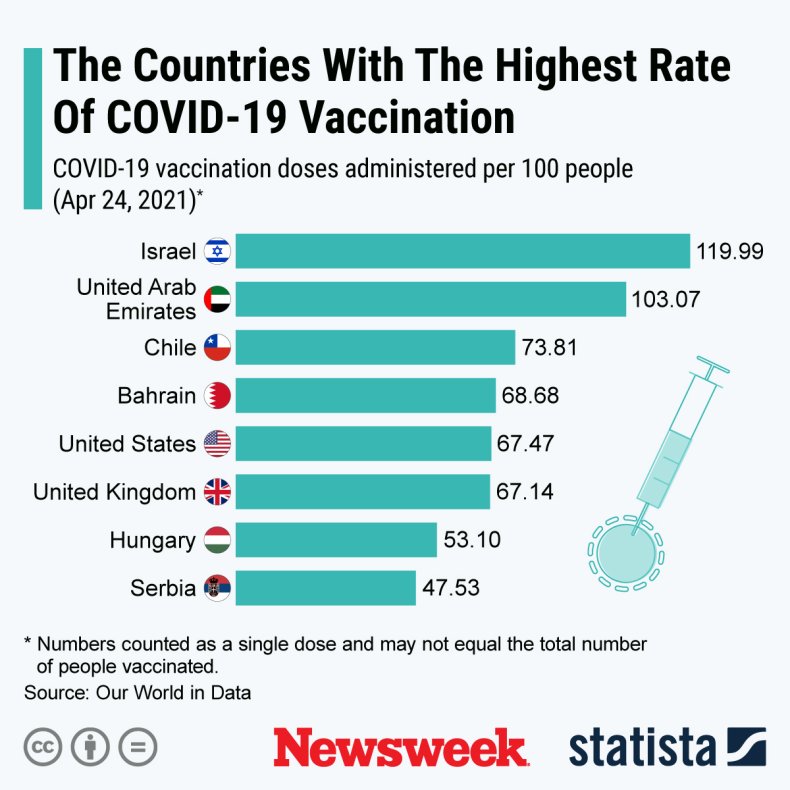 Newsweek, in partnership with NewsGuard, is dedicated to providing accurate and verifiable vaccine and health information. With NewsGuard's HealthGuard browser extension, users can verify if a website is a trustworthy source of health information. Visit the Newsweek VaxFacts website to learn more and to download the HealthGuard browser extension.
Correction 05/04/21, 2:12 p.m. ET: The headline of this article was changed to reflect that DeSantis' order allows businesses to enact their own mask mandates and that Disney's Florida theme parks are evaluating current guidelines.