Disney World employees in Orange County, Florida have faced heated confrontations with customers in recent weeks while enforcing the resort's COVID-19 safety rules, some of which have led to arrests.
Some visitors have spat on, pushed, yelled at and been drunkenly defiant towards workers when asked to comply with Disney World's COVID-19 guidelines, according to reports from the Orange County Sheriff's Office released to Florida's Orlando Sentinel.
There is no statewide mask mandate in place in Florida but local mask orders are in place in some areas such as Orange County.
Disney World has implemented several COVID-19 safety measures, including a face covering requirement for all guests aged two years and older, including those who have been vaccinated.
All guests must confirm they are not experiencing any of the COVID-19 symptoms listed at the Disney World website before entering the resort.
"Guests who cannot confirm all of the above criteria must not enter Walt Disney World Resort. If at any point during their visit a Guest does not meet all of the above criteria, they and their traveling party will be required to isolate and may be relocated or asked to leave the property," the company notes.
Around mid-February, one maskless guest was reported to have screamed: "I do not have a mask, buddy!" when a firefighter from Disney's Reedy Creek Fire Department asked him to step back and cover up, according to a sheriff's report.
The firefighters were assisting a drunk woman who injured her ankle to get onto a gurney in the lobby of the Walt Disney World Dolphin Hotel.
The woman's husband, Stephen Johnson, 32, who also appeared drunk and was not wearing a mask, began yelling in a firefighter's face. He was apparently upset that his wife was being taken away, according to the report.
The husband, who is from Fernandina Beach, threatened to kill a sheriff's deputy and struggled with the officer before grabbing a gun off the belt of an Orange County Sheriff deputy, the report said.
Johnson was charged with battery on a law enforcement officer, assault on a law enforcement officer, resisting an officer with violence and disorderly intoxication. He has pleaded not guilty, according to court records.
In early February, a man at Disney's Contemporary Resort near the Magic Kingdom theme park was reported to have spat after a security guard reminded him to wear a face covering.
The man told the guard, "I'm a guest" before he spat and some of the saliva was reported to have hit the guard's forehead. The guest was reported to have run off and disappeared in the elevators of the hotel before he could be identified.
On Valentine's Day at Disney Springs, an outdoor shopping center at the resort, one shopper, Shawn Warr from Kissimmee, was reported to have heard heated words from a man who was politely asked by a worker to cover his face. The customer's mask was reported to have been hanging down at his neck.
On February 13, Kelly Sills, 47, was reported to have gone past the Disney Springs medical tent without having his temperature checked. Sills was reported to have been yelling at a security manager and waving his arms, according to the sheriff's report. He was arrested after refusing to leave Disney Springs.
Sills, of Baton Rouge, Louisiana, pleaded not guilty to a misdemeanor charge of trespass on property after being warned, according to Orange Circuit Court records.
An employee tasked with enforcing mask rules in the Disney Springs parking garages told the Orlando Sentinel: "I cried the first week I started. It was not a good time at all. Imagine going to work every single day where people ridicule you.
"I've had a guest literally get right up in my face and literally curse me out," said the worker who asked not to be identified over concerns about losing her job. She feared she was going to get punched if her supervisor hadn't been there, the worker added.
Court records showed that back in early January, Allen Beltran, 29, was charged with disorderly intoxication and resisting an officer without violence after he kept removing his mask and approaching others in line at a Disney Springs' Starbucks venue. He pleaded not guilty.
Beltran, from Aiken, South Carolina, was reported to have yelled profanities and threw a phone at a Starbucks employee at the counter, according to the sheriff's report.
"During this time of day the area was very busy with guests of all ages who appeared to be greatly disturbed by his actions," the report said.
Most visitors have been supportive of the COVID-19 safety rules since the theme parks reopened.
Speaking to Newsweek, a spokesperson for Disney said: "Guests have overwhelmingly been supportive of our protocols. Millions of guests visit our theme parks each year and in rare instances when things of this nature occur, we hold them accountable."
Asked last month when Disney parks might return to normal, Bob Chapek, CEO of The Walt Disney Company, said it won't be earlier than 2022, noting: "We have no doubt that when we reopen up in parks that were closed, or increase capacity, that that we will have some level of social distancing and mask wearing for the remainder of this year. That is our expectation."
Total confirmed cases in Florida are approaching two million, with 31,387 reported deaths, as of Friday, according to Johns Hopkins University.
The state's seven-day average of cases has been declining since early January, after rising sharply from early October. The seven-day average of deaths has been decreasing since late January, after rising on a sharp incline from early November, according to data compiled by Worldometer.
A total of 5,314,200 COVID-19 vaccines doses have been administered in the state, as of Thursday, according to the latest report by the U.S. Centers for Disease Control and Prevention (CDC).
In late September, Florida Gov. Ron DeSantis issued a new executive order barring any individuals from being fined for not wearing masks and lifted restrictions on all businesses, including restaurants which may operate at 50 percent capacity.
"Every business has the right to operate," DeSantis said at a news conference at the time. "Some of the locals can do reasonable regulations. But you can't just say no."
This article has been updated with comment from Disney.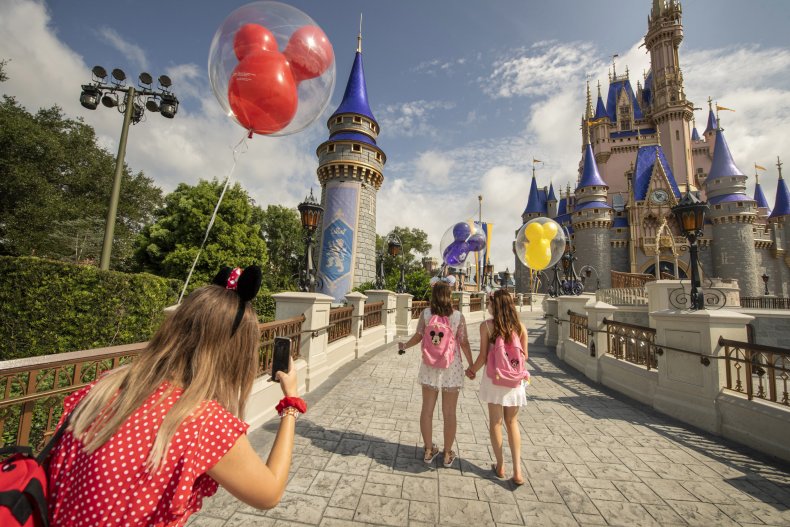 The wider picture
Coronavirus has infected more than 115.7 million people, including over 28.8 million in the U.S., since it was first reported in Wuhan, China.
More than 2.5 million people have died worldwide and more than 65.3 million have recovered as of Friday, according to Johns Hopkins University.
The graphic below, produced by Statista, illustrates how Americans are feeling more optimistic as COVID-19 vaccination continues.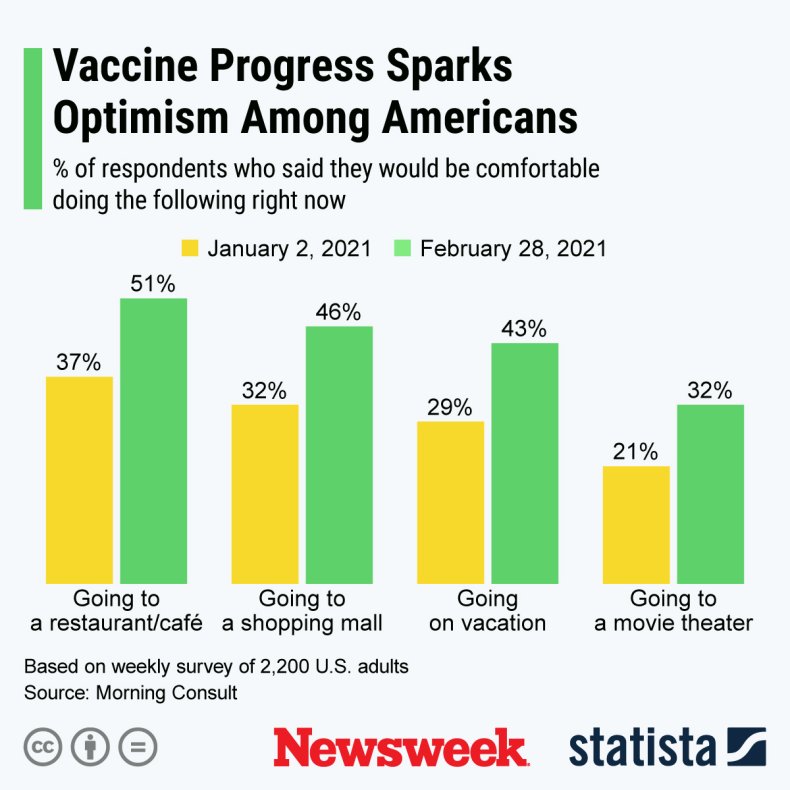 Newsweek, in partnership with NewsGuard, is dedicated to providing accurate and verifiable vaccine and health information. With NewsGuard's HealthGuard browser extension, users can verify if a website is a trustworthy source of health information. Visit the Newsweek VaxFacts website to learn more and to download the HealthGuard browser extension.
Uncommon Knowledge
Newsweek is committed to challenging conventional wisdom and finding connections in the search for common ground.
Newsweek is committed to challenging conventional wisdom and finding connections in the search for common ground.
About the writer
Soo Kim is a Newsweek SEO Reporter is based in London, UK. She reports on various trends and lifestyle stories, from health, fitness and travel to psychology, relationships and family issues. She is also a South Korea expert who regularly covers Korean culture/entertainment for Newsweek, including the latest K-dramas, films and K-pop news, and is the author of the book How to Live Korean, which is available in eight languages. Soo also covered the COVID-19 pandemic extensively from 2020 through 2021 after joining the general news desk of Newsweek in 2019 from the Daily Telegraph (a U.K. national newspaper) where she was a travel reporter/editor from 2010. She is a graduate of Binghamton University in New York and the journalism school of City University in London, where she earned a Masters in international journalism. Languages spoken: English and Korean.
Follow her on Twitter at @MissSooKim or Instagram at @miss.soo.kim
You can get in touch with Soo by emailing s.kim@newsweek.com