Ron DeSantis Praises Florida's COVID Vaccine Plan as Others Criticize Its 'Confusing' Rollout
Florida Governor Ron DeSantis continues to praise his state's vaccine rollouts despite ongoing criticism that the plan does not offer residents clear guidelines on when they'll become eligible for vaccinations.
While DeSantis has prioritized Floridians 65 and older in the state's first phase of vaccine administration, making it one of two states to do so, he has left out almost all other residents from his plan.
Nearly 2 million people in Florida 65 or older have been immunized as of this week. The group accounts for roughly 75 percent of all doses administered in Florida.
Some critics have called out the governor for playing politics with his vaccination plan. DeSantis' "senior citizens first" strategy bypasses federal guidelines in favor of providing shots to one of Florida's most influential voting blocs.
"Governor DeSantis has shrouded an already frustrating and confusing vaccination sign-up process under a cloud of favoritism and is willing to engage in retribution against anyone who questions his methods," Democratic Representative Debbie Wasserman Schultz of South Florida told Newsweek.
"He has intentionally not developed a transparent vaccine distribution plan and relied too heavily on private businesses, neglecting outreach to and access for minority communities," she added.
Florida is also the only state that hasn't detailed who will get vaccines next. According to an analysis of state rollouts from the nonprofit Kaiser Family Foundation, Florida has not expanded eligibility to vulnerable groups the U.S. Centers for Disease Control and Prevention have identified as priorities, such as people with high-risk medical conditions, educators, law enforcement personnel, inmates and essential workers.
DeSantis' lack of guidance on when these groups might begin receiving vaccines has only added to the confusion surrounding Florida's rollouts. Although he has suggested that teachers and police officers could be next in line, DeSantis told reporters on Wednesday that details about those vaccinations would not be announced until next week.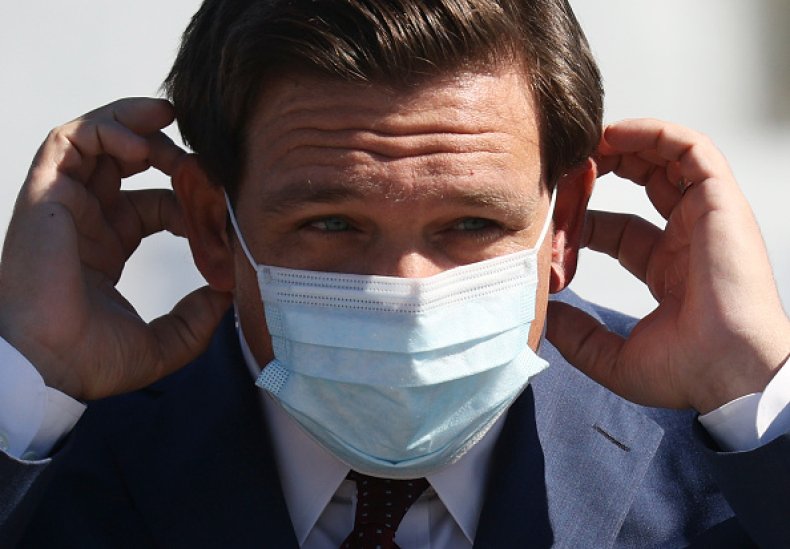 Rather than providing additional information on which Florida residents will be eligible next, the governor has said Florida's vaccine plan doesn't need to be amended over time.
"If you notice, a lot of those [states] adopted plans, and then they've already had to change the plans," DeSantis said. "We haven't done that."
Responding to criticisms that he is prioritizing areas populated with GOP voters, DeSantis, a Republican, said local officials in counties like Manatee, where the governor has set up pop-up vaccine sites, should be more grateful for the doses they've been provided by the state.
"I'll tell you what, I wouldn't be complaining," he said last week. "I'd be thankful that we are able to do it."
"If Manatee County doesn't like us doing this, we are totally fine with putting this in counties that want it," DeSantis added.
In response to the governor's remarks, Wasserman Schultz told NBC, "To threaten that he would pull vaccine if people don't like the way the distribution system is working is vile and shows the callous indifference he has had in how the vaccine has been handled."
Speaking to Newsweek on Thursday, Wasserman Schultz said, "This overall lack of COVID-response transparency merits a formal investigation into how he's handled this critical public health duty. Fortunately, the Biden Administration has acknowledged the governor's negligence and begun to fill gaps to address vulnerable and minority communities, something DeSantis was initially dismissive of, derisively calling them FEMA camps. His entire COVID response has been reckless, delayed and needlessly hostile to best public health practices."
Last week, the White House announced that Florida would be one of five states to receive federal COVID-19 vaccination sites, along with California, Texas, New York and Pennsylvania. The Federal Emergency Management Agency centers will be located in Jacksonville, Miami, Orlando and Tampa.
Newsweek reached out to DeSantis' representatives for comment but did not hear back before publication.
This story was updated at 1:14 p.m. with comments from Debbie Wasserman Schultz.
Newsweek, in partnership with NewsGuard, is dedicated to providing accurate and verifiable vaccine and health information. With NewsGuard's HealthGuard browser extension, users can verify if a website is a trustworthy source of health information. Visit the Newsweek VaxFacts website to learn more and to download the HealthGuard browser extension.