Ron DeSantis Threatens to Divert Vaccines After Charges of Targeting 'Whitest and Richest' Areas
Florida Republican Governor Ron DeSantis suggested Wednesday that he would divert COVID-19 vaccines from communities that criticize his distribution methods, after he was accused of targeting the "whitest and richest" ZIP codes to receive the shot.
"Anyone in Manatee [County], if they don't want us doing it, then just tell us, and we'll make sure that we send those doses to folks who want it," DeSantis said during a press conference.
"We are totally fine putting this in counties that want it. We're totally happy to do that," he added.
DeSantis' remarks were in response to criticism after he opened up an exclusive vaccination center in Lakewood Ranch, a wealthy retirement community on Florida's Gulf coast.
The new site, which is located in Manatee County, is one of 15 pop-ups that the state has chosen to create as part of DeSantis' goal to focus inoculation on individuals aged 65 and older.
But only senior citizens living in two of the Lakewood Ranch's wealthiest ZIP codes will have special access to 3,000 new vaccine doses.
Critics of DeSantis have since accused him of specifically prioritizing wealthy, Republican areas to receive the extra doses.
"For the life of me, I can't understand why we would vaccinate the most affluent neighborhoods in the county ahead of everyone else, especially the underserved neighborhoods and large number of manufactured home parks in our community," County Commissioner Misty Servia told the Bradenton Herald on Tuesday.
Speaking with Fox 13 Tampa Bay, Servia added: "You're taking the whitest and richest demographic in Manatee County and putting them ahead of everyone else."
Democratic Representative Debbie Wasserman Schultz called DeSantis' threats to pull vaccinations sites for those who disagree with his distribution "vile" and "callous."
"To threaten that he would pull vaccine if people don't like the way the distribution system is working is vile and shows the callous indifference he has had in how the vaccine has been handled," she said, the South Florida Sun-Sentinel reported.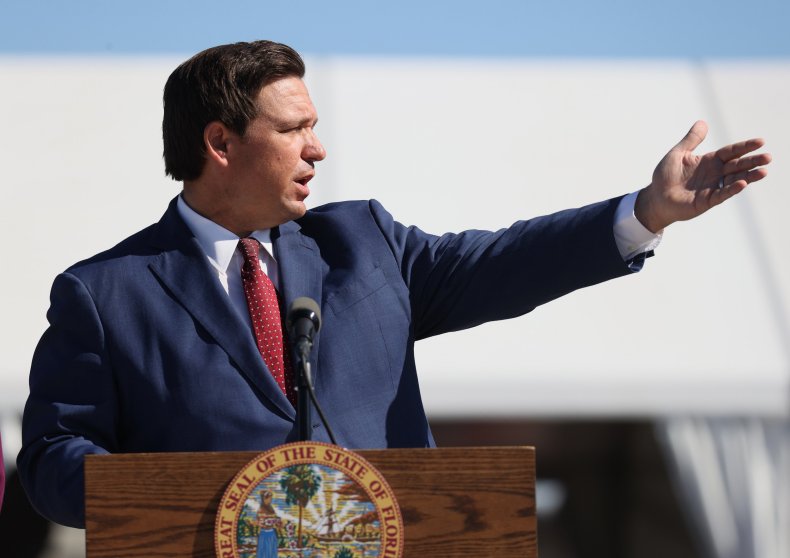 DeSantis has also come under scrutiny from Democratic officials for a vaccination program through Publix pharmacies, which were overwhelmingly set up in Republican leaning counties, the Orlando Sentinel reported.
Publix, which was the first Florida pharmacy to receive vaccines for public distribution, also donated $100,000 recently to the DeSantis campaign committee. Both DeSantis and Publix have since denied that that contribution had anything to do with vaccine allocations, the publication reported.
But Agriculture Commissioner Nikki Fried, a potential Democratic opponent for DeSantis in 2022, has accused the governor's vaccine choices of adhering to political favoritism.
"There is no reason that Gov. DeSantis should be rationing vaccines based on political influence," Fried said in a statement. "This is troubling and potentially illegal. Vaccines should be distributed to counties based on need, capacity, and science."
DeSantis rejected those criticisms on Wednesday, and said he chose to set up a new site in Lakewood Ranch due to its high volume of senior citizens.
"There was no choice to pick certain ZIP Codes," DeSantis said. "We wanted to find communities that had high levels of seniors living in there. And this obviously has a high concentration. You look at all these different communities and there's a lot of senior citizens."
"Go where the seniors are, try to knock it out," he said. "But just understand if folks here are complaining about doing a pod, this is additional to what the county's getting," he added.
The Republican governor also added that local officials should be grateful for receiving the extra doses.
"I'll tell you what, I wouldn't be complaining," he said Wednesday. "I'd be thankful that we are able to do it."
DeSantis has previously been criticized for his laissez-affair approach at handling the coronavirus pandemic. Now, the longtime ally of former President Donald Trump has been praised by Republicans in recent weeks as the party starts looking for a 2024 presidential contender.
Newsweek reached out to DeSantis for additional comment, but did not hear back in time for publication.