DeSantis 2024 Buzz Grows as Republicans Look for 'Trumpism Done With Attention to Detail'
The buzz of a presidential run from Republican Florida Governor Ron DeSantis has grown in recent days as Republicans search for a 2024 contender.
"Republicans seem to want Trumpism done with attention to detail and an actual policy agenda," former South Carolina GOP chair Matt Moore told Politico.
Republican Representative Matt Gaetz of Florida floated DeSantis as a 2024 presidential candidate during a Sunday appearance on Fox News. His comments followed a Fox News interview on the same day with DeSantis, who accused President Joe Biden of "targeting" his state for its "thriving" economy and housing sector.
DeSantis' criticism came as Biden administration officials consider pre-flight testing and domestic air travel restrictions because of the coronavirus pandemic.
"He is a strong potential presidential candidate in 2024," Gaetz said. "The Biden team knows that, and so they're trying to somehow cast aspersions on the Florida experience because you know what, throughout America, there's a lot of Florida envy right now."
Following former President Donald Trump's acquittal on Saturday, the hashtag #TrumpDesantis2024 caught fire on Twitter as many called for the two Republicans to join together for a presidential run.
The Right Side Broadcasting Network called the pair "the dream ticket" in a Saturday tweet.
"Ron DeSantis is having a moment with conservatives," Josh Holmes, a top adviser to Senate Republican leader Mitch McConnell, told Politico. "Part of this is liberals trying to cast this in the yin-and-yang comparison with [New York Governor Andrew] Cuomo... It's policy and it's partly stylistic, the way he handles the news media and his blue-collar appeal."
During the early phases of the pandemic, Cuomo was praised for his handling of the pandemic, while DeSantis was criticized for his more laissez-faire approach. The Florida governor refused to instate statewide measures to prevent the spread of COVID-19 despite rising cases in late 2020.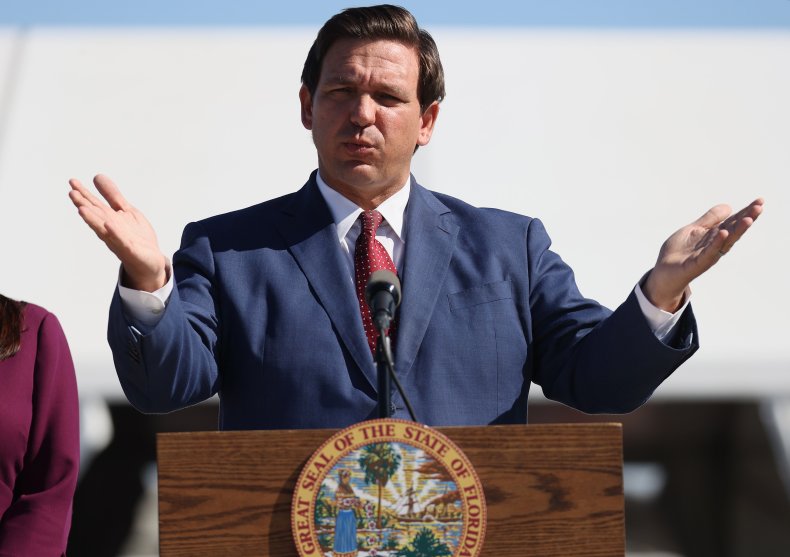 Now, Republicans are embracing DeSantis, as Cuomo faces heat for allegedly covering up the number of COVID-19 deaths in nursing homes.
"We focus on lifting people up," DeSantis said during his appearance Sunday on Fox News. "People view Florida as a place where they can follow their dreams. It is a free state."
DeSantis then emphasized that Florida's economy was experiencing an upswing despite the pandemic, saying, "Kids stay in school, home construction is up, home sales are up, economic growth" is booming.
DeSantis so far has not publicly indicated he would run in the 2024 elections, instead focusing on re-election as governor in 2022.
Newsweek reached out to DeSantis' office but didn't hear back in time for publication.