As the COVID-19 vaccine rollout continues across the U.S., we look at the progress of vaccination in Florida and how to sign up for the jab.
This page was updated on February 18, 2021, 3:21 a.m. ET.
Florida vaccine tracker and schedule
Total vaccine doses administered: 3,702,569, as of February 17, according to the U.S. Centers for Disease Control and Prevention (CDC).
People who received one or more doses: 2,498,089, as of February 17, according to the CDC.
People who received two doses: 1,180,757, as of February 17, according to the CDC.
Florida's focus on the vaccination of seniors continued Wednesday with the opening of another senior community vaccination site in Manatee County, Gov. Ron DeSantis tweeted.
Hosted by the Florida Division of Emergency Management, the "pop-up" vaccination site at Premier Sports Campus, 5895 Post Blvd., Lakewood Ranch aims to serve the 3,000 Manatee County residents who live in zip codes 34202 and 34211, Manatee County confirmed in a statement Tuesday.
The state's vaccine rollout has been hampered by the winter storm sweeping across the country. "Due to the inclement weather there are delays in vaccine shipments to Florida. We stand at the ready to quickly deploy vaccine supplies to our communities once they arrive," DeSantis tweeted Wednesday.
The storm has seen the shipment of 208,000 Moderna vaccine doses delayed, while the "vast, vast majority" of a weekly Pfizer vaccine delivery hasn't been delayed by the severe weather, the governor said at a press briefing Wednesday.
Florida received 132,000 first doses of the Pfizer vaccine this week and 9,000 more are expected to arrive by Thursday morning.
The state is hoping the delayed batch of the Moderna vaccine will arrive Thursday or Friday.
The press secretary for the Florida Division of Emergency Management, Samantha Bequer, said: "The state is still expecting to receive the full allocation of vaccines for Week 10."
Vaccine providers have been advised to plan for delivery delays, including "potentially rescheduling vaccine appointments, if necessary. We ask that providers do not cancel appointments, but rather reschedule any appointments that may be impacted by this delay," Bequer added.
The state continues to monitor the shipments and will provide updates as they become available.
On Tuesday, the Florida Department of Health issued an emergency rule allowing certified EMTs to administer COVID-19 vaccinations. "This will expand Florida's ability to administer the vaccine as quickly as possible," the department tweeted on Tuesday.
Publix, a supermarket chain offering COVID-19 vaccinations at nearly 600 locations across the state, canceled online registration for new appointments on Wednesday because of "weather-related issues" affecting vaccine deliveries, the company said.
Appointments that had already been scheduled through Thursday will go ahead, officials said. It is unknown whether Friday's bookings will be affected. The company is expected to make an announcement when customers can resume booking appointments.
The shipment delay has impacted Collier County in south Florida, where new COVID-19 vaccination appointments could no longer be scheduled for this week.
A spokesperson for the health department of Collier County, Kristine Hollingsworth, told Florida's Naples Daily News: "We have no vaccine for first doses," noting the department has enough shots for those aged 65 and older who are scheduled this week for their second doses.
"We are hopeful we will get a delayed package," Hollingsworth added.
The stormy weather is expected to hold up vaccine delivery for at least the early part of this week, according to Hollingsworth.
Newsweek has contacted the Florida Department of Health and the governor's office for further comment.
Last Friday, the state began offering vaccinations from 490 new pharmacy locations at Walmart/Sam's Club, Publix and Winn-Dixie venues across 52 counties.
Last week the state opened two drive-thru vaccination sites in Venice, Sarasota County and in the Kings Gate community of Charlotte County, each of which aimed to administer 1,000 vaccinations a day and a total of 3,000 vaccinations per site.
Who is eligible for a vaccine in Florida?
The following groups are eligible for COVID-19 vaccination in Florida, according to the state health department:
Health care personnel with direct patient contact
Long-term care facility residents and staff
Persons aged 65 and older
Persons deemed extremely vulnerable to COVID-19 by hospital providers
The department said: "Safe and effective vaccination is going to take time and is contingent on vaccine supply. The state is committed to providing each priority group and the general public with COVID-19 vaccine as supply becomes available. The Florida Department of Health will continue to provide updates on individuals eligible for COVID-19 vaccination as more information and guidance becomes available."
How to book a vaccine in Florida
Those in the four priority groups can access the pre-registration system to schedule vaccination at the state government website. People who don't have internet access can pre-register by calling a toll-free number for their county.
To find the nearest vaccine locations, check the online site locator, which lists venues by city and county.
The state health department said: "Please be aware that some locations are only serving very specific populations, such as frontline health care workers. Appointments may be required and vaccine availability will vary from day to day and week to week as we work to provide vaccines to the most vulnerable first."
For COVID-19 vaccinations at retail and pharmacy chains, residents will need to book their appointment on the company website.
Below are the counties where COVID-19 vaccinations are being offered at some Walmart/Sam's Club, Publix and Winn-Dixie stores:
Publix: 593 locations (324 current, 269 new) across Alachua, Bay, Brevard, Charlotte, Citrus, Clay, Collier, Columbia, DeSoto, Duval, Escambia, Flagler, Hernando, Highlands, Hillsborough, Indian River, Lake, Lee, Leon, Manatee, Marion, Martin, Monroe, Nassau, Okaloosa, Okeechobee, Orange, Osceola, Palm Beach, Pasco, Pinellas, Polk, Santa Rosa, Sarasota, Seminole, St. Johns, St. Lucie, Sumter, Suwanee, Volusia and Walton counties.
Walmart/Sam's Club: 119 locations across Alachua, Baker, Bay, Bradford, Brevard, Broward, Citrus, Clay, Collier, Columbia, DeSoto, Duval, Escambia, Gadsden, Hardee, Hendry, Hernando, Highlands, Hillsborough, Lee, Leon, Marion, Miami-Dade, Okeechobee, Orange, Osceola, Pasco, Pinellas, Polk, Putnam, Santa Rosa, St. Lucie, Sumter and Wakulla counties.
Winn-Dixie: 43 locations across Alachua, Baker, Bay, Bradford, Brevard, Charlotte, Citrus, Clay, Collier, Duval, Escambia, Hendry, Hernando, Highlands, Hillsborough, Indian River, Jackson, Lake, Madison, Manatee, Marion, Miami-Dade, Monroe, Okaloosa, Pasco, Putnam, Sarasota, Sumter and Volusia counties.
Below are links to registration details for booking vaccinations at some other chains. Check the company website for the latest information on appointment availability.
Residents from the aforementioned Manatee County zip codes who are registered with the county's vaccine standby pool have been contacted for vaccinations at the new pop-up through Friday of this week and 3,000 appointments have been scheduled.
The county website advised: "Manatee County will continue using its current vaccination enrollment process at vax.mymanatee.org instead of opting into a new statewide registration system at this time.
"Local seniors who have enrolled with the local registration system DO NOT need to enroll in the new state system. Signing up for state's My Vaccine system will NOT get you a vaccination appointment in Manatee County because the system is not yet in use in our county," the county noted.
Vaccination appointments scheduled for this week at Bennett Park in Manatee County have been rescheduled to take place February 25 to 26 due to vaccine deliveries delayed by the winter storm.
"Public Safety will send automated notifications to let those scheduled know their appointments have been moved to next week," the county said.
For vaccination appointments in Sarasota County, once residents register at the county website, they will receive a vaccine account registration number. See the Sarasota County website for more information on vaccine account registration numbers.
Vaccination appointments in Charlotte County can be made by calling 1-866-200-9160 or 833-990-3549 for TTY (teletypewriter) users. See the Florida state health department website for more information.
World War II and Korean War veterans can schedule their vaccination at the website of the Florida Department of Veteran Affairs. The veterans can enter their contact information at the website or call 1-850-487-1533, dialing extension 9 for more details.
Vaccine rollout across the U.S.
Across the country, 56,281,827 doses have been administered, while 72,423,125 have been delivered, according to the latest report from the CDC.
A total of 40,268,009 people have received one or more doses and 15,471,536 have received two doses.
Alaska has administered the most doses per 100,000 people, followed by West Virginia, New Mexico, Connecticut and North Dakota.
Alabama, Georgia, Kansas, Rhode Island and Missouri have administered the lowest number of doses per 100,000 people, as of Wednesday.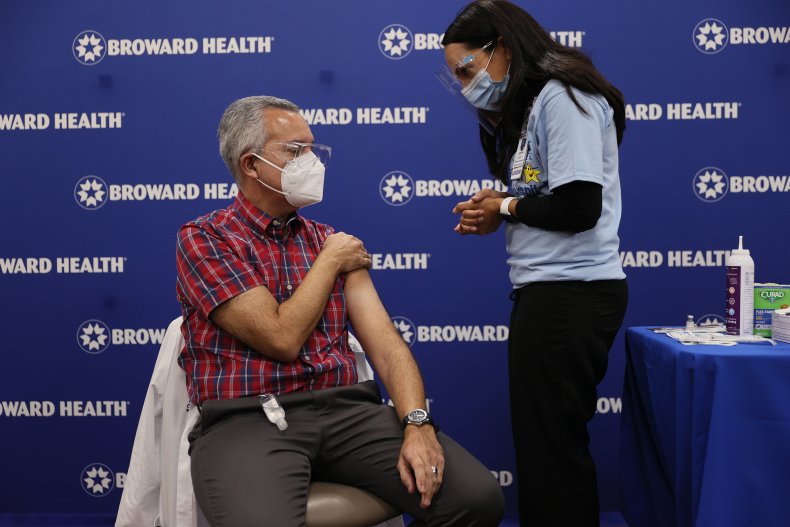 The wider picture
The novel coronavirus has infected more than 109.9 million people, including over 27.8 million in the U.S., since it was first reported in Wuhan, China.
More than 2.4 million people have died worldwide and more than 61.8 million have recovered as of Thursday, according to Johns Hopkins University.
The graphic below, produced by Statista, illustrates countries with the highest number of COVID-19 vaccine doses administered per 100 people.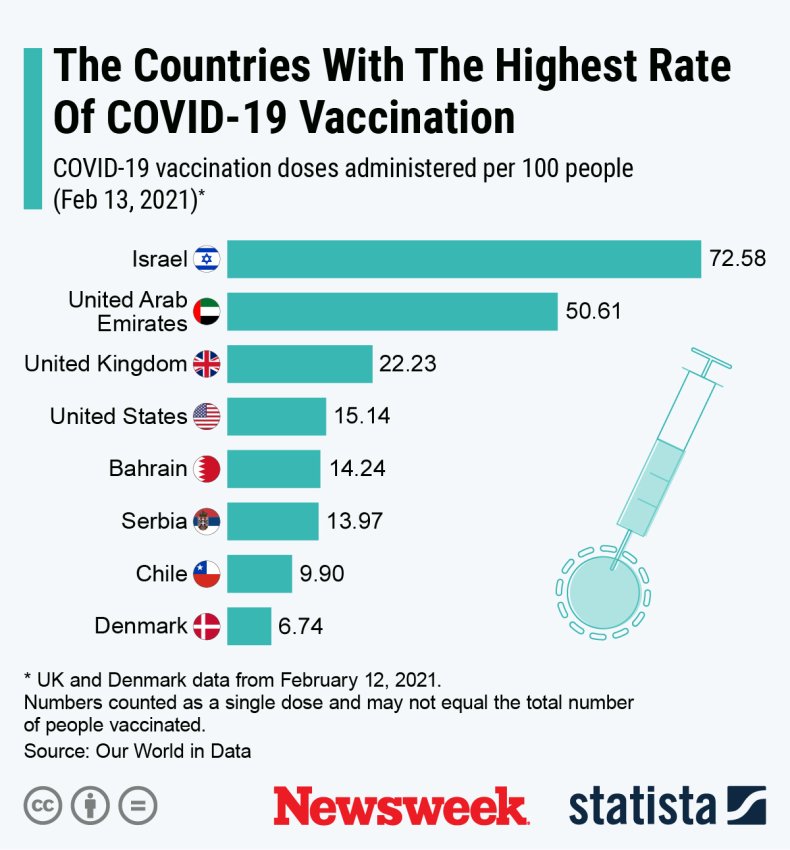 Newsweek, in partnership with NewsGuard, is dedicated to providing accurate and verifiable vaccine and health information. With NewsGuard's HealthGuard browser extension, users can verify if a website is a trustworthy source of health information. Visit the Newsweek VaxFacts website to learn more and to download the HealthGuard browser extension.
Uncommon Knowledge
Newsweek is committed to challenging conventional wisdom and finding connections in the search for common ground.
Newsweek is committed to challenging conventional wisdom and finding connections in the search for common ground.
About the writer
Soo Kim is a Newsweek SEO Reporter is based in London, UK. She reports on various trends and lifestyle stories, from health, fitness and travel to psychology, relationships and family issues. She is also a South Korea expert who regularly covers Korean culture/entertainment for Newsweek, including the latest K-dramas, films and K-pop news, and is the author of the book How to Live Korean, which is available in eight languages. Soo also covered the COVID-19 pandemic extensively from 2020 through 2021 after joining the general news desk of Newsweek in 2019 from the Daily Telegraph (a U.K. national newspaper) where she was a travel reporter/editor from 2010. She is a graduate of Binghamton University in New York and the journalism school of City University in London, where she earned a Masters in international journalism. Languages spoken: English and Korean.
Follow her on Twitter at @MissSooKim or Instagram at @miss.soo.kim
You can get in touch with Soo by emailing s.kim@newsweek.com