Texas Abortion Law Suspended by District Judge Hearing Biden Administration Challenge
A federal judge temporarily blocked the Texas law that prohibits abortions after six weeks and relies on private citizens to enforce the ban.
U.S. District Judge Robert Pitman issued a preliminary injunction on Wednesday that prevents state court judges and clerks in Texas from accepting lawsuits under SB 8. The ruling would allow medical professionals to perform abortions without fear of facing legal repercussions.
The judge also ruled that the state put his order on all "public-facing court websites with a visible, easy-to-understand instruction to the public that S.B. 8 lawsuits will not be accepted by Texas courts."
"A person's right under the Constitution to choose to obtain an abortion prior to fetal viability is well established," wrote Pitman. "Fully aware that depriving its citizens of this right by direct state action would be flagrantly unconstitutional, the State contrived an unprecedented and transparent statutory scheme to do just that."
Texas argued issuing an injunction against people who could not be heard at trial during the case would be unfair and that the federal government has no authority to sue the state. It's likely to challenge Pitman's ruling which may mean the Supreme Court will decide on the injunction and eventually the legality of the abortion ban.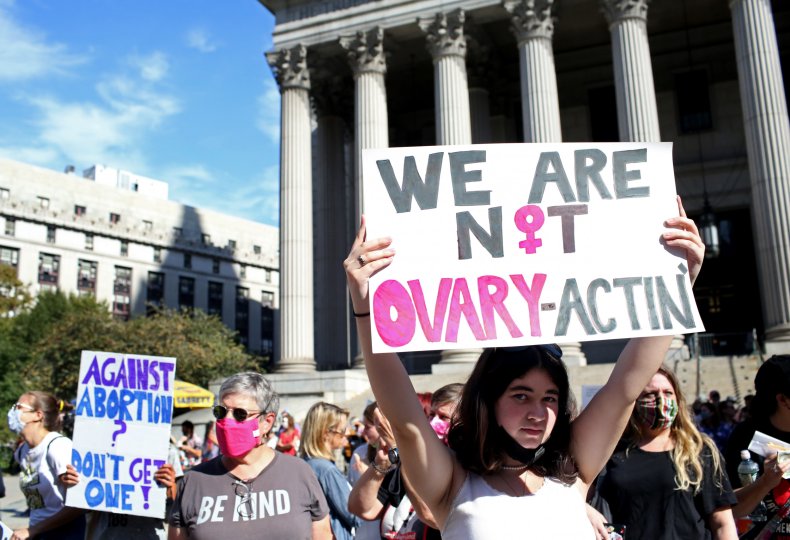 During the hearing, Justice Department lawyer Brian Netter said the Texas law is meant to "outflank the federal government" by relying on individuals to sue people suspected of performing abortions to help reduce the number of lawsuits against the state.
Private citizens can be awarded $10,000 for suing and their legal fees and expenses could be paid for.
Pitman said the "state chose to deputize them" and pointed to the "absurdity and perversity of a law that incentivizes people who do not disagree with abortion care to sue abortion providers to make a quick buck."
SB 8 also allows anyone suspected of "aiding and abetting" an individual who chooses to receive an abortion to be sued. Any person who helps pay for an abortion, drives someone to the facility or works in an abortion clinic can be taken to court under the law.
There is no exception for abortion under the law in cases of rape or incest, but SB 8 does provide an exemption for "medical emergencies."
Pitman, an Obama appointee, previously denied the U.S. Department of Justice's (DOJ) motion for an expedited briefing last month. It prevented the hearing from being rescheduled sooner and allowed the controversial law to stay in place.
The judge faced criticism from supporters of the medical procedure for the ruling at the time, but CNN legal analyst Steve Vladeck said Pitman seemed to be going by the book.
"The Court of Appeals already cut off his effort to hold a similar hearing in the challenge to SB 8 brought by Texas abortion providers," Vladeck said. "By not issuing a temporary restraining order here, he's effectively preventing Texas from asking the Court of Appeals to also block this hearing before it happens."
The restrictive law was signed in May by Republican Gov. Greg Abbott and prohibits abortions once cardiac activity, around six weeks, is detected—which is before most women know they're pregnant. It went into effect on September 1.