With the rising cost of living crisis and unemployment at a higher rate than in 2022, more and more people are eschewing tradespeople and taking their home renovation into their own hands.
Naturally, this trend in the age of social media means that the internet is now flooded with videos of DIY fails, much to their audiences' delight. One such clip that has garnered over 1.7 million views was posted by TikTok user @emanuelkassman, and captures a nasty accident involving his girlfriend and a ladder.
In the footage, Kassman can be seen painting a wall while his girlfriend climbs a stepladder. As she goes to climb onto the highest rung, the ladder folds, throwing her to the floor, her legs tangled in the equipment. "POV [point of view]: ur girlfriend try to help with the renovation" reads the text.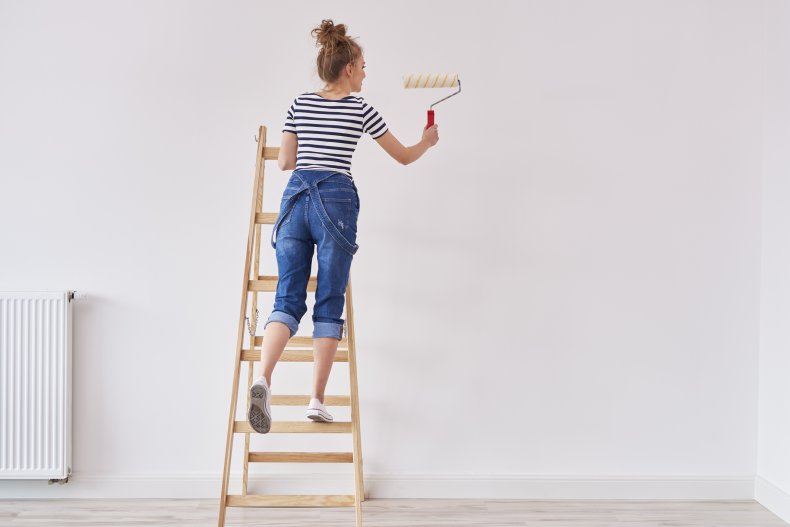 "Working with ladders dramatically increases your risk of serious injury or death from a fall," reports StaySafe.org. More than 500,000 people end up in the emergency room due to ladder-related injuries each year, 300 of which are fatal, according to West Bend Insurance. The Occupational Safety and Health Administration (OSHA) believes that 100 percent of these accidents could be prevented with better training and equipment.
StaySafe.org offers these tips for staying safe while using a ladder:
The rule of four: One of the clearest rules of thumb is that you should place the base of your ladder 1 foot from the wall or other surface for every 4 feet it rises above the ground. In other words, if you're going to be working 8 feet up, the base of your ladder should be back 2 feet.
In placing a ladder, another good rule of thumb to find the correct angle is to see if you can wrap your hands around the nearest rung if you stand straight with your feet on the base and fully extend your arms. If the rung is closer, then you've got too steep an angle, and the ladder could tip. If the rung is farther away, you've got too shallow an angle, and the base could slide.
Brace the feet of the ladder. This can be as easy as finding someone to hold it for you.
Tie the top of your ladder to a solid, secure object, like an eyebolt inserted into the surface it is leaning against.
Users in the comments had sympathy for the girlfriend, with one writing: "The ladder should have been locked-secured before using. Hope she's ok!!"
"And she was so careful, didn't deserve that," commented another, while a third posted, "Looks very [painful]. Hope she is ok."
Newsweek has reached out to Emanuel Kassman via TikTok for comment.
Newsweek's "What Should I Do?" offers expert advice to readers. If you have a personal dilemma, let us know via life@newsweek.com. We can ask experts for advice on relationships, family, friends, money and work and your story could be featured on WSID at Newsweek.