Djokovic Vaccine Saga Has Global Implications for Sporting Calendar 2022
Novak Djokovic's deportation from Australia for not being vaccinated against COVID-19 dealt a final blow to his hopes of winning his 21st Grand Slam trophy there.
But while it brought to an end a long-running visa saga that made headlines around the world, experts told Newsweek about the ramifications it could have on upcoming sporting tournaments amid the ongoing and often polarized debate over COVID-19 vaccine requirements.
Djokovic, the world's top men's tennis player, jetted out of Australia on Monday as the Australian Open got underway in Melbourne. He had argued in an Australian court that he should be permitted to stay and compete in the tournament because a recent COVID-19 infection provided the basis for a medical exemption from Australia's vaccination rules.
But the court upheld Immigration Minister Alex Hawke's decision to cancel the Serbian's visa. Hawke had said Djokovic's presence could be a threat to public order and encourage anti-vaccine sentiment amid a surge in coronavirus infections driven by the highly contagious Omicron variant.
Similar battles may be likely as vaccine requirements become a more common requirement of players at sporting tournaments, Joshua Gordon, a senior instructor of sports business at the University of Oregon, told Newsweek.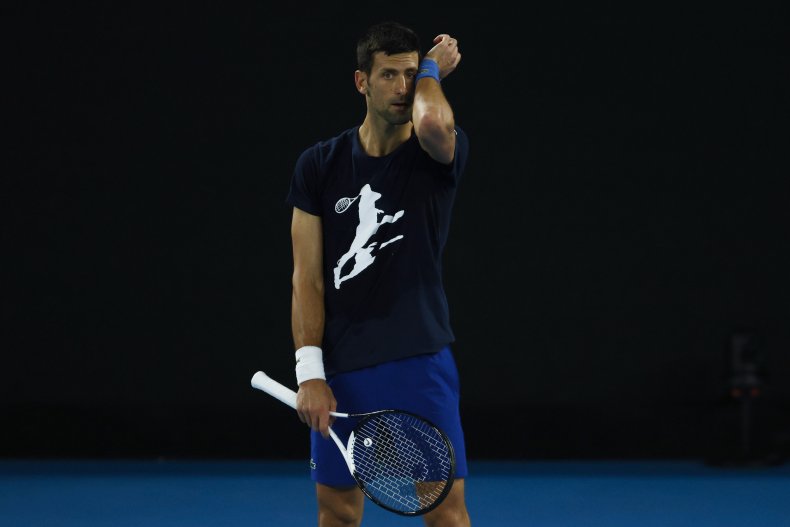 "Certainly, there's a lot of focus on high-profile athletes and how their decisions around whether or not to comply with vaccine mandates might impact their availability," he said.
Doubts have already arisen about whether Djokovic will be allowed to play in the French Open, which begins in May.
France's sports minister earlier this January said Djokovic would be allowed to play because of a "health bubble" around the tournament.
But a member of the French parliament has now said that a new law that bars the unvaccinated from sports venues, restaurants and other public places will apply anyone who wants to play in the tournament. There would be no "preferential treatment" for stars, Christophe Castaner said in a tweet that name-checked Djokovic.
When it comes to vaccine requirements at sports tournaments, organizers are considering the financial consequences of COVID-19 outbreaks delaying games and events along with public health reasons, James Skinner, the director of the Institute for Sport Business at Loughborough University London, told Newsweek.
"I think sporting organizations in general are considering them as an approach because of the commercial implications," he said.
But the absence of players who are big draws could also have an impact on revenue, Skinner said. Djokovic "brings in the crowds, he increases broadcast numbers, which gives greater exposure to sponsors," he said.
"If you have big name stars missing, then you've got issues around revenue, like gate-takings, broadcast rights, sponsorship deals. So there's a potential for revenue shortfalls."
But he added that "if you still have other big-name stars attending, then the impact will be less than if you had a number of big stars pulling out of an event."
Tensions that play out between an organization and athletes publicly can also lead to damage to the former's reputation, he added.
Tennis Australia, which organized Djokovic's exemption, "probably has some reputational damage it has to deal with as a consequence of the Djokovic affair," Skinner said.
He described the case as "poorly handled," but said the country's pandemic politics played a significant role.
Skinner said they'll be plenty of scrutiny about COVID-19 protocols in the lead-up to the Winter Olympics in Beijing in February and the World Cup in Qatar, which starts in November.
"Over the coming months, you're going to see more about how these events will deal with athletes coming in to compete," he said.
"Moving forward, as long as sport organizations are clear, transparent and open about the requirements that they have on athletes to participate, if there is a vaccine mandate, and there's procedural fairness in trying to get medical exemptions around this, I do feel that the majority of the population will accept that as being fair and reasonable."
If the goal is to mitigate the risk of COVID-19 transmission, finding the right policies that do so "in the least restrictive way for each sport will be key to compliance and minimizing interruption while maintaining safety," added Gordon.
"For example, could there be a testing requirement that would allow an unvaccinated athlete to participate safely? Until we start to arrive at some sport-specific protocols that are accepted and clear, we'll likely see moments like this."