Ukraine Oligarch Linked to Paul Manafort Can Be Extradited to Chicago for Bribery Charges, Austria's Supreme Court Rules
Ukrainian oligarch Dmitry Firtash, a one-time prospective business partner of Trump campaign manager Paul Manafort, will likely face trial in Chicago for bribery.
On Tuesday, Austria's Supreme Court approved an extradition request that has been making its way through Austrian courts for several years. The country's Justice Minister will make the final decision on whether to follow through with the extradition.
Firtash was arrested in Austria in 2014 and has been fighting extradition to the U.S. ever since. Russian billionaire Vasily Anisimov, a business partner of Russian President Vladimir Putin's close ally Arkady Rotenberg, helped Firtash pay a $172 million bail bond to be freed from prison. But he was prohibited from leaving Austria as the extradition case was pursued in court.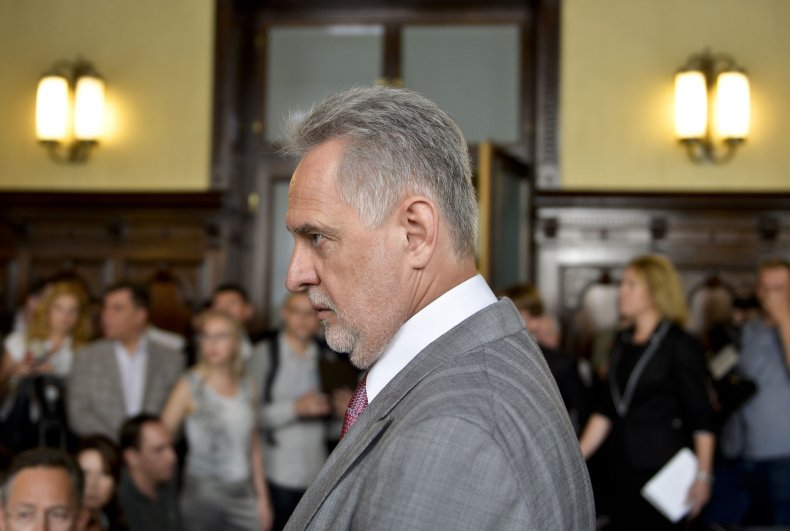 Experts say that Firtash's extradition could help usher in political reforms in Ukraine, where the justice system still struggles to hold wealthy and influential individuals accountable for corruption.
"This is a great and important decision because it is the final judicial decision in Austria. Firtash has brought several lawyers and his key political friends in Ukraine there and nothing helped," Anders Aslund, an economist and expert on the former Soviet Union, told Newsweek.
"Given Firtash's political and economic importance in Ukraine, being allied with former President [Petro] Poroshenko, this can mean a lot both to economic reform and politics in Ukraine. The natural battle cry is [oligarch Igor] Kolomoisky next! Since Ukrainian justice is unable to prosecute and sentence these top criminals," Aslund added.
The U.S. has been investigating Firtash for over a decade for bribery, racketeering, and forming an organized crime group. He was charged in the U.S. for allegedly paying $18.5 million in bribes to officials in India for a permit to develop a titanium mine. He allegedly planned to sell the titanium to the U.S. airplane manufacturing company Boeing. He could face up to 50 years in prison if he is found guilty.
Olga Lautman, an investigative reporter focused on organized crime in the former Soviet Union, notes that Firtash has suspected links to well-known figures in organized crime circles and that his extradition could prove politically disadvantageous for President Trump.
"His extradition can prove to be damaging to Trump because he may provide new revelations on Manafort, as well as shed light on the funneling of Russian organized crime money into real estate, including Trump's," Lautman told Newsweek.
"Leaked U.S. diplomatic cables from 2010 revealed that Firtash was associated with Seymon Mogilevich, a dangerous organized crime boss who spent over a decade on the FBI's Most Wanted List," Lautman continued. "Firtash was also partners with [Ukrainian politician] Serhey Lyovochkin, who attended Trump's inauguration via Sam Patten, who funneled $50,000 in Trump's Inaugural and was one of the recipients of the Trump campaign polling data that Paul Manafort shared with Konstantin Kilimnik, a Russian agent."
Firtash has maintained his innocence and said that the charges against him are politically motivated. Former White House Special Counsel Lanny Davis, the same lawyer who represents President Donald Trump's longtime lawyer and fixer Michael Cohen, is representing Firtash in the U.S. Davis has registered under the Foreign Agents Registration Act in order to represent Firtash.
"We are disappointed in today's decision by the Austrian Supreme Court. In any event, nothing has changed regarding Mr. Firtash's innocence and the absence of evidence that he is guilty of any crime," Firtash's lawyers Lanny Davis and Dan Webb said in a statement.
"He has never done business in the United States, never visited the United States, and had no knowledge of any plan to bribe Indian officials about an Indian titanium mine that never happened. Indeed, it is remarkable that in the entire indictment, U.S. prosecutors never charged," they added.
Firtash also denies that he ever worked with Manafort.
Firtash was also a close political ally of Viktor Yanukovych, Ukraine's former pro-Russian President who was ousted from power by a pro-Western movement in 2014 and subsequently fled to Russia. He was also instrumental in hiring former Trump campaign manager Manafort, who then worked as a political consultant, to bolster the reputation of Yanukovych's notoriously corrupt Party of Regions.
Correction (06/26/19): This story originally stated that Dmitry Firtash was a former business partner of Paul Manafort. Firtash's lawyer maintains that he ultimately rejected the deal. This has been corrected.