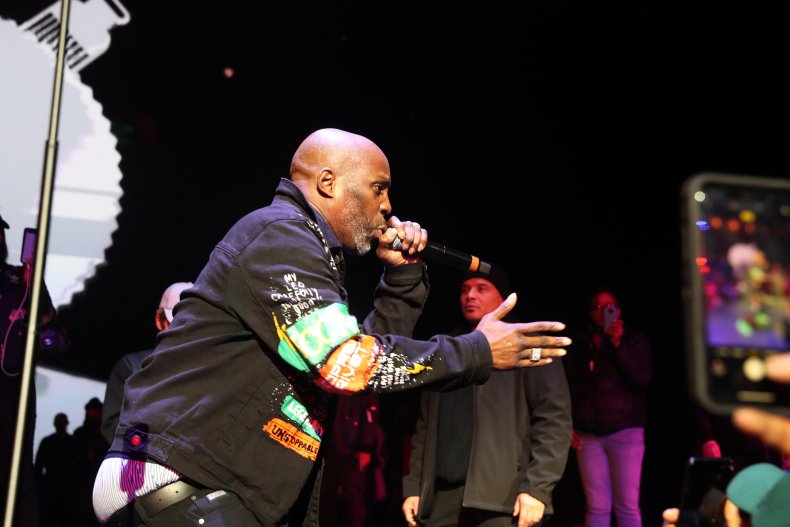 Fans paid tribute to the late rapper DMX on Friday, posting favorite videos to social media of the loved hip-hop artist.
The 50-year-old artist, born Earl Simmons, died Friday after suffering a heart attack last week. DMX was one of the most famous rappers to emerge in the 1990s, and struggled with drug addiction through his career.
Fans immediately responded to the news by sharing video tributes of their most-loved DMX moments, from performances to candid interactions.
"DMX dancing & singing to Lisa Lisa's "I Wonder If I Take You Home" is quite possibly my favorite video of X because of just how much joy he has," one fan posted to Twitter.
Josiah Johnson shared a video of DMX in a freestyle battle with fellow rapper Jay-Z, calling it "one of the most legendary moments in hip hop."
"An all-time amazing DMX video," one fan said in a Tweet.
Complex Sports posted shots of a crowd enjoying DMX's hit song "X Gon' Give It To Ya" as he attended a Celtics game.
Some fans responded with personal reactions to DMX's passing.
"I can't even explain this hurt. For all of us growing up in Yonkers, DMX showed us we could make it out," author Frederick Joseph shared on Twitter. Joseph included a video of DMX's performance at the Woodstock music festival in 1999.
DJ Heat shared a video of DMX dancing in the car to Michael Jackson, the same week that he suffered a heart attack.
Activist DeRay McKesson posted an interview with DMX in which the artist shared his introduction to drugs.
"Heartbreaking," McKeeson wrote.
"Look at this energy," another fan wrote in a post featuring DMX meeting fellow rapper Rakim.
A number of fans shared a series of still photos from a video in which the rapper showcases his orchid collection.
"When I first started growing orchids, I thought they needed the most expensive soil and lights," DMX said. "That's when I realize that all they really needed was time and attention."
Thousands of Twitter users shared another clip from a February 2021 interview in which DMX said, "If I was to drop dead right now, my last thought would be: I've lived a good life."
DMX's family released a statement Friday, saying they were "deeply saddened" by the artist's death, and they responded to the outpouring of support.
"Earl's music inspired countless fans across the world and his iconic legacy will live on forever," the statement reads. "We appreciate all of the love and support during this incredibly difficult time. Please respect our privacy as we grieve the loss of our brother, father, uncle and the man the world knew as DMX."
This story has been updated with additional video content and DMX's family's statement.