DNA Test Reveals if Your Baby Is Prone to 193 Medical Conditions
Updated | For some, more information is better, but there are times when you can know too much. A new at-home DNA test by Sema4 can look for 193 diseases in a baby's genes, which could lead to early detection and treatment for certain conditions, according to the company. But geneticists warn that the results could bring a whole new set of complications.
Related: Baby Survival Rates Improved in States With Affordable Care Act, Data Shows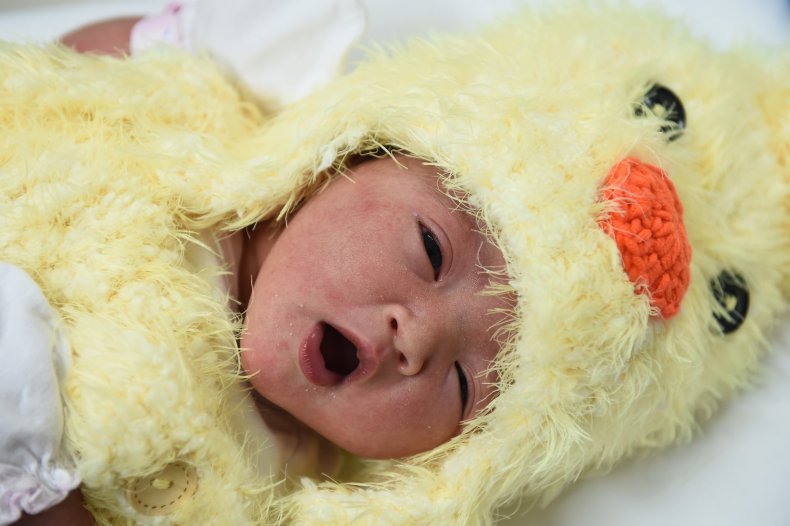 Currently, all newborns are screened for medical conditions like cystic fibrosis and sickle cell disease. The number of disorders varies by state but ranges from 31 to 60, geneticist Laura Hercher of Sarah Lawrence College told Newsweek. According to the National Institutes of Health, many states test for 32 conditions.
Sema4 goes beyond that by using DNA sequencing to look for possible mutations linked to developing one of their 193 listed conditions. The test also analyzes how kids will respond to 30 commonly prescribed medications, like antibiotics. All ailments can be treated through diet, medication or other therapy, which the company believes allows parents to be proactive.
According to the company website, orders are approved by an independent network of doctors and genetic counselors. Parents are encouraged to send their own DNA samples, along with samples from their babies, and will receive the results within two weeks. A genetic counselor will follow up with the family and their pediatrician.
Hercher has no connection to the company and says she doesn't know the specifics of how the test works. Instead, she can speak about newborn screening in more general terms and believes that more information could lead to more problems.
"For some people it may result in better care, and for some people it may result in unnecessary medical care," explained Herscher. Parents may shell out time and money hauling their healthy babies to appointments to check for a medical condition they don't have based on the results of their test.
Geneticist Dr. Elaine Pereira of Columbia University Medical Center/NewYork-Presbyterian Children's Hospital points out that just because a child is prone to a condition doesn't mean he or she will develop a medical problem, which could incite fear in some parents.
"If the screen is positive on an asymptomatic baby, this could cause anxiety for the family," she told Newsweek in an email. "It is possible that the variants found in the child may increase susceptibility to a condition (epilepsy for example) but it does not mean that the child will 100 percent develop the condition."
Hercher says there's no question that newborn screening is a vital public health program, but isn't sold on the need for expansive tests since many of the disorders are rare. Standard panels already cover the more common conditions that are better understood by the medical community.
"I'm saying it's like a road, the further you walk down it, the dustier and more rural the road gets. Newborn screening for the first 10 diseases? No brainer. For the next 20? No brainer. When you're out there to 190, you're really in uncharted territory."
And as the test costs $649 out of pocket (insurance does not yet cover the screening), Hercher predicts there could be complications when parents attempt to get services covered through their insurance based off the results.
"It's all so new," she said. "People are signing up for a giant experiment, right?
*This article was corrected to state an "independent network of doctors and genetic counselors." It previously read "an internal doctor."