'Do Better': Worker Hailed for Ditching Job Interview After Waiting 1 Hour
Reddit users have backed a worker who left a job interview after waiting over an hour for a manager who didn't show up, saying that "[their] time is also valuable."
In a post shared on Reddit Thursday, the worker, who goes by the username u/cummy_devil_doll, explained that they left because they were forced to wait too long and felt the potential employer could have acted better.
The post featured a screenshot of the email that the worker sent to the interviewer after leaving. It read: "Good morning, I wanted to let you know that I signed in to the lobby at 9:58 this morning.
"I waited for a little over an hour and then decided to leave. Professionalism is a two way street, my time is also valuable. I would have been an asset to the hospital. Do better. Thank you."
Luckily for the poster, the U.S. job market is doing much better and was strong in the year's second quarter, according to a report from Joblist.
The economy added an average of 413,000 jobs in April and May, and the unemployment rate sits at just above the pre-pandemic rate of 3.5 percent. Still, inflation has hit its highest level in over 40 years, and there are concerns among economic experts and ordinary Americans that a recession is coming.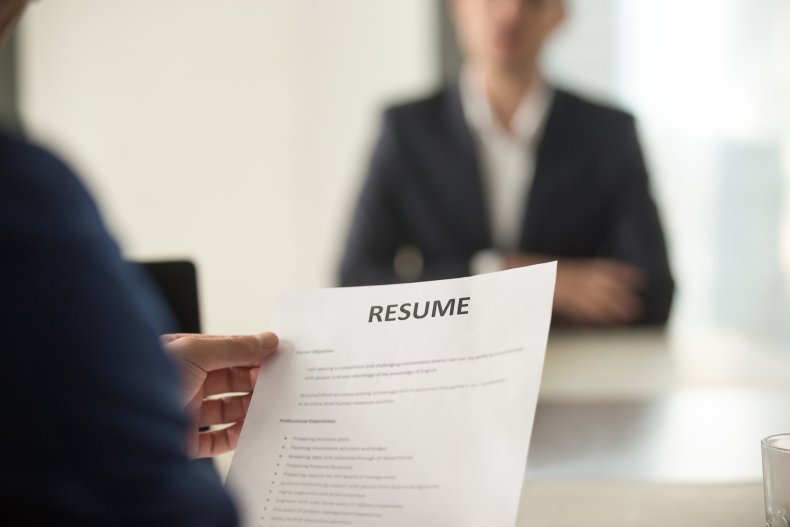 The post, shared in the r/antiwork subreddit, where people usually discuss employment matters, has gone viral, receiving over 46,000 likes and 914 comments in less than 24 hours.
One user, DaVinki-77, commented: "I wonder if they respond."
RaynKeiko drafted a mock answer: "We usually let new [people] wait, to see if they have [patience] for the Job. We don't want to see [you] at any of our locations again."
Holy_Salsa wrote: "[I'll] be sure to forward this email to every media and social media outlet so people can understand that [people's] lives are just a test of patience."
Another user, AtomicSamuraiCyborg, shared a similar experience: "Happened to me the last time I was unemployed and job hunting. F***ing ridiculous. Nobody at the desk out front, contact didn't answer when I emailed or called, asked someone who was coming out and they said they would let them know. Nobody ever came. Left after a half hour."
Solojazzjetski joked: "nObOdY wAnTs tO wOrK."
Sleightly_Awkward answered: "As someone who just spent 6 months job hunting every single day applying to even the s***tiest of jobs, and only getting a single interview, this phrase pisses me off so f***ing much.
"There's so many jobs around here that are desperate for work. Really? Where are they? 'Nobody wants to work anymore.' No, the problem is nobody wants to pay employees a reasonable, livable wage for the work they'd be doing.
"They also have absolutely zero respect for employees, potential or otherwise. I can say with confidence that 90 percent of businesses that are 'struggling' right now f***ing deserve it," Sleightly_Awkward concluded.
Another user, Heretic2288, had a theory: "I'm almost certain this is a tactic to determine how desperate a potential candidate is and how much horse shit they will put up with. Are you okay with being treated like a doormat?"
Stringgeek suggested: "15 minutes. For the future, 15 minutes is the amount of time you should stay. Any interviewer who would make you wait longer than that shows that they are going to continue treating you this disrespectfully once you start working there."
TheOneTrueChuck pointed out: "That 'do better' at the end is so perfect. It's just such a great "f*** you" that they can't really get mad at."
And Spork_the_dork wrote: "Job interviews are two-way endeavors. You are going there so that the employer can get to know you better to see if you're suitable for the company. You are also going there so that you can get to know the employer better to know if the company is suitable for you. An employer being late is as bad of a sign as you being late."
Newsweek contacted u/cummy_devil_doll for comment.
If you have a similar family dilemma, let us know via life@newsweek.com. We can ask experts for advice, and your story could be featured on Newsweek.