Doctor Reveals Infection You Can Get Just by Kissing a Man With a Beard
TikTok's famous dermatologist Dr. Shah, known online as @dermdoctor, has introduced millions of viewers to an unwanted side effect of kissing a bearded man.
Dr. Shah reacted to another viral video by user Rylee Kriete who showed what happened when she "kissed a guy with facial hair thinking it was a good idea at the time."
Kriete was left with an intense rash over her face, as her chin turned red and scabbed over.
It's something that can commonly happen, explained Dr. Shah, thanks to an immense amount of bacteria in beards, especially when people don't properly clean them.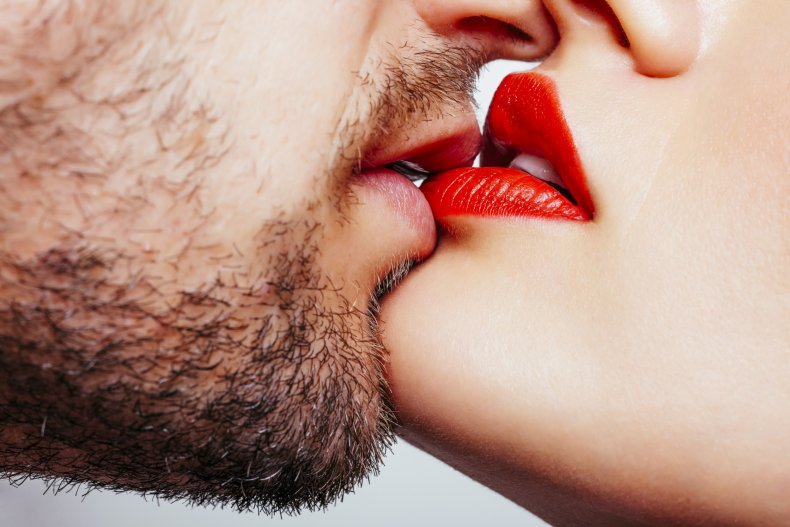 "See, I've been saying that bears carry a ton of bacteria, and when you rub up against them, they create tiny little cuts in the skin, which can lead to infections like impetigo," he said, warning: "Clean your beards."
Impetigo is a bacterial infection caused by group A Streptococcus and Staphylococcus aureus. When on healthy skin, it's usually harmless, according to the CDC, but on broken skin it can lead to an infection like those in the viral video.
Beards, when rubbed against the skin, as Dr. Shah explained, can cause those tiny abrasions.
"Classically, it produces a pink rash with a 'honey-colored' crust on it," Dr. Shah told Newsweek. "Sharp beard hairs from vigorous kissing can cause little breaks in the skin that introduce this bacteria into the skin. Not just that but beards tend to harbor a decent amount of bacteria.
"This can be avoided by cleaning the beard with soap and water regularly or spraying the beard with a gentle hypochlorous acid product. This type of infection should be treated with antibiotics by a physician!"
Impetigo is common in children, but in adults "lack of proper handwashing, body washing and facial cleanliness can increase someone's risk of getting impetigo," along with injuries that break the skin, climate and close contact.
Hence, Dr. Shah's warning to "clean your beards."
Research by Statista showed that 23 percent of 18-29 year old's with bears never use beard care products while 25 percent do so everyday.
Dr. Shah's informative video left users' minds blown by the revelation, writing: "New fear unlocked."
This certainly isn't the first time this possible risk while kissing men with bears has been spotlighted by TikTok. Women have repeatedly gone viral on the app for their bad experiences after a hairy make-out session.
TikToker @hannahwitts42 shared her chin covered in blister-like sores in late 2021, showing the infection through every step of its development, including it fully healed at the end. Other women were inspired to duet the video, showing their identical skin reactions.
Similarly, TikTok user @jaleighrobbins2023 went viral with her skin infection after kissing her boyfriend, getting over 4.9 million views.
Newsweek has contacted Dr. Shah for comment.