Doctor and Sister of Congresswoman Katie Porter on Flattening the Curve Amid Coronavirus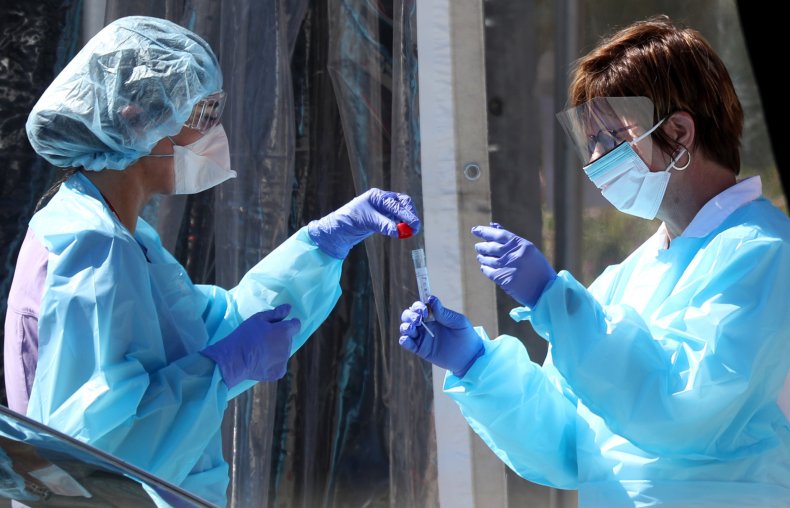 Dr. Emily Porter, sister of California Congresswoman Katie Porter, recently released a video on YouTube that explained the importance of flattening the curve amid the coronavirus pandemic.
NowThis tweeted out a condensed video montage of Porter's video on twitter Saturday: "Katie Porter's sister, a doctor, is breaking down how staying in can save lives during the COVID-19 crisis."
Porter, a board-certified emergency physician who now works in aesthetic medicine and owns the Wrinkle Free MD: Med Spa and Wellness Clinic in Austin, Texas, created the video to show people why health officials are concerned about the novel coronavirus.
"Everyone is really confused because they don't understand why are the bars closing, why is everyone hoarding toilet paper, why is my gym closing, and what does social-distancing mean, what does flatten the curve mean?"
Using a white board, Porter wrote out estimates by health officials to explain how social distancing is an effective tool to combat the pandemic.
"In America, we have 331 million people. The [Centers for Disease Control and Prevention] is estimating that about 40 to 70 percent of them will get infected," Porter said. She then explained how things would play out if 45 percent, or roughly 150 million people, in the U.S. became infected.
Since the CDC estimates that nearly 80 percent of those who become infected with COVID-19 will be able recover without assistance from medical professional, and that 5 to 10 percent of those infected will need ventilators, Porter estimated that 7.5 million people, the low end of the CDC estimate, would need ventilators.
"So let's say we have 150,000 vents available in the country. That means [2 percent] of people could get a ventilator if they need one. One in 50 people who need a ventilator can get one. That means that 49 people out of 50 are going to die. That is scary."
"So what that also means is doctors have to choose who that 1 in 50 is. Can you imagine if you have to say, 'Oh, I'm sorry, you have had cancer before, so therefore...you don't have a perfectly clean bill of health, so you're not worth saving.' Can you imagine saying, 'Oh, I'm sorry, you're 80, and I've got a 30-year-old who needs a ventilator.'"
Porter urged the public to continue to exercise social distancing in order to "flatten the curve" and slow down the spread of COVID-19 so that health care facilities would not be overwhelemed. Her full video can be found on YouTube.
Porter's sister, Congresswoman Katie Porter, urged Congress to adopt remote voting last week in an effort protect lawmakers from getting infected with the highly contagious novel coronavirus.
The United States has 19,931 confirmed cases of COVID-19 across the country and the death toll is now up to 275, according to Johns Hopkins Coronavirus Resource Center.