Doctor Slams Allen West's 'Anti-Science' Vaccine Tweets: 'It's a Killer'
Dr. Peter Hotez criticized tweets by Texas gubernatorial candidate Allen West regarding vaccines on CNN Monday, slamming "anti-science" rhetoric that has left thousands of people dead amidst the ongoing COVID-19 pandemic.
Hoetz, a molecular virology professor at Baylor College of Medicine, criticized West for his "anti-science aggression," saying that it goes beyond misinformation. "It's a killer," he said. "Anti-science is now a leading cause of death in the United States."
He argued that vaccine hesitancy in places like Texas and Florida has cost lives. His new study found that if those two states had reached similar vaccine rates as northeast states—74 percent by July—22,000 lives could have been saved.
"Twenty-two thousand lives were needlessly lost because we didn't achieve high vaccination coverage, in part because of phony rhetoric like this," he said.
West, a former GOP congressman and chairman of the Republican Party who is unvaccinated, announced on Twitter Saturday that he was hospitalized with "a low grade fever and light body aches" after his wife tested positive for the coronavirus.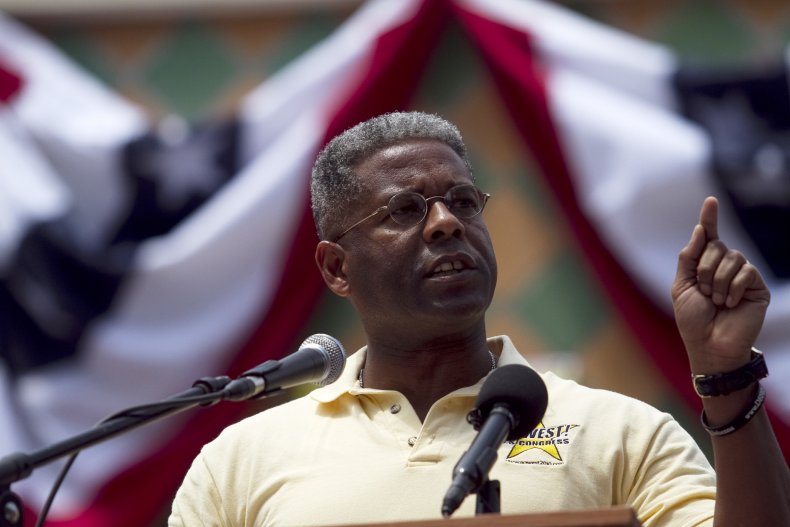 In a series of tweets on Sunday, West vowed that if elected governor, he would "vehemently crush anyone forcing vaccine mandates in the Lone Star State."
"I can attest that, after this experience, I am even more dedicated to fighting against vaccine mandates. Instead of enriching the pockets of Big Pharma and corrupt bureaucrats and politicians, we should be advocating the monoclonal antibody infusion therapy," he tweeted.
West added, "Instead of jabbing Americans, and not illegal immigrants, with a dangerous shot which injects them with these spike proteins...guess what? I now have natural immunity and double the antibodies, and that's science."
He and his wife took monoclonal antibody therapy. His wife, who was vaccinated, was let out of the hospital by Sunday, he said.
The Centers for Disease Control and Prevention (CDC) says that if a vaccinated person becomes infected with the virus, they may experience more mild symptoms.
West also wrote that he took ivermectin, which has not been approved by the U.S. Food and Drug Administration (FDA) as a treatment for the virus. The FDA warns that data does not show it is effective against the virus, and taking large amounts of it is dangerous.
West previously served as an Army lieutenant colonel until 2003 after serving in combat in both Iraq wars. He also served as a U.S. congressman in Florida in 2010 before losing to Democrat Patrick Murphy in 2012 and eventually moving to Texas.
He announced his candidacy in July, joining several other candidates hoping to unseat incumbent Governor Greg Abbott. He said his opposition to the Green New Deal and his desire to go after banks and finances behind illegal immigration are among his top reasons for running.
Health experts have warned about misinformation regarding the COVID-19 vaccine. In September, Clark County, Nevada—home to the state's largest city, Las Vegas—declared misinformation about the pandemic a public health crisis.