A Michigan doctor has revealed how he was sent racist hate mail after speaking in support of school mask mandates.
Dr. Bobby Mukkamala told Newsweek he had been "an advocate for taking COVID seriously from the beginning" in the state's Genesee County.
Mukkamala has been involved in raising awareness about vaccines and testing, as well as safety protocols and protective equipment, in the city of Flint, where he works as an ear, nose and throat specialist.
He has spoken in favor of using masks in schools, a stance that he says has made him an "enemy" of the city's anti-mask contingent who have dubbed him "Flint's Fauci" or "Mukkamala-Fauci."
Earlier this week, one of his critics posted a racist letter to his offices.
"You came from a land where dictatorship rules, right?" the handwrittennote reads.
"You come to America for freedom, right? Now you behave like a dictator from your land and you want to rule America like the rulers in your country."
The letter claims that masks are a "means of control" and accuses Mukkamala of not giving "a damn about Americans' good health."
It continues: "Why don't you care about childhood cancers? You do not!"
The diatribe ends with the comment: "Why don't you mind your own business, instead of [being] a bully!! Go back to India!"
The letter can be viewed in full below: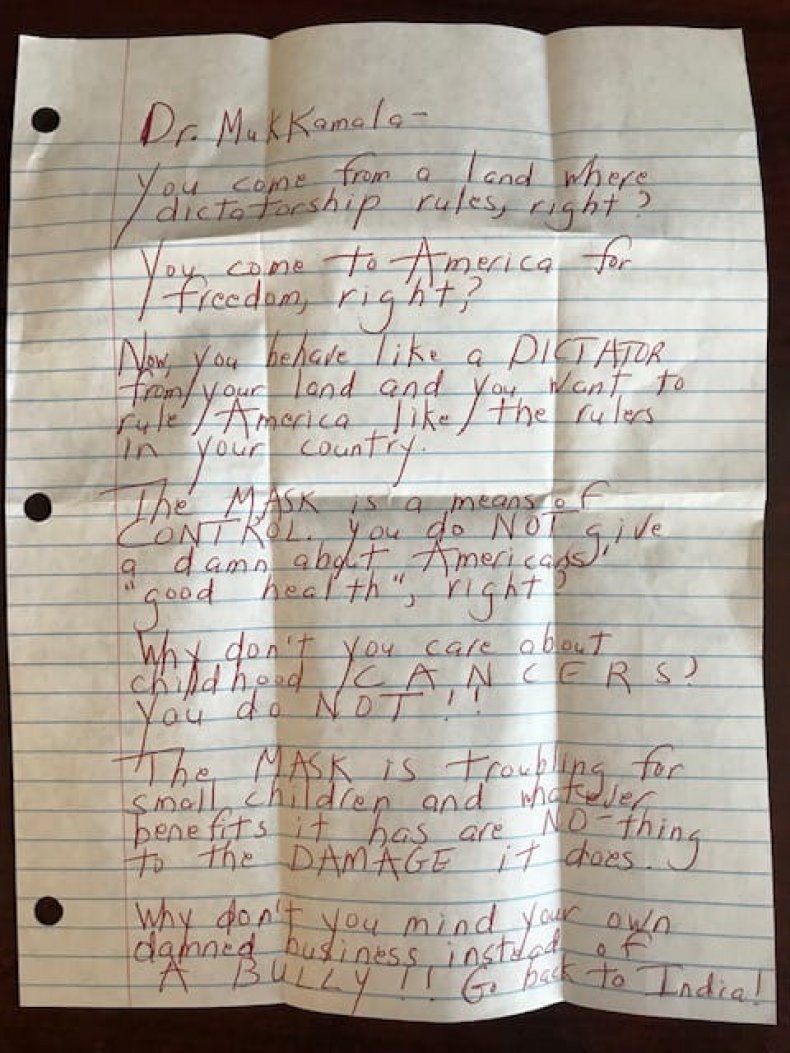 Mukkamala told Newsweek the message wasn't "traumatizing, just disappointing as far as the state of our society and the fact that there is still a segment of the population that thinks like this."
"Initially, I chuckled at how little they knew about me," he added.
"India is the world's largest democracy. I was born in Pittsburgh. I have dedicated my life and professional activities to improving Americans' 'good health.'
"I have been diagnosing childhood cancer for the past 21 years. Health care and public health in general is 'my business.' I go back to India all the time … to visit."
Although Mukkamala laughed off the letter, his wife and other people close to him were concerned about the "mental state" of the author.
The local sheriff has since offered the doctor police protection and Mukkamala is staying on guard because the note's writer has yet to be identified.
He said he had shared the letter to Facebook because it is "sad that it exists and important to make people aware that it exists."
He added: "It also made me aware that this discrimination that I see maybe once or twice a year is something that others, particularly Black Americans, probably experience a lot more often. It made me appreciate the existence of that bias even more."
Despite the shocking content of the note, Mukkamala has been buoyed by the response to his social media post on Monday.
"There has been an outpouring of support from friends and strangers on both sides of the political aisle and COVID aisle. I was quickly reassured that the author is a member of a very small minority."