By the time a young mother-to-be got to Dr. Tony Ogburn one night in July, the prognosis for the baby was grim.
The pregnant woman had come in through the obstetric emergency room at DHR Health, a busy medical center in Edinburg, Texas, complaining of severe cramping and bleeding. Clinicians quickly determined she was in labor. The four-month-old fetus was not nearly developed enough to survive outside the womb, but it had already come part-way through the cervix into the birth canal. If the mother didn't complete this miscarriage soon, he and his team concluded, she would suffer a major hemorrhage, placing her life in jeopardy.
In his 30 years as a practicing OB-GYN, Dr. Ogburn, an affable 63-year-old with thick white hair, wouldn't have thought twice about operating immediately. Instead, in wake of the U.S. Supreme Court's decision to overturn Roe V. Wade, he and two colleagues huddled to discuss a thorny question. The baby still had a heartbeat. Was the procedure legal?
In Texas and another 22 states that have outlawed abortion or expect to soon, doctors are finding themselves in situations that are equally ambiguous and fraught. Early reports from doctors on the frontlines suggest that confusion over the legality of medical procedures is widespread among OB-GYNs, but it doesn't end there. Clinicians who may have to perform procedures on pregnant women are wondering about their legal liability, too. The uncertainty extends to pharmacies, classrooms and the social media pages of medical professionals, many of whom worry what they are legally allowed to say or post. Even if some of that confusion eventually subsides, it puts many pregnant women in immediate peril.
The post-Roe world that Dr. Ogburn and other clinicians face is one of tense discussions and tortured delays that aren't in the best interest of the patient. It's a world where anesthesiologists fearing liability worry about participating in emergency procedures on pregnant women; where bereaved women who have undergone miscarriages worry, with reason, about their own clinicians accusing them of crimes; where pregnant women sometimes can't get the medications they need because the pharmacists fear they might be accused of aiding and abetting an illegal abortion.
Doctors also warn of long-term negative effects on the state of health care in many U.S. states. The new abortion laws will complicate medical education in states where abortion is now illegal, they say, potentially worsening the nation's already high levels of maternal mortality and making it harder for rural areas of the nation, already experiencing a shortage of qualified OB-GYNs, to attract the medical workers.
Authors of a recent article in the New England Journal of Medicine put it bluntly. Texas' new abortion law "had a chilling effect on a broad range of health care professionals, adversely affecting patient care and endangering people's lives," they wrote.
"The discussion on abortion is viewed as so black and white," says Dr. Ogburn, who notes that for years his hospital has only performed abortions in the case of lethal fetal abnormalities or to protect the life of the mother. "People don't think about the impact this is going to have on maternal healthcare in general."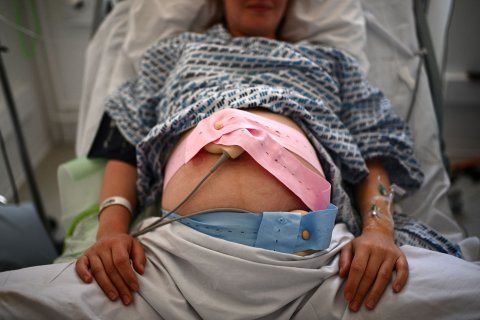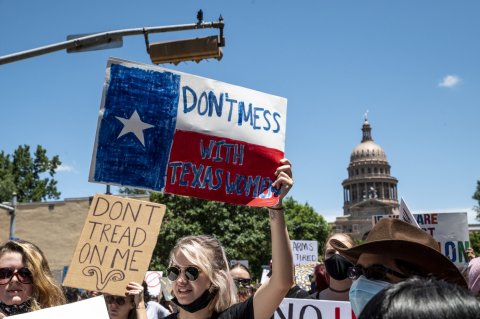 High-Risk Pregnancies
Most anti-abortion groups have supported exceptions to abortion bans, and efforts to introduce legislation to limit them have been met with swift backlash. Still, the Texas law, passed eight months before the Supreme Court decision, allows private citizens to bring lawsuits in civil court with monetary penalties of at least $10,000 against anyone suspected of helping a Texan terminate a pregnancy after the detection of embryonic cardiac activity. Known as SB8, the law injected a new element of menace and fear into maternal health care, forcing both patient and doctor to consider whether an outsider might later scrutinize and question their actions.
Confusion clouds even the least controversial type of exception to medical abortions: ectopic pregnancy. In these cases, which account for nearly 2 percent of pregnancies, a fertilized egg implants outside the uterus, often in the fallopian tubes or another part of the reproductive system. They are almost always fatal for the fetus and, if not treated, they can cause massive internal hemorrhaging that may lead to death of the mother. In some cases, a fertilized egg will attach to scar tissue from previous caesarean section, which can be equally dangerous, even though it happens inside the uterus. Since the Texas law explicitly defines ectopic pregnancy as occurring outside the uterus, performing this necessary medical procedure might be challenged in court. Thus, eight months after the passage of SB8, many doctors in Texas remain reluctant to perform them, and many worry similar ambiguity might soon exist in other states.
Even more complicated for doctors and their pregnant patients is the question of what to do if the amniotic membrane surrounding the baby ruptures before week 37 of the pregnancy. This common complication is responsible for as many as 40 percent of all preterm births and affects roughly 150,000 women in the U.S. every year, according to the pPROM foundation (pPROM stands for preterm premature rupture of the membranes). Until Roe was overturned, many maternal care doctors followed the guidelines of the American College of Obstetricians and Gynecologists and Society of Maternal Fetal Medicine: If the break occurs in week 18 or less, pregnancy termination should be offered to a patient because the chances of a baby's survival are extremely small and the mother is at severe risk of developing an infection that can quickly turn septic. Many opt not to risk the health danger and the possibility they could lose their uterus to an infection.
In the new era, it's an open question if they will still have that option—and if not, how sick they need to be before they do.
Some abortion hardliners have held that even these cases should be outlawed: Rebecca Parma, senior legislative associate for the Texas Right to Life, the oldest and largest anti-abortion group in the state, told Newsweek that a fetus could be removed by c-section or induced delivery to save a mother's life, but that using abortion even in the case of a pPROM would constitute "active, intentional killing of the pre-born child," which she says is now prohibited under Texas law.
As Texas is showing, in a medical setting, where things move fast, stopping to debate the point, calling in a hospital review board, or consulting legal counsel is not always practical.
In the recent New England Journal of Medicine article, published a few weeks before Roe was overturned, six doctors and public health experts conducted interviews with 25 clinicians across the state and 20 Texans with "medically complex" pregnancies who sought care in the state after the Sept. 1 passage of SB8. The authors heard from several doctors that patients with potentially life-threatening preexisting medical conditions certain to be exacerbated by pregnancy were being told at their institutions to delay abortions until they experienced medical emergencies or until fetal cardiac activity ceased.
"People have to be on death's door to qualify for maternal exemptions to SB8," one clinician told the authors.
To get around potential legal liability when forced to operate, doctors sometimes opt for procedures that are more dangerous than they would otherwise use. For instance, to avoid any appearance of performing an abortion when they do need to remove a fetus after 15 weeks of pregnancy, some doctors reported using hysterotomy, an operation that requires making an incision in the uterus and is usually reserved for medical conditions like endometriosis or cancer. The procedure poses higher risks of complications and infertility for the mother than dilation and evacuation, the standard procedure used to remove a fetus after 15 weeks of pregnancy. Hospitals across the state, meanwhile, reported they had stopped the practice of "multifetal reduction," a procedure that protects the life of a single twin when another is sick, even when failure to do so could endanger the lives of both (or as is more common in cases of artificial in vitro fertilization, when so many eggs implant, the only way to ensure any will survive is to reduce their numbers).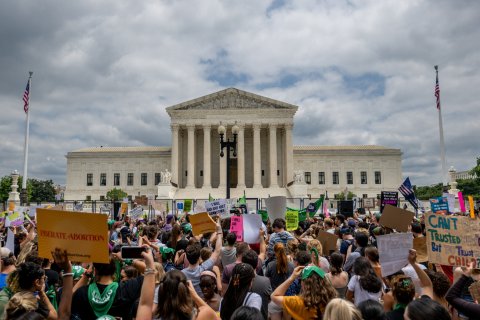 Drugs and Treatments Denied
The situation in other states is still unfolding, but early reports from doctors on the ground suggest that the new laws aren't just affecting the relationship between doctors and their pregnant patients. They are also having an impact on the ability of pregnant women – and even some Americans who aren't pregnant—to get access to needed medications.
Doctors in Wisconsin are now operating under a law originally passed in 1849 that criminalizes abortion under any circumstance except to save the life of the mother. Amy Domeyer-Klenske, vice chair and legislative chair of the Wisconsin section of the American College of Obstetrics and Gynecology, has been in touch with clinicians across the state. They report that since Roe fell, many pharmacists have denied their patients Misoprostol, the medication for incomplete miscarriages, because they fear criminal lability. Misoprostol is also one of the primary drugs used to medically induce an abortion.
The new restrictions are also affecting the ability of patients in Wisconsin and several other states suffering from rheumatoid arthritis to access another drug called methotrexate because doctors sometimes prescribe it for medical abortions. For patients who need medication to treat incomplete miscarriages, Domeyer's own practice has begun administering the drug in the office to avoid "obstruction or delays" from pharmacists.
In Louisiana, where a trigger law outlaws abortion after 15 weeks under penalty of 15 years imprisonment and fines of $200,000, pharmacists have refused to fill prescriptions for the same drug used to make the insertion of an IUD, the birth control device, less painful. Others have expressed concern that the legal fears could interfere with medications for stomach ulcers and cancer treatments.
In response to reports like these, in July the U.S. Department of Health and Human Services sent out guidance to more than 60,000 retail pharmacies across the nation, warning that pharmacists who refuse to fill prescriptions for a woman experiencing an early miscarriage might be violating federal laws. The memo followed another missive by the administration sent to hospitals around the nation warning that denying an abortion to a patient in a medical emergency could violate the Emergency Medical Treatment and Labor Act, even in states where procedures are banned.
Efforts to clear up the legal ambiguities can run aground on politics. The Democratic governor of Wisconsin recently called a special legislative session to discuss medical issues under the new laws, but the Republican legislature quickly gaveled in, gaveled out and went home. The state's Democratic attorney general has promised not to prosecute anyone for performing an abortion and the governor has promised clemency. But abortion clinics across the state, well aware that the AG is up for election in November and that the statute of limitations won't protect them if a new Republican AG takes over, are shutting down. Doctors could be hauled into court and held liable in the future for any procedures performed from the moment the U.S. Supreme Court struck down Roe.
"It's impacting care, not just for people who are wanting elective terminations," Domeyer says. "It's impacting care for people who have very desired pregnancies or people who have other conditions like miscarriage, because there's confusion about the law."
Patients can't fully escape by seeking treatment in blue states. Sarah Prager, an associate Professor in the University of Washington (UW) Department of Obstetrics and Gynecology, and a practicing OB-GYN, says that in recent months her Seattle clinic has seen many patients from Texas and neighboring states, where patients needing urgent abortion care often face wait times of a month or more. Many of Prager's patients are either very sick, or not yet sick enough: Recently, she treated a woman from Texas who had a medical condition that placed her at risk as well as a lethal fetal anomaly in the second trimester. Her Texas doctors, fearing a lawsuit from anti-abortion advocates, would have had to wait for her to get sick first, or for the baby's heartbeat to stop, before treating her.
"People are actually being denied healthcare they need," Prager says. "They are in disbelief."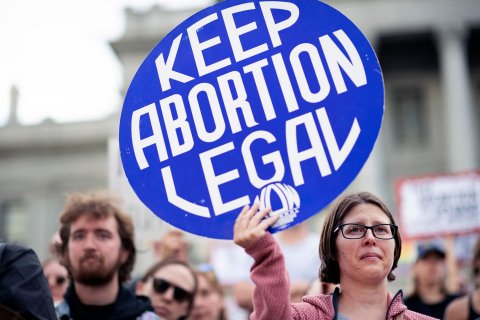 Declining Standards of Care
Women in rural America, where maternity doctors are already in short supply, stand to suffer as a result of the new abortion restrictions. Already, more than 10 million U.S. women live in the 49 percent of U.S. counties that do not have access to a single OB-GYN, because they lack a hospital with maternity services, according to a 2017 ACOG study. Most live in rural Southern areas and in the central and mountain west regions of the country.
The hostile legal environment in these areas may have a lasting effect on the quality of medical staff, as medical students, doctors and other clinicians go elsewhere. "Who wants to practice in an environment where you could be arrested for trying to provide care that is evidence based?" says Erin Bradley, a Harvard Medical School professor, practicing OB-GYN chair of the American College of Obstetricians and Gynecologists (ACOG) District 1. "I suspect physicians that are already practicing in rural locations might stay because they have built a life in those communities," she says. "But what happens after that?"
The new laws may make OB-GYN residency programs in red states less attractive, since medical students will not be able to receive the same quality of training as they might in areas where abortions are unregulated. Out of 286 accredited residency programs, 45 percent are in states that are certain or likely to ban abortion. Dr. George Sealy Massingill, medical director for Planned Parenthood of Greater Texas, says he knows of at least one hospital in the state, which he declined to name, that has decided not to move forward with a planned residency program in Texas because of the new law.
In an article sent out to its members after Roe was overturned, the Association of American Medical Colleges predicted that the U.S. Supreme Court decision will make it harder for future OB-GYNs and other providers to get training in how to perform abortions necessary to save patients' lives. Many OB-GYN residents will have to temporarily locate to other states to receive abortion training, putting a strain on the educators in states where abortion remains legal.
The restrictions will also affect other forms of medical training—including miscarriage management, counseling and emergency care, not just for OB-GYNs but also for doctors training to practice family and internal medicine, as well as emergency procedures needed to control excessive uterine bleeding—even, in some cases, taking biopsies.
Those teaching in states that have banned abortion have been revising lesson plans because they are now unsure of what they are allowed to say. "I even wonder if I could be considered aiding and abetting abortion if I discuss other resources or the fact that other states are not criminalizing or banning abortion," says Bryn Esplin, who teaches medical ethics in the Department of Medical Education at Texas College of Osteopathic Medicine. "How far does that go?"
Future Tense
As Dr. Ogburn and his colleagues stood in DHR's obstetric emergency room in July debating how best to navigate the legal minefield their patient presented, they had in mind a now famous case in Ireland that bore an unnerving similarity to theirs.
In October 2012, Dr. Savita Halappanavar, a 31-year-old Indian-born dentist who was 17 weeks pregnant, showed up at Galway University Hospital on Ireland's west coast, complaining of back pain. Doctors sent her home, but she returned when the pain was "unbearable." They diagnosed a rupture in the membrane protecting the fetus, making a miscarriage inevitable. But the fetus still had a heartbeat.
Although Irish law permitted abortion procedures to prevent a "potential major hazard or threat to the mother's life," Halappanavar's doctors decided that their patient had not yet reached that point. A few hours later, she went into septic shock and died. The episode sparked outrage and an abortion rights movement that led to 2018 referendum in which two thirds of the nation voted to legalize the procedure denied Halappanavar.
Dr. Ogden and his colleagues, after a lengthy discussion and parsing of legal terms, concluded that the danger the doomed fetus posed to the "organ" or "life" of their patient was sufficiently "immanent" to stand up in court. Before they had finished prepping for surgery, the patient gave birth to the stillborn baby on her own, eliminating any possibility of legal liability for her doctors.
It was a welcome turn. But Dr. Ogden and other clinicians in half of America know that things won't always end so well.