A group of doctors who say the Trump administration ignored their request to administer free flu vaccinations to detained migrants have vowed to protest outside Border Patrol stations this week until immigration officials agree to let them in.
On Monday, the group of doctors made their way to the Chula Vista Border Patrol Station near the San Ysidro port of entry in San Diego, California to reiterate their offer in person, only to be turned away at the gates.
Now, they are vowing to keep returning to Border Patrol stations and to the agency's San Diego office to rally against the government's rejection of what could be, for some, a "life-saving flu clinic."
With at least three migrant children having died of influenza while under federal custody in the last fiscal year, Dr. Marie DeLuca, an emergency physician from New York City, said the Trump administration's decision to ignore attempts to offer free flu vaccinations was "intentional cruelty."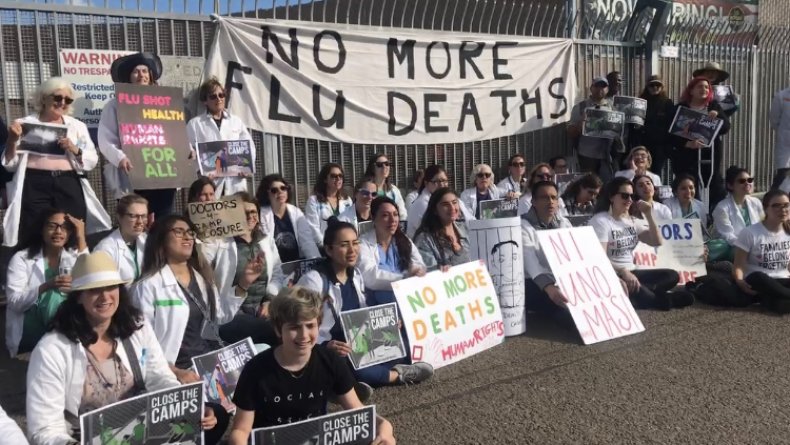 "People are needlessly suffering and dying," DeLuca, who is also the co-founder of Doctors for Camp Closure, a grassroots organization led by medical professionals calling for an end to the migrant detention in the U.S., said in a statement shared with Newsweek. "You can't lock people up in inhumane conditions, watch them get sick, and then refuse them access to medical care."
In a phone interview with Newsweek, DeLuca said as many as 70 physicians and supporters had shown up at the Chula Vista Border Patrol station on Monday.
"We brought the vaccinations with us, as well as medical supplies to be able to provide full vaccines," she said. According to the doctor, the group had brought enough supplies to administer at least 100 vaccinations.
Border Patrol agents, however, refused to open the gate and allow the physicians entry.
In a statement sent to Newsweek, a spokesperson for the U.S. Customs and Border Protection (CBP) agency, which oversees the Border Patrol, said that anyone wishing to volunteer their medical services can do so at shelters and through programs run by non-governmental organizations in the U.S. and Mexico.
While the spokesperson acknowledged that CBP does not administer vaccines, they said that both the U.S. Immigration and Customs Enforcement (ICE) agency and the Health and Human Services Department can provide such medical support services.
Adults taken into CBP custody are either released or expected to be transferred into ICE custody within 72 hours, while children are expected to either be released or transferred into the custody of the Health and Human Services department.
Last month, when immigration officials ignored doctors' initial request to administer free flu vaccinations at detention facilities, a CBP spokesperson told Newsweek that administering flu vaccinations has never been part of the agency's practice.
The reasoning behind that decision, the spokesperson said, is that CBP is a law enforcement agency, not a public health agency.
Given that migrants are not to meant to be held under CBP custody for any longer than 72 hours before either being released or transferred into the care of ICE or the HHS, the spokesperson argued that it would not make sense for CBP to oversee vaccinations.
Already, the spokesperson said, the agency has expanded its medical support efforts, with more than 250 medical personnel working along the southwest border as of November 21. Trying to incorporate a comprehensive vaccinations system into that effort, the spokesperson suggested, would be too much of a logistical challenge.
Doctors and immigration advocates have rejected that argument, however, insisting that migrants should have access to flu vaccinations as soon as they enter federal custody.
The consequences of not receiving immediate care, they have said, can be deadly, with medical health professionals pointing to the deaths of the three children, ages 2, 6 and 16, who died of influenza in U.S. custody over the past fiscal year.
DeLuca said there are many physicians in local border communities who are capable and interested in providing vaccinations "and we have the capacity to fundraise for more," she said.
In the long term, however, the physician believes vaccinations should be something "funded by the government because they're the ones taking on this responsibility for putting people in detention."
"All they had to do [on Monday] was open up the gate and let people in," DeLuca said. "We had all the documentation we would have needed to provide vaccinations."
In a separate interview with Newsweek, Dr. Alia Sunderji, a pediatric emergency medicine physician who has reviewed the autopsy reports of the children who died of flu in CBP custody, said there was no excuse for CBP to be refusing to carry out its own vaccination program.
Noting that the Centers for Disease Control and Prevention (CDC) has recommended that migrants held under federal custody receive vaccinations, the physician said she was "appalled" that the CBP would ignore potentially life-saving advice.
"If Infectious disease outbreaks can be eradicated in very difficult circumstances...There's no excuse not to give the flu vaccine in CBP custody," she said.
"The flu season is upon us," Sunderji said. "There's an opportunity here to prevent other children from dying and it's time to take it."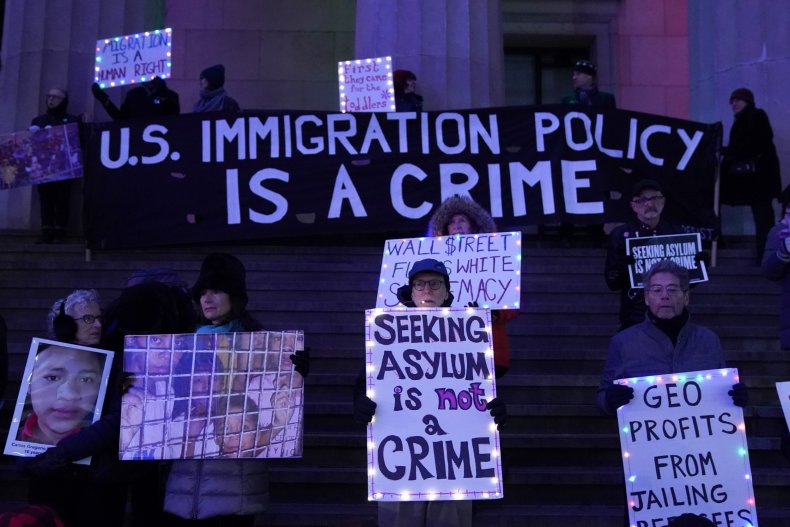 "This has become a horrific pattern," said immigration advocate Jess Morales Rocketto, the chair of Families Belong Together, an organization that has been instrumental in helping to reunite families separated at the U.S.-Mexico border under the Trump administration's "zero tolerance" family separation policy.
"Our immigration system is killing innocent children and the Trump administration doesn't seem to care," she said in a statement shared with Newsweek.
One of those children, Morales Rocketto said, was 16-year-old Guatemalan migrant Carlos Gregorio Hernandez Vasquez, who, it was recently revealed in footage leaked to ProPublica, was left lying on the floor in an immigration holding cell for hours after falling sick, before being found dead by his cellmate, who alerted authorities.
"This administration's cruel immigration agenda is intentionally barring life-saving medical care from children by refusing to provide vaccines during flu season," Morales Rocketto said. "This callous disregard for children and families does not reflect who we are as a nation. We need action immediately to get children the life-saving care they need to make sure that no more kids die in cages."
This article has been updated with statements from CBP, Dr. Alia Sunderji and Dr. Marie DeLuca.