Doctor Who Treated First COVID-19 Patient in U.S. Worries About Second Wave As Lockdown Is Lifted
The doctor who treated the first COVID-19 patient in the United States has expressed his concern that a second wave of the disease could emerge as lockdown measures are gradually eased.
George Díaz, infectious diseases chief at Providence Regional Medical Center in Everett, Washington, told journalists on Monday in a video briefing: "What worries me is that when the economy starts to reopen, we are going to see a second outbreak that is perhaps as big as the first, and the first one was very difficult for us and for the whole world.
"And more than anything, I am concerned that I don't know if we are going to have the resources to handle a second outbreak," he said, AFP reported.
The U.S. has had by far the most confirmed cases and deaths from COVID-19 in the world—around 1,180,000 and 68,900 respectively, with 160,000 recovered patients, according to Johns Hopkins University.
But some states are already lifting certain lockdown restrictions in an attempt to revive their economies, with more than 30 million Americans having lost their jobs in the past weeks.
According to the Associated Press, at least 100 million Americans live in states that are making moves to reopen, or had not introduced stay-at-home orders in the first place. Among those states lifting some measures is the most populous, California, which will allow some businesses to reopen on Friday.
The graphic below, provided by Statista, illustrates the number of confirmed COVID-19 cases in the worst affected states as of May 5.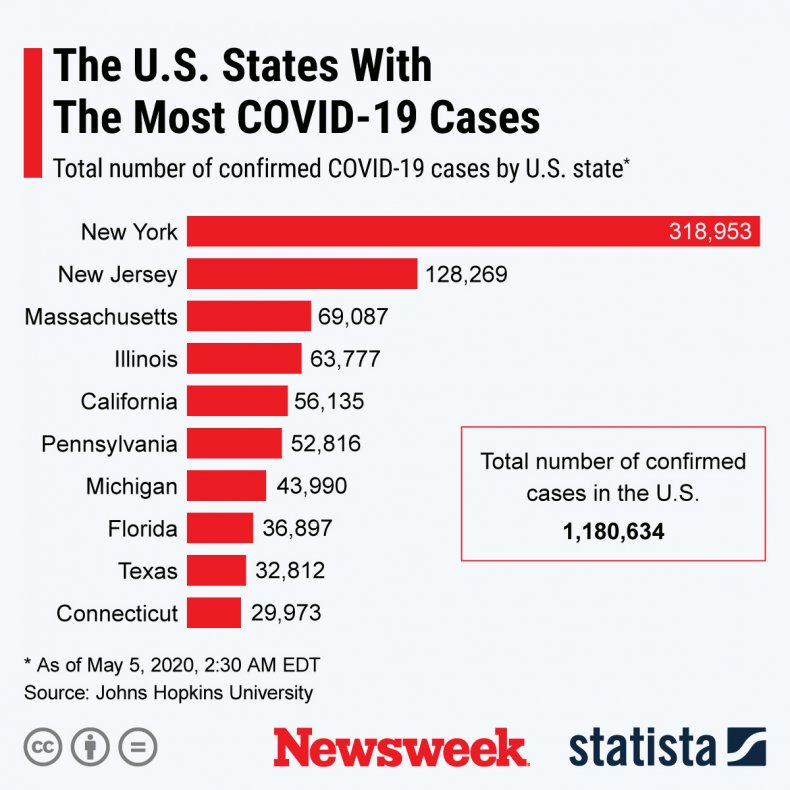 Díaz's patient—who was diagnosed and treated in Washington state in January—eventually recovered after being administered the experimental drug remdesivir, which was approved last week by the Food and Drug Administration for emergency use in the treatment of COVID-19.
The approval came after results were published from a major clinical trial indicating that the drug can shorten recovery times in some hospitalized COVID-19 patients. However, Díaz warned that the drug was not a panacea, stressing that social distancing measures were still crucial as stay-at-home orders are lifted.
"It appears that we do have an agent in our armamentarium against COVID, but we have to use it very wisely," Díaz said. "This should not be used as a crutch for people to say, 'I can now do whatever I want because we have a treatment.' The people of the world need to continue to follow the guidance of the infection control and public health people that are advising them about social distancing."
Díaz is not the only one sounding the alarm over a potential second wave of COVID-19. Dr. Anthony Fauci, the government's top infectious diseases expert, told an Economic Club of Washington webinar that a second wave of the virus was inevitable later in the year in the fall and winter.
"I'm almost certain it will come back, because the virus is so transmissible and it's globally spread," Fauci said last week.
Such a second wave could be just as bad or worse than the first wave, especially if it coincided with the flu season—which resulted in more than 24,000 deaths in 2019-2020—according to Robert Redfield, director of the Centers for Disease Control and Prevention.
"There's a possibility that the assault of the virus on our nation next winter will actually be even more difficult than the one we just went through," Redfield told The Washington Post in April.
Lisa Lee, a public health expert specializing in infectious disease epidemiology and public health ethics at Virginia Tech, told Newsweek that although many of the virus's characteristics remain unknown, a second wave is likely, although the actions of the public will have an influence on its severity.
"While there remains a great deal that we do not know about the virus, we know more about SARS-CoV-2 now than we did just a few short weeks ago," Lee said. "We know that the virus is airborne and highly contagious; we know it can be transmitted before a person knows they are infected; and we know it causes death in people of all ages who have other conditions—and in some who were otherwise healthy."
"When the prevention measures are lifted, we are very likely to see an increase in the number of both new infections and deaths. The timing and severity of subsequent waves depends on how well those who are out and about follow physical distancing and other infection control measures like masks and gloves," she said.
Lee, Redfield and other health experts are urging authorities and hospitals to prepare for any potential second wave now. The CDC director said, for example, that administering flu vaccinations to high-risk people was important in order to free up beds for any potential COVID-19 patients.
Lee outlined three things that local public health officials are going to need as quickly as possible: "One, abundant testing so every person who knows or suspects that they have been exposed can get confirmation of their status as soon as possible following their exposure; two, enough contact tracers to follow up on every case and their contacts to support those exposed in efforts to self-quarantine for two weeks to prevent further spread; and three, an effective vaccine to reduce the number of people who are susceptible to infection."
According to Lee, some form of physical distancing and other preventive measures will need to be in place until "we reduce the number of people susceptible to the disease, primarily by vaccination."
"The data are not yet conclusive about whether or for how long a person who has recovered from SARS-CoV-2 infection is protected, or immune. Unfortunately, this is one of the things that will take some time to learn," Lee said.
An effective vaccine is not likely to arrive until next year, Fauci has suggested.
Centers for Disease Control and Prevention Advice on Using Face Coverings to Slow Spread of COVID-19
CDC recommends wearing a cloth face covering in public where social distancing measures are difficult to maintain.
A simple cloth face covering can help slow the spread of the virus by those infected and by those who do not exhibit symptoms.
Cloth face coverings can be fashioned from household items. Guides are offered by the CDC. (https://www.cdc.gov/coronavirus/2019-ncov/prevent-getting-sick/diy-cloth-face-coverings.html)
Cloth face coverings should be washed regularly. A washing machine will suffice.
Practice safe removal of face coverings by not touching eyes, nose, and mouth, and wash hands immediately after removing the covering.
World Health Organization advice for avoiding spread of coronavirus disease (COVID-19)
Hygiene advice
Clean hands frequently with soap and water, or alcohol-based hand rub.
Wash hands after coughing or sneezing; when caring for the sick; before, during and after food preparation; before eating; after using the toilet; when hands are visibly dirty; and after handling animals or waste.
Maintain at least 1 meter (3 feet) distance from anyone who is coughing or sneezing.
Avoid touching your hands, nose and mouth. Do not spit in public.
Cover your mouth and nose with a tissue or bent elbow when coughing or sneezing. Discard the tissue immediately and clean your hands.
Medical advice
Avoid close contact with others if you have any symptoms.
Stay at home if you feel unwell, even with mild symptoms such as headache and runny nose, to avoid potential spread of the disease to medical facilities and other people.
If you develop serious symptoms (fever, cough, difficulty breathing) seek medical care early and contact local health authorities in advance.
Note any recent contact with others and travel details to provide to authorities who can trace and prevent spread of the disease.
Stay up to date on COVID-19 developments issued by health authorities and follow their guidance.
Mask and glove usage
Healthy individuals only need to wear a mask if taking care of a sick person.
Wear a mask if you are coughing or sneezing.
Masks are effective when used in combination with frequent hand cleaning.
Do not touch the mask while wearing it. Clean hands if you touch the mask.
Learn how to properly put on, remove and dispose of masks. Clean hands after disposing of the mask.
Do not reuse single-use masks.
Regularly washing bare hands is more effective against catching COVID-19 than wearing rubber gloves.
The COVID-19 virus can still be picked up on rubber gloves and transmitted by touching your face.